January is already halfway over, and a lot of those New Year's resolutions are starting to feel like a big drag, right about now. If losing weight or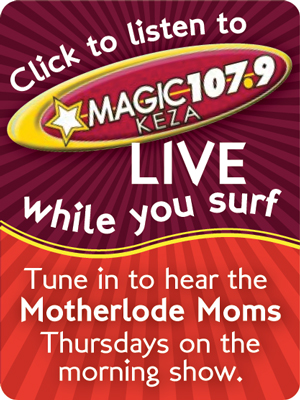 getting in shape is on your list, you may want to join our radio discussion this morning (Thursday) on Magic 107.9 with hosts Jennifer Irwin and Guy Westmoland. We'll be there talking about weight loss, diets and more between 7:45 a.m. and 9 a.m.
Click here or on the graphic at right to listen to Magic 107.9 live on your computer. You can hear the morning show while you surf anywhere online!
Here are the top three questions we'll tackle today:
Is it harder for moms to lose weight and why?
What are the most bizarre fad diets, and which celebrities were crazy enough to try them?
What's the latest weight loss research, and why does it conflict with what we've all been told about losing weight?
Shannon and I will also talk about the "three-day cleanse detox diet" that we tried out recently. We'll give you the good, the bad and the ugly on the whole experience, and we'd also love it if you guys would call in and share some of your best weight management tips with us.
Here are a few more links about this week's radio topic, which we'll reference on-air. Click the title of each article or video below to see it.
The Truth About Fad Diets, from Web MD
Video Clip on Do's and Don'ts of Detox Diets, from The Today Show
Quiz: Test your knowledge about which foods help flatten the belly, from the Dr. Oz website
Dr. Oz's morning 7-Minute Daily Workout, from the Dr. Oz website
Diets for your body type, from the Dr. Oz website
Slide show of post-baby bellies, from the Baby Center website
The New Mom Body Survey, from the BabyCenter website
New book: Why We Get Fat and What To Do About It, by Gary Taubes, from the Amazon.com website