We've all done it, so let's just admit it. Okay, I'll go first: One time, when my youngest child was an infant and wouldn't stop crying unless I held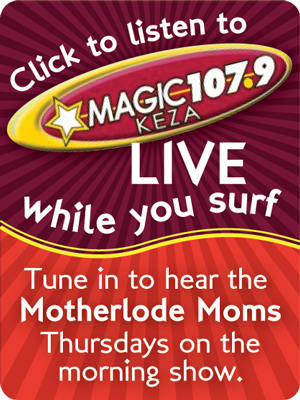 her, I cradled her in one arm while using the other arm to make my 3-year-old a grilled cheese sandwich. And I did all this while talking to my mother on the phone. We mothers have a bad habit of multitasking WAY TOO MUCH. So today we're going to talk about multitasking with radio hosts Jennifer Irwin and Guy Westmoland when we stop by for our Thursday morning radio chat on Magic 107.9. We'll be there between 7:40 a.m. and 9 a.m., so tune in or call the station to join the discussion.
Click on the graphic above to hear the radio live on your computer.
For so many moms, multitasking seems like a way of life — like we can't get anything done if we don't do it. But more and more research is being done on multitasking, and the findings are disturbing. We want to focus on this topic today so that, hopefully, we'll all remember how important it is to actually focus!
Today on the show, we'll confess our own multitasking habits and look at what the research says. We'll also talk about what all this multitasking is really costing not  only moms but also kids and marriages.
Below are some links to articles we've read while preparing this radio topic. Click each title below to read the article in full:
Cell phones and driver distraction
Save
Save