As parents, we know our kids are born with certain personality traits. Sometimes those personality types are much like our own and sometimes — not so much. But understanding your child's personality type and the characteristics that come along with it can often make your job as a mom or dad much easier. We'll talk about different personality types and parenting tips to go along with those types today when we stop by Magic 107.9 for our weekly radio chat with hosts Jennifer Irwin and Guy Westmoland.
Tune in between 7:25 a.m. and 8:25 a.m. to join the discussion. Or click the graphic below to listen to the radio live on your computer.
Here's a list of some of the general personality types we'll take a look at today:
Social Shannon
Shy Shelly
Controlling Carl (a close cousin to Perfectionist Pete)
Fun Frank
Dramatic Donna
Negative Nelly (a close cousin to Debbie Downer)
Serious Sid
Here's a list of links to articles and personality tests we used to prepare this week's on-air discussion. Click the title of each article or test below to read more.
More info on personality combinations in children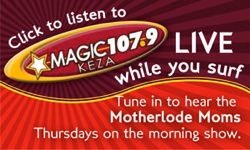 Save