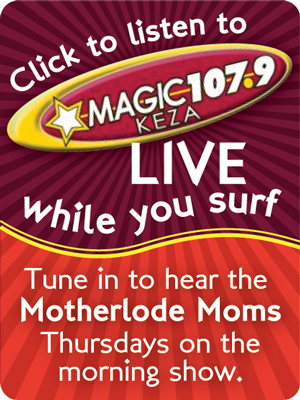 The roads are still too icy for us to drive to the radio station, so we'll be joining the Magic 107.9 morning show by phone today at about 7:45ish. Turn your radio on or click on the graphic at right to hear Magic in the Morning with hosts Jennifer Irwin and Guy Westmoland.
Today we'll be talking about kids' birthday parties and how they've changed over the years. Some mothers turn their kids' birthday parties into events with as much hype as the Superbowl!
This trend toward bigger and better birthday parties has left lots of moms with a bad case of "birthday party anxiety." If you've ever spent way too much time worrying about goody bags or party favors or if the party entertainment is good enough, then you know exactly what we're talking about.
How and why did kids birthday parties get so extreme? How can you take it down a notch without looking like you don't care as much about birthdays as your fellow moms do?
We'll also talk about how excited we are that there seems to be a growing movement among parents to scale down kids' birthday parties (and abolish the dreaded goody bags!)  instead of turning a birthday into a big, stressful event.
Here are a few interesting links to more articles on kids' birthday parties. Click on the title of each article below to read more:
Why You Don't Have To Go Nuts Throwing a Party, from the Birthdays Without Pressure website
Save