By Shannon Magsam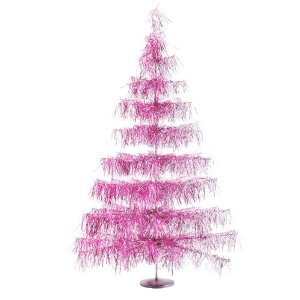 In between working, mothering, wife-ing, shopping for Christmas gifts and trying to appreciate "merry and bright" — I've also been searching for cranberry-colored ornaments. For some reason this year, I wanted a "pretty" tree.
Ladybug decorated the hot pink desk tree in her bedroom with all the sentimental ornaments, so when it came time to decorate the living room tree, I didn't even unwrap some of our typical tree-hangers.
This year it's an all-silver affair — with a few green bulbs that blend into the fake green needles. But I'm pining for some cranberry accents to brighten it up.
This desire led me to Oops in Tontitown a few days ago. Ladybug and I were having a "mother/daughter" night while dad was away for the evening. These special nights always include dinner at Dixie Cafe (the chicken fingers are particularly delicious there, according to madame picky butt) and a movie watched while snuggling together on the couch. Well, before dinner, I decided I would search the aisles at Oops since they usually have all kinds of unusual stuff. I also needed some more wide "deco poly mesh" (the frou-frou stuff I wrap around the tree).
Well, I didn't find any cranberry-colored ornaments, but I did leave the store with a cart full of holiday cheer.
Early into our cruise around Oops, Ladybug spied some adorable husky dog toys wearing Christmas bells and a Sant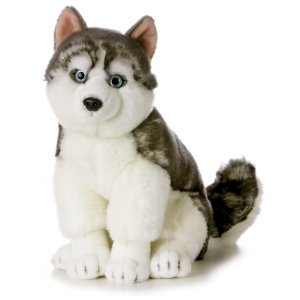 a hat (similar to this dog, but with the holiday extras). But the last package of three was going home with an older couple. We chatted with them about how cute the dogs were and they said they'd had huskies that looked just like this stuffed version and that they were going to have the plush cuties ride on their car in an upcoming parade. We talked about dogs in general and the good ones we've had in our lives. We wished them well.
After a while, we went up to the checkout to pay for my Christmas garland and ended up right behind that same couple. We smiled at them, then waited our turn. Suddenly, I noticed the man had another set of huskies and asked the checker if the pack of three could be split up and paid for separately. Then he looked at me and asked if I'd mind. The implication was clear: he wanted to buy one of the dogs for Ladybug since he could tell she loved them. I hesitated, not wanting him to feel any obligation to pay for it. Then I quickly remembered how good it feels to give and I didn't want to take that joy away from him.
So I said yes. Ladybug beamed when he handed her the dog and said, "Take good care of him." I told him how much she loves animals and that this little pup would definitely be in good hands. We waved brightly to each other in the parking lot as they drove away. Ladybug squeezed her dog and all the way to Dixie Cafe she kept saying, "I can't believe that man gave this to me. That was so nice."
"It certainly was," I said, trying not to knock the holiday happiness right out of her by launching into a lecture about how normally you wouldn't accept something from a stranger, but mom was there with you so it was OK and he was there with his wife and wasn't acting lech-y, so…. Yeah, I just kept my mouth shut. Because deep down, I knew the man really just wanted to make a little girl happy by giving her a gift at Christmas.
Then I thought to myself, "Now it's my turn to do something unexpected for someone I don't know this Christmas." Because it felt so good to be on the receiving end.

Shannon Magsam is mom to 8-year-old Ladybug, married to Ladybug's dad, John, and co-creator of nwaMotherlode.com. To read previously published installments of Life With Ladybug, click here. Leave a comment if you're so inclined. I'd love to hear your deep thoughts!