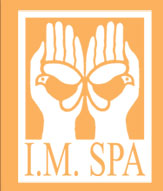 If it's been way too long since you've had a massage (or maybe never?) stop by I.M. Spa's Open House tomorrow (Thursday, Sept. 10) from 10 a.m. to 8 p.m. and take advantage of some special offers that will only be served up that day.
I.M. has been a mobile spa (meaning they come to you!) for the past three years, but owner Wendy Finn decided to settle down at 25 N. Block Ave. It's right above Hugo's and Wendy has really personalized the space. It has TONS of character. I especially love the murals in the massage rooms. It's truly peaceful, but with the bustle of downtown Fayetteville just outside the door.
Tomorrow you can tour the facilities, meet Wendy and her staff, enjoy refreshments and, like I said, make appointments at a discounted rate available only on grand opening day. How cool is that?
Ribbon cutting's at 2 and Fayetteville Mayor Lioneld Jordan will be there to offer his support and best wishes.
A side note: I.M. Spa will be helping us with a very special pampering party. We'll offer more details on nwaMotherlode in the next few weeks.
Congrats, I.M. Spa!