By Shannon Magsam, bath enthusiast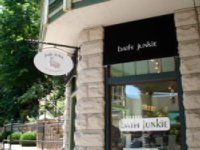 Bath Junkie, based in Fayetteville, is taking its show on the road! Specifically, they're bringing an express mini shop to bath junkies and the people who love them in a special "road show" at Sam's Club on Highway 112 in Fayetteville. The show begins today (Thursday, Oct. 9) and runs through Sunday. You're invited to stop by and shop their mobile spa store, which will include some of Bath Junkie's top-selling fragrance blends as well as some new cutting-edge products — with some great discounts for Sam's Club members! They'll also be offering complimentary spa hand treatments, beginning with an exfoliating salt scrub and ending with a delicious body dessert.
The specially-packaged products just for this event would be great for home spa indulgences — or Christmas presents for friends and family! (If you can't make it to this one, look for Bath Junkie at the Bentonville Sam's Club later this month!)
Bath Junkie is also doing a really cool promotion right now in honor of National Breast Cancer Awareness Month. During the month of October, Bath Junkie is offering a 10 percent discount on any paraben-free lotion you tint pink — the color representing the cause. Bath Junkie recently reformulated their high-quality lotions to be paraben free because of the possible correlation between parabens and breast cancer. That's something we can all support. (Note: The pink discounts are not available at Dillard's or at the Sam's Road Show.)
In Arkansas, there are Bath Junkie stores at the Dillard's in the Northwest Arkansas Mall, downtown Eureka Springs (pictured above), Shops at Pinnacle Hills in Rogers, Hot Springs and at the Little Rock River Market. And, as I told you recently, we're getting a store in downtown Fayetteville again — at the new Underwood's Plaza on Dickson Street. Woo-hoo!