By Shannon Magsam, nwaMotherlode mama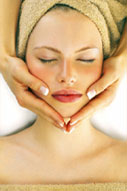 Wendy Finn, owner of I.M. Spa in Fayetteville, first got into massage therapy after experiencing a full day of bodywork.
"The massage was amazing. I had never had anything like it," she recalls. "I went into the massage a solid, the therapist turned me into a liquid and I came out a gel.
 "I got out of the Air Force after that and went straight into massage school."
She wanted to create that same "gelly" experience for others. I can personally attest to her ability to do just that. When Wendy's business was a mobile spa (she would bring the massage table to you) we traded massage for writing services a few times.
Now that she's opened a brand new spa on Block Street in downtown Fayetteville, I'm hooked and will drive to her! The spa is newly renovated and looks beautiful. I.M. Spa is one of our newest Motherlode sponsors and Wendy and crew gave chair, hand and foot massage to the moms at our recent Pampering Party. They did it right and everyone went away a little more relaxed than when they arrived (well, except for me and Gwen, who missed out!).
The prices are more reasonable than many spas and Wendy's always offering great deals. For example, $50 massages on Tuesdays. My neck says it's time to visit Block Street next Tuesday.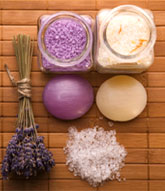 Q: Wendy, why did you recently decide to go from having a mobile spa to opening the Block Street location in Fayetteville?
A: "I had more and more massage tables, massage chairs, linens, paraffin, salt glows, steam towel cabinets, you name it taking up space in my house. Did I mention I live in a small house with a husband and four sons? The spa had grown up and was ready to leave home. We new we wanted to be part of the great feel of the downtown Fayetteville neighborhood."
Q: What makes I.M. Spa unique?
A: "We have the only Barefoot Spa Room in the region for Thai style foot massage treatments and for parties. We also have a beautiful duet treatment room with muraled walls.  We have a unique menu of services—Thai Massage, Acupuncture and Microcurrent Facials. We also feature locally made foot balm, massage oil, soaps, shirts and gift baskets. Our spa is not a chain—it has a definite Fayetteville personality. You won't find our atmosphere anywhere else in America. It is uniquely Fayetteville."
Q: What is your specialty?
A: "Spa Parties, Foot Massage, Thai Massage, Duets, Acupuncture Facials. Just making people feel better in their bodies, and have fun doing it."
Q: What are the benefits of massage?
A: "Stress relief (eliminates the stress hormone cortisol, increases endorphins, and other good hormones that combat stress); relieves muscle tension, increases immune system function, improved range of motion (for instance helps you see over your shoulder to drive if you have restricted range); decreases risk of sports injury; improves recovery from injury; and improves your body's ability to function.
"We treat our bodies worse than we treat our cars. Our car gets an oil change every 3,000 miles.  We would never put bad fuel into our cars. But we don't take care of our bodies. We drive them around like cars and don't make the time to maintain them. Not maintaining a car shortens its lifespan. Not taking time to maintain our bodies properly shortens our lifespans."
Q: Why did you want to start offering free infant massage classes (Wednesday mornings)?
A: "I have been a massage therapist for 16 years. I have been a mother for 14. Infant massage has always been a part of my practice and it is something that I can share with other mothers. My sons (ages 14, 10, 7 & 4) are probably the only kids around who get regular days at the spa. They love it and it gives us a time to connect that is so special. My 14-year-old even loves it…especially since he plays football and it helps him when he's having muscle issues."
Q: One last thing. Tell us about your special training.
A: "Let's see: Four years as an Air Force Veteran, B.A. from the University of Arkansas. Fullbright College, mother of 4 sons, first massage school in Virginia Beach, Va. Went to another full course of massage therapy here in Fayetteville, at the White River School of Massage. Have studied Cranio Sacral and Lymph Drainage massage at the Upledger Institute, as well as intensive study of Thai Massage in Chiang Mai, Thailand."
Visit I.M. Spa on Block Street (right above the much-loved restaurant Hugo's) near the Fayetteville Square. Call 479 251-7422 or visit the website at www.imspa.net to see your choices for de-stressing.