By April Wallace, Northwest Arkansas mama and nwaMotherlode contributing writer
Mamas, we all know how important (and fun) it is to read to our little ones. So if you're looking for some go-to children's book authors who knock it out of the park with kid-favorites, here's a list of authors who never let us down when it comes to beautiful, engaging books for little kids.
One of the very first things I was excited to share with my brand new baby was books. I put books on our baby registry and spent hours reading lists from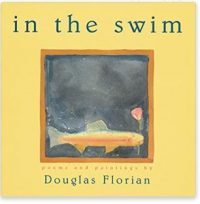 some of my favorite bloggers and authors, scouring their opinions for what the best children's books were. Once we got past the mostly-black-and-white board book stage, Douglas Florian's books about animals were some of our favorites to read to little baby Henry. They are full of short and sweet creative poems about all sorts of animals, paired with large watercolor drawings of them.
Something in the way he writes and paints is both mysterious and often silly, so it managed to entertain both my husband and I as well as our baby—even from the age of 3 months old. We started with Mammalabilia and Insectlopedia, fell in love with them and then adopted Beast Feast and Bow Wow Meow Meow, gave up and just ordered as many of the others as we could find like In the Swim and Lizards, Frogs and Polliwogs. Now that Henry is 3 years old, I find myself and sometimes Henry reciting these poems as we find creatures in our backyard or on our bicycle rides.
I hope you already own a copy of classics The Very Hungry Caterpillar, Brown Bear Brown Bear (which Carle illustrated) and The Mixed Up Chameleon
—if you don't, remedy that right away! Both you and your child will love them. But can you name any other Carle books off the top of your head? This summer we made use of a box set that one of my boys' aunts gifted to them, and it's pure gold with new favorites like The Artist Who Painted a Blue Horse; Little Cloud; Slowly, Slowly, Slowly said the Sloth and Friends.
One of Carle's books that both my boys (ages 3 years and 19 months) are thoroughly fascinated with is Eric Carle's Book of Many Things. It's long, but divided into sections and filled with a sort of picture dictionary that's perfect for the stage they're both at, when they're constantly learning more words for the world around them.
Chances are you've heard this name a time or two million. If not, this is your lucky day! I have my husband and stepson, Jackson, to thank for introducing me to this powerhouse author who has written more than 60 children's books since the mid 1970s. Jack lovingly handed down his old copies of Snuggle Puppy, Pajama Time! and Barnyard Dance to his brothers. The spines of these three books are so worn they're near dangling, if that tells you how well loved these stories are by all members of our family.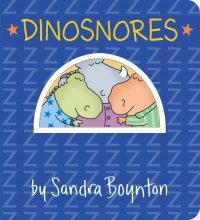 What I loved about these books at first is how sing-songy they are. It makes it fast and easy to read, and easy for little ears to listen long before they understand the words. Even before turning 1 year old, Henry was all about these rhymes with cartoon animal characters.
So many of them are perfect for bedtime. Not just the few above, but also Dinosnores, The Going to Bed Book and our current favorite, which we end every single day with, is Silly Lullaby. They have instructions, like stretching your arms, giving a big yawn, or how to put on your pajamas yourself. But one thing that's never left out is silliness, such a good element for my sweet, goofy boys!
Boynton's animal-specific books are especially great for my 1 ½ year old, helping him place animal sounds with their owners like in Moo, Baa, LaLaLa! and Barnyard Dance, and find plenty of whimsy in others, such as Birthday Monsters!, Dinosaur Dance! and Oh My Oh My Oh Dinosaurs!
Still, more of Boynton's charm comes from the interactive books like Tickle Time!, Belly Button Book! and Your Nose! It's a fun little way to keep your kids' attention during a story, when they're expecting a tickle, a touch to the nose, or finding their "bebo."
Bottom line is that there's a Boynton book for just about every toddler situation. We sing Hey! Wake Up! many mornings to ease Henry out of bed, and now that he's becoming aware of the names of emotions, we turn a lot to Happy Hippo, Angry Duck.
The Amazing Machines series is one I find myself reaching for a lot, since both of my boys are typical, vehicle-loving little guys. It wasn't until our first two volumes, Flashing Fire Engines and Dazzling Diggers, started coming apart from such frequent use that I looked around and realized the extent of this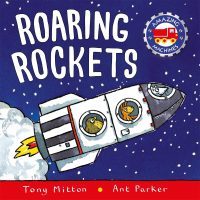 series. The basic set has 14 individual books, which gives us detailed information on our favorite vehicles (Awesome Ambulances, Marvelous Motorcycles, Tough Trucks); aircraft (High Flying Helicopters, Awesome Airplanes, Roaring Rockets); watercraft (Super Submarines, Busy Boats); as well as your standard little boy favorites (Terrific Trains, Tremendous Tractors, Cool Cars and Patrolling Police Cars).
I love how this series manages to explain in simple terms the purpose of the vehicles, how it functions in the community and the more complex side, like the unique, individual parts. That's how my 3-year-old knows the difference between a helicopter's rotor blade and tail rotor and will now correct you if you get them confused. And while he is completely here for the entire story, it's worth saying that my 19-month-old is mesmerized by these books, too. The brightly colored illustrations, animal characters and sounds we read on nearly each page keep his attention. I often find him looking at one of these books on his own and he likes them so much he doesn't want to hand them over, not even to let you read it. I think he's afraid he won't get them back!
If your kid is vehicle obsessed, too, be sure to check out this series board books, like First Numbers and First Words, or the workbooks that match the themes of the books, such as the Amazing Airplanes Activity Book for more fun.
Who in our home likes the Little Blue Truck series more, me or the kids? That's a tough question. We all love our friendly Little Blue Truck who looks out for other vehicles and animals, always offers them a helping hand, makes peace in traffic jams and reassures his friends on stormy nights. Each one of
these books (Little Blue Truck, Little Blue Truck Leads The Way, Little Blue Truck's Halloween, Little Blue Truck's Christmas, Little Blue Truck's Springtime and Goodnight Little Blue Truck) is a treasure. They're beautifully illustrated, help my toddler learn his animal sounds and gets my preschooler thinking about taking care of his fellow man.
The Christmas book has a bit of a counting element involved, and it definitely doesn't hurt that the twinkle lights on the Christmas tree at the back of the book actually light up when you open the final page. If you love this sweet truck as much as we do, you might get a hold of Little Blue Truck's Farm Sticker Fun book and just go ahead and pre-order Little Blue Truck's Valentine (set to release December 8, yay!) and Time for School, Little Blue Truck (you'll have to wait all the way until June 29, 2021, but I'll bet it'll be worth it).
For more solid storytime fun, check out Two Friends Bookstore's Story Time at 10 a.m. Saturdays via their Instagram page, or Fayetteville Public Library's storytime, which can be accessed online at https://www.facebook.com/FayettevillePublicLibrary. If you can't tune in right at the scheduled storytime, check out the Fayetteville Public Library YouTube Channel and look for the Baby Bookworms playlist.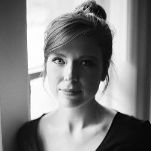 April Wallace is a stepmom to one smart, funny teenager, mama to two beautiful and curious baby boys and wife to a very kind and generous man. She spent the past decade as a news reporter, sometimes lifestyle writer, and recently left her job at the Arkansas Democrat-Gazette to be with her babies while they're still babies. When she gets a few minutes to herself, April loves to run local trails and read fiction.