Best breastfeeding tips for the first year
By April Wallace, Northwest Arkansas mama

When I learned I was pregnant with my baby boy, Henry, I knew I would want to at least try to breastfeed.
I was starting from the ground up in terms of baby care information, so I spent my pregnancy reading book after book about pregnancy, childbirth and the early months of care. I also took all the pre-natal classes offered at Washington Regional Medical Center, which included one on breastfeeding.
Every source of information seemed like a broken record: for your child to get the most out of breastfeeding, you should plan to do it for a year. If you're going to have trouble with it, each source said, it's usually just at the beginning, when you're getting started.
But I'd also heard all kinds of firsthand accounts about how difficult breastfeeding was. I tried not to put too much pressure on myself going in, and sure enough, the first six months were fairly smooth sailing. I felt so lucky.
A friend of mine was pregnant with a due date a few months after mine. Shortly after Henry was born, she asked me how breastfeeding was going. I felt too guilty to report how easy it was at the time because I knew she was anxious about doing it herself and I didn't want her to feel self conscious talking to me later. So I lied and said that I had trouble establishing latch. But the truth was that after a couple weeks of sore nipples, we adjusted and fell into a great pattern. Henry was growing beautifully.
It wasn't until his first two teeth broke through right around the six month mark that I began to have challenges that none of the books or classes covered.
I called my mom, of course, and was surprised that she had no advice to give, even though she had breastfed me and my brother. She hadn't gone past the three month mark because we both teethed early.
What no one told me about breastfeeding:
(One quick caveat: This is just one mama's opinion/accumulated knowledge — don't take my advice over a medical professional's.)
Building up a bank of milk is smart in the first 3-6 months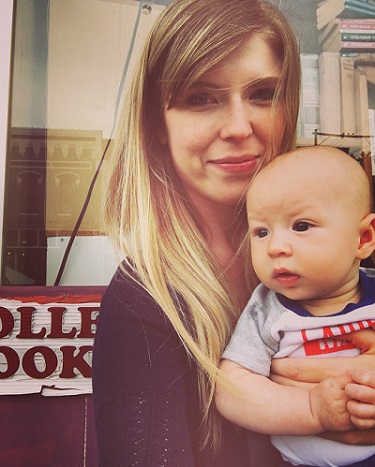 Your supply of breastmilk tends to be exceedingly generous during the first months of your baby's life. Many insurance companies will provide new mothers with a breast pump at no extra cost. Simply call your company and ask which ones are available based on your plan. Mine gave me at least six options and said I could have it delivered to my house within 100 days (either before or after) my child's birth.
Pumping after a breastfeeding session increases your supply while simultaneously building a bank that will be a godsend when you have a busier schedule and less time to pump milk; when you get sick and need a little time to recoup before caring for baby again; or even when you just need a break, a date night or lunch out with a friend.
If you use bottles, a newborn or slow-flow nipple is best
Breastfeeding is a lot of work for a baby. It's so much easier and faster to get milk out of a bottle. Using a newborn or first stage nipple has a similar, slow flow to that of your own nipple and can keep the baby accustomed to the process of breastfeeding.
How I kept him from biting once he got teeth
It only takes one bite to make you live in fear of each feeding session. When your baby is eating 6-10 times a day, often for long periods, that's far too much time to be on edge. I needed help, and fast.
Friends, co-workers, acquaintances and the nurse on call at my pediatric clinic all said the same thing: pull the baby off your breast immediately and give him a firm "No." If he smiles or giggles at your command, do your best to not smile back. Make sure he gets the message and wait a few minutes before trying to feed again.
If that doesn't work, more than one person reported success by yelling or crying out when bit. That comes naturally, and yet neither approaches seemed to work for me and my baby.
One close friend said she popped her baby in the mouth in response, but he was about a year old when that happened. I didn't feel comfortable trying the same thing with my 6 month old, since he probably didn't have the same capacity for understanding.
What did work for me? Two things: ending feedings before he got too sleepy, (the most common time that I got nipped), and the use of a nipple shield until he could learn better.
I bought my standard sized (24 mm) nipple shield for about $8 at Walgreens, but if you know your individual nipple width you can purchase a better fitting size from Colliers Drug Store. If you'd like help measuring your nipple correctly, lactation consultants are usually happy to help.
If you have oversupply, it's normal for your milk to regulate, or slow down, usually between 6-9 months
This, apparently, is your body's way of making sure it won't work itself too hard. Eventually your body starts to make only the amount of milk that the baby has actually been ingesting over the first few months.
Oversupply is defined as getting 4-6 ounces (or more) each time you pump. Once my breastmilk regulated, only then did I realize how generous my supply had been. I usually pumped 3-4 ounces from each side during each session. That meant once I went back to work, I only took 2 pumping breaks. It was plenty to give my baby enough milk for the following day.
Oversupply and eventual regulation seems to be an extremely common problem for breastfeeding moms. The biggest portion of helpline calls to La Leche League International are from mothers who have been breastfeeding for about 9 months and experience a sudden decrease of breastmilk output or are fearful that their milk has "dried up."

What to Expect The First Year, the sequel to the most popular pregnancy guide, What to Expect When You're Expecting, says that breastfeeding challenges are extremely common at 5, 7 and 9 months.
I never would have known this if my baby hadn't lost weight, which sent up red flags at the pediatrician's office. He'd always been small, in the 10-25th percentiles for most things, but at 7 months, he fell off the growth chart. The doctor, who has the reputation as the most pro-breastfeeding of the pediatricians in the practice, suggested I begin supplementing with formula immediately.
I flat out refused and went home determined to find the quickest ways to increase my supply.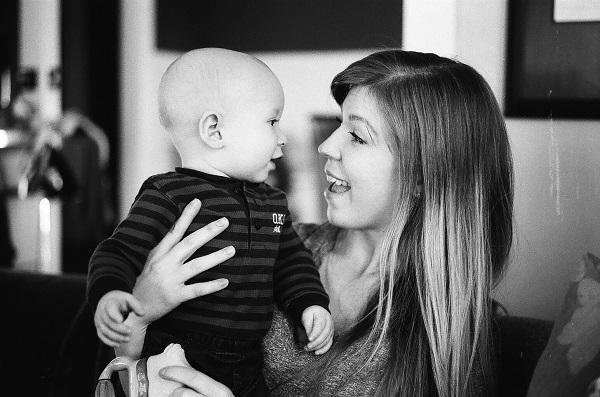 Increased frequency, not increased amount of time breastfeeding, will boost your breastmilk supply——and the baby is more efficient at milk extraction than a breast pump
I knew that babies become more efficient eaters the longer that they've been breastfeeding, but no one ever told me just how much more until Henry lost weight.
The pediatrician speculated that he was exerting too much energy by feeding for too long and suggested I cut our sessions down to at least 15 minutes. Another pediatrician recommended I pump after each session to start increasing supply.
A nurse friend of mine at Washington Regional who breastfed both her babies until at least 18 months each recommended ditching the pump for the time being, since pumping is a lot of work and all milk would be going to Henry anyway. She suggested keeping day sessions no longer than 10 minutes, but feed every hour and for 15-20 minutes every two hours at night.
Taking measures like this increases your supply over time if you're consistent. In my situation, I only had a couple of weeks to convince the doctors that we were moving in the right direction, and that wasn't enough time. I started supplementing with formula to make sure Henry had enough nourishment and could continue growing.
Lactation products don't have to taste bad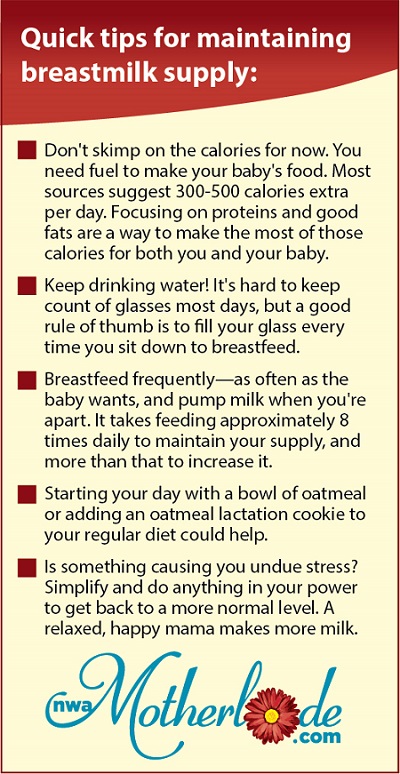 Ever since my supply dropped, I have tried every possible milk-boosting food, drink and herbal supplement that I've come across. There are so many that it seems like no one really knows exactly what boosts breastmilk and what doesn't.
Oatmeal, drinking enough water and eating enough seem to be the most common milk-boosting suggestions. A midwife recommended to me that I drink at least a gallon of water a day, but other sources say that drinking too much water can actually hurt your supply. I opted to continue with my recommended 8 glasses (8 ounces each) daily.
Caffeine, alcohol, stress, dieting and mint are known detriments to breastmilk supply. (I'm not confident that they decrease milk, but they definitely affect it.)
Like pregnancy, you're still allowed caffeine in moderation. The recommended maximum daily amount is 500 mg, or about 3 cups of coffee. A very, very small percentage of alcohol will make it into your breastmilk supply.
A class at Washington Regional told new mothers that a glass of wine or beer a day was unlikely to greatly affect your milk, and that the "pump-and-dump" is only necessary if you're buzzed or drunk (in which case, childcare arrangements are recommended).
Other sources recommend that breastfeeding mothers who do opt to have a drink wait at least a couple of hours before feeding again, because it stays in your breastmilk roughly the same amount of time that it does in your blood system.
The first products I bought were a lactation cookie mix and a liquid herbal supplement, both from Terra Tots. You could place a few drops in whatever you happened to be drinking, and it was recommended for use 3-5 times a day. The problem? It tasted so bad that it virtually ruined every drink I put it in. It was hard to get down, especially after several days of consistent use. It made me bloated and left me feeling not-so-great.
A friend gave me some Mother's Milk tea, which is also recommended to be taken multiple times daily (great for hydration!) but with the same sort of licorice taste and left me with the same bloating and gassiness.
Luckily, a co-worker told me that you can find Fenugreek, the active lactation product ingredient, in capsule form. Taking 9 capsules a day (3 capsules 3 times a day, always with food) meant I could have more of the active ingredient and in my experience, less of the bad taste and poor side effects.
My favorite lactation cookies out there are an oatmeal chocolate chip made by Milkmakers. Unlike some homemade concoctions and cookie mixes, this brand tastes no different to me than an ordinary cookie. And who needs an extra reason to have a cookie anyhow? Not me.
Recently I ordered a box of "emergency brownies" from Milky Mama and was similarly rewarded. They're tasty, and they do increase your breastmilk!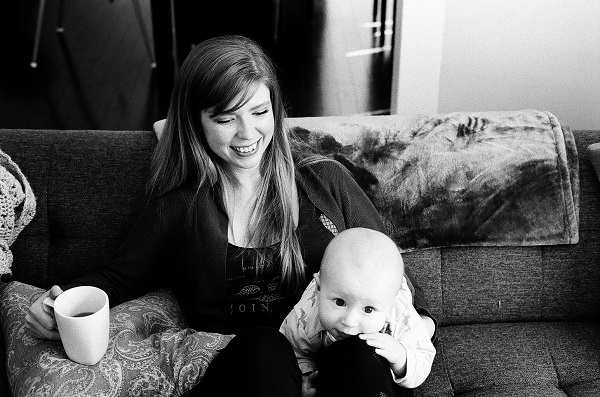 Breastfeeding helps you lose some, but not all of the pregnancy weight
If I had a dollar for every time someone touted breastfeeding as a way to lose the pregnancy weight, I'd have enough to buy a stick to whack them over the head with and say "But not the last 7 pounds, goon!" According to Baby Center, no one knows exactly why this is, but breastfeeding moms report the last 7-8 pounds stick around longer, usually until after breastfeeding is done. In the same report, scientists speculate that it's a fat supply necessary for making breastmilk.
For older babies, a "fiddle" toy helps
Now that my son is 10 months old, he's cruising furniture, standing on his own and everyone in the household is betting on what day he'll finally decide to walk. The last thing he wants to do is sit still long enough for what's now an admittedly short breastfeeding session.
So when we sit down for him to eat, it's always done with a toy in hand. Henry prefers a cloth fox rattle. I recommend finding one that is light and soft, because if your kid is anything like mine, chances are you will be smacked with that toy over and over, in the boob, in the face, arm, leg… you get the idea.
Photo Credit: All the black and white photos in this post were shot by April's husband, Sam Wallace.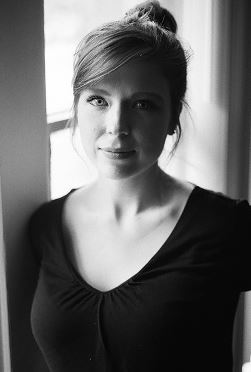 April Wallace is a stepmom to one smart, funny teenager, mama to two little boys, and wife to a very kind and generous man. When she gets a few minutes to herself, April loves to run local trails and read fiction.
Check out the Baby Gear and Gadgets category for info on mom-tested products for babies.