Mercy At Work: Joplin Relief is an opportunity for us to help our Joplin, Mo., neighbors. From 7 a.m. to 7 p.m. today (Tuesday, May 24),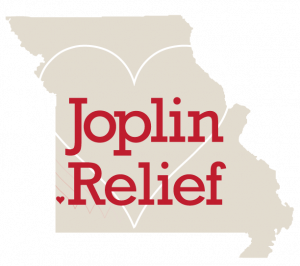 there will be a JB Hunt truck parked on the Mercy Health System campus in Rogers (JB Hunt will bring more trucks if needed). Let's help fill them with supplies!
The event is sponsored by Kix 104, Magic 107.9, 93.3 the Eagle and Hot Mix 101.9. The trucks will be parked at the Emergency Department employee parking lot. Clothing and household supplies are not being accepted right now.
Items needed: diapers, wipes, baby formula, water, blankets, tents and other new camping gear, blow-up mattresses, batteries, battery-operated radios, flashlights, toiletries, canned goods, can openers.
A blood drive is also scheduled at Mercy NWA at the hospital this Thursday from 9am to 3pm on the terrace. All the blood collected will go to victims from Joplin.
Below is a photo taken at the front entrance of St John's Regional Medical Center in Joplin, which was damaged extensively and evacuated. It's a part of Mercy Health System.  The tagline states, "the only item left standing". It's the Mercy Cross.
Click here to read the latest news on Mercy response to the Joplin tornado. Click here to donate to the tornado relief fund.