By April Wallace, Northwest Arkansas mama and nwaMotherlode contributor
For us, the holidays absolutely begin with Halloween and each one deserves its own set of books. Here's what we're reading regularly to bring the spooky (but not too spooky) spirit to our house.
Great kids' books to read in October
The Octonauts series by Meomi has not just one but three books great for this occasion, including The Octonauts & the Only Lonely Monster; The Octonauts & the Great Ghost Reef; The Octonauts & the Sea of Shade. From the mama perspective, these books are wonderful because there's a bit of a learning component to each, educating kiddos about sea creatures and their environments; as well as moral lessons of being a good friend and helper to anyone you meet. My boys love them in part because they are so brilliantly colorful and full of the adventures of their favorite cartoon characters.
In The Only Lonely Monster, the Octonauts help a big, bashful monster who's lost his way. They learn that it's not fair to judge someone by their appearance or their first impression, and they celebrate what makes each creature unique. I cherish books with a "be yourself" element.
In The Great Ghost Reef, Octonauts investigate a coral reef that's turned entirely white. They help find the cause by forging a new friendship with an old turtle, the only creature still living in the reef, and restore his home so all his neighbors can return.
The Sea of Shade is not as educational, more straight-up entertainment. While trying to sneak a nap under a tree, Tweak bunny notices her shade has disappeared. All the other shadows, too! The Octonauts make an expedition to visit the Shade King and negotiate getting their shadows to return to earth. It turns out that a few kind words and appreciation can go a long way.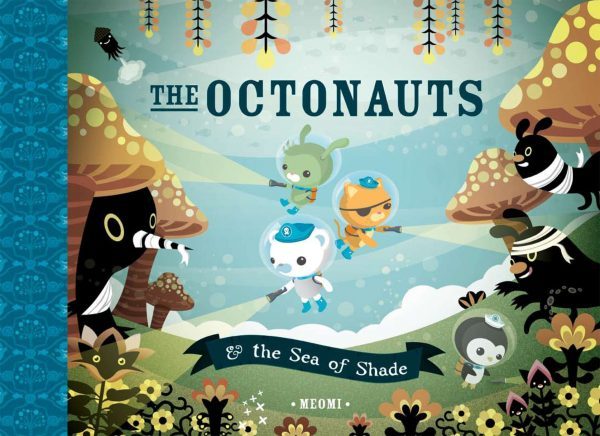 PJ Masks' Five Little Ninjalinos is a Halloween story with good morals, too. Our favorite night heroes bump into the ninjalinos in the park on Halloween. They're waiting for Night Ninja, who says he's picking out a costume, but is taking a long time. Meanwhile, the PJ Masks invite their arch rivals to join them for a Halloween party, sharing their cake and balloons. "We're not here to fight. Let's be friends, only for tonight!"
Trick or Treat, Pout-Pout Fish stars our beloved once-sullen friend as he greets trick-or-treaters—a ghost, a goblin, a Pout-Pout look-a-like, and an astronaut—from his spooky submarine. I was personally disappointed in this book. With just a few words each page, it doesn't seem half as good or original as the first Pout-Pout Fish that we instantly loved. But it's not about me, is it? My boys love this book, so we read it every day.
Biscuit Visits the Pumpkin Patch is a sweet and simple little volume that touches on all the fun possibilities of making the trip to get your pumpkins. Taking wagon rides, selecting a pumpkin that's just the right size, choosing one for a jack-o-lantern, one for pumpkin pie, one for painting, and of course exploring and making new friends.
Books about typical Halloween characters
I can't tell you how many times we have read Room on the Broom by Julia Donaldson this season already. Who knew a witch would be such a good example for friendship? She stops to help a cat, a dog, a frog and a bird long before she knows that she might need their help in return.
Big Pumpkin by Erica Silverman is also a household favorite right now. When a witch grows a pumpkin too big to pick up by herself, she lets a ghost, a vampire, a mummy and a bat each have a crack before they try working together. This book is about teamwork and sharing the fruits of your labor, and I'm all about it.
Pumpkin Jack by Will Hubbell anticipated an explanation I didn't yet know I needed, but now am so glad we have on hand. What happens to our jack-o-lanterns after Halloween? Tim finds out when he gives his new friend a home in their dying garden. He watches him diminish further and further with each season, and then gives him care and attention through the spring and summer by covering him, weeding and watering. What a lovely surprise when Jack comes back in the fall, growing along with several new friends. We delight with Tim in the reemergence of Pumpkin Jack and love how he shares his load of pumpkins with his buddies.
Five Little Bats Flying in the Night by Steve Metzger is a cute play on the Five Little Monkeys story. I love its twilight-like illustrations and appreciate this themed book that gives my preschooler another avenue to practice counting.
Would any Halloween list be complete without our favorite monster? We only recently discovered Nibbles the Book Monster, but he was an instant classic here. Nibbles is a cute little monster who eats his way through the classics: Goldilocks and the Three Bears, Little Red Riding Hood and Jack and the Beanstalk, in the original book. My boys love letting Nibbles out of his cage, finding him among each page, peeking through all the holes and trapping him (or so it seems) again at the end.
Books on Facing Your Fears
The Black Rabbit by Philippa Leathers is something I found for Henry when he started having trouble falling asleep because, he said, of all the shadows in his room. In this book, a little white rabbit realizes that a big black rabbit (her own shadow) is following her. She runs faster, swims through a river and winds up in the dark forest. Though she finally loses the black rabbit there, a wolf begins to follow her instead. White rabbit pops back out into the daylight, where the wolf sees the big, black (shadow) rabbit and it scares him so much he runs away. Little white rabbit realizes that her shadow is her friend.
In hindsight, this book was above Henry's level when we got it, at age 2, but now at age 3, the lesson comes through easily. The story has helped him realize that everyone has a shadow, and although it's OK to be scared, the shadow isn't a sinister thing.
Possum Come a-Knockin' by Nancy Van Laan is a tale that wonders, "What's that strange noise at the door?" The character Henry's age is the one who notices the noise, and insists that whatever it is hasn't gone away, even when they open the door to find nothing (while a rodent in a tophat sits in the tree nearby). This quaint little book is the only one in our collection that uses phonics with a Southern accent, and it ends on a funny note, which is perfect for my little ones (ages 3 years and 20 months) who don't need a tale (that's actually scary) right before bed.
Can't You Sleep, Little Bear?, by Martin Waddell and Barbara Firth, faces a fear so many little ones have: fear of the dark. Big bear keeps bringing progressively bigger and bigger lanterns to the little bear's bedroom, only to realize that little bear is afraid of all the dark, even the dark outside. They step outside of the house to face the dark, find comfort in the big round moon and in each other's warm embrace.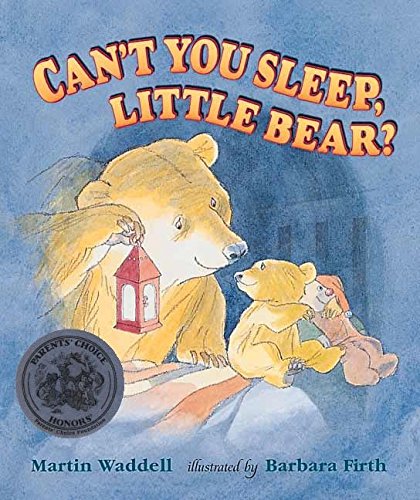 Books for a month with TWO full moons (October 1st and 31st)
What is the Moon? is a beautifully bright, lift-the-flap book from Usborne that answers a lot of questions, starting with the basics: What is the moon? What shape is it? What's it made of? Then progresses to more advanced things, like Has anyone been there? What's it like on the moon? and What will I need to go to the moon? My boys are in love with this one because it has enough flaps for them to both open things at the same time.
The Full Moon at the Napping House by Audrey Wood is a great book for bedtime, and not just in months with blue moons. Its prose is sing-songy, which begs to be read aloud, and has lots of repetition. I'd like to think that it gets my boys sleepy, just like the effect the full-moon song of the cricket has on the rest of the characters in the book.
Owl Moon by Jane Yolen is a gorgeous story about that feeling of safety when you're next to your dad. It is so elegantly told that it feels more like poetry and is pleasing even for me to read, but it has child-like metaphors that satisfy the boys, such as 'the snow below it was whiter than the milk in a cereal bowl.' During this time of fright in good fun, I like a book that recognizes the warm feeling of being next to a parent while facing something scary. "I didn't ask what kinds of things hide behind black trees in the middle of the night," the main character says. "When you go owling you have to be brave."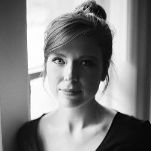 April Wallace is a stepmom to one smart, funny teenager, mama to two beautiful and curious baby boys and wife to a very kind and generous man. She spent the past decade as a news reporter, sometimes lifestyle writer, and recently left her job at the Arkansas Democrat-Gazette to be with her babies while they're still babies. When she gets a few minutes to herself, April loves to run local trails and read fiction.