Reviews by April Wallace, Early Childhood Editor for nwaMotherlode.com
Every year on October 1, I wake my boys up for the first batch of banana bread of the season and start the daily tradition of reading Halloween books over our fall breakfasts. When you've got good stories on hand, the holiday doesn't have to be limited to a single day. We take a lot of pleasure in our Halloween books getting us into the spooky (or creative, or brave) spirit as soon as the first leaf turns a different color.
You may remember our books list from last Halloween, but I can't help but get some fresh books each season. Here's what we're reading now:
Halloween Heroes! is a Paw Patrol/Nickelodeon book illustrated by Nate Lovett that we cannot leave the house without reading. The pups are all dressed in costumes for their Halloween party on a pirate ship when strange things start happening. Who ate all the cookies? What's that moaning sound? Wait, who's steering the ship?! Not everything has a simple explanation. No matter how many times we read it, my boys want to hear it again.
In the lift-the-flap book Happy Halloween, Daniel Tiger! by Angela C. Santomero we follow our favorite neighbors as they get ready to trick or treat. First we guess what they're about to dress up as and then we lift the flap to see if we got it right. I love the prevalence of the homemade costumes throughout the book that inspire creativity and some participation in the process. It's also pretty cute that Katerina changes her mind a few times and eventually combines her favorites.
If your little one has ever wondered where a digger would store his chocolate after trick or treating, whether tractors enjoy the pumpkin patch too or if you could make apple cider with a road roller, then Where Do Diggers Trick Or Treat by Brianna Caplan Sayres is for you. My toddler's refrain each time we finish this book is "one more read!"
The board book Monster ABC by Kyle and Derek Sullivan masterfully reinforces alphabet letters in a fresh and funny way. Each monster is a silly illustration that keeps it from being menacing: the imp seems put out, a butterfly lands on the jersey devil and hobgoblin smells like a fart.
Trick or Treat Parakeet by Lesley Sims and David Semple shows how you can have a lovely Halloween without everything being perfect. Parakeet is still carving her pumpkins and decorating her treats when her friends ring the doorbell. Her big pumpkin gets broken and she gets covered in sugar, but she learns how to make the most of the mess and have a good time despite it all.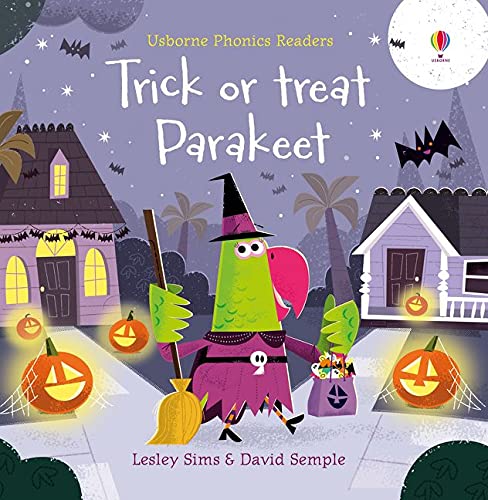 Pete the Cat Trick or Pete by James Dean takes us trick or treating with our favorite cat. As we encounter suspect sounds, rustling leaves and ominously placed spiders and owls, Pete shows us how Halloween isn't so spooky after all.
The Halloween Play by Felicia Bond (author and illustrator of If You Give a Mouse a Cookie) features a little mouse who's anticipating his small but important role in the school play. We see him practice at school, send invitations and wait nervously backstage for just the right moment. Friends cheer for him and his dad takes his picture. There's something really sweet about this short, simple tale. I'll be saving it for the day one of my boys goes on stage. I could see it giving them confidence that while facing a crowd can be scary, everything will turn out OK.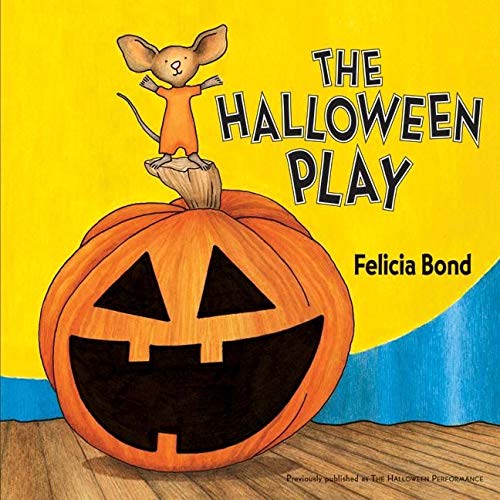 B is for Boo by Greg Paprocki is one of many beloved volumes of alphabet books that our house has treasured thanks to the Fayetteville Public Library. We have read these to our boys since they were babies because each page is full of colorful illustrations, making it easy to talk about the one line or play a bit of seek and find with the rest of the picture. With words like labyrinth, Ichabod Crane, voodoo and extraterrestrial, I think of B is for Boo as more traditional/less commercial than many of the Halloween books out there, and I'm here for it.
The Gruffalo by Julia Donaldson (ingenious author of Room on a Broom, another Halloween story we treasured) is about a clever little mouse taking a brave stroll through the deep, dark woods. To ward off all the creatures that want to eat him, the mouse makes up a fantastical, frightening creature called the Gruffalo, who he says is on his side. You'll never believe what happens when the Gruffalo actually appears!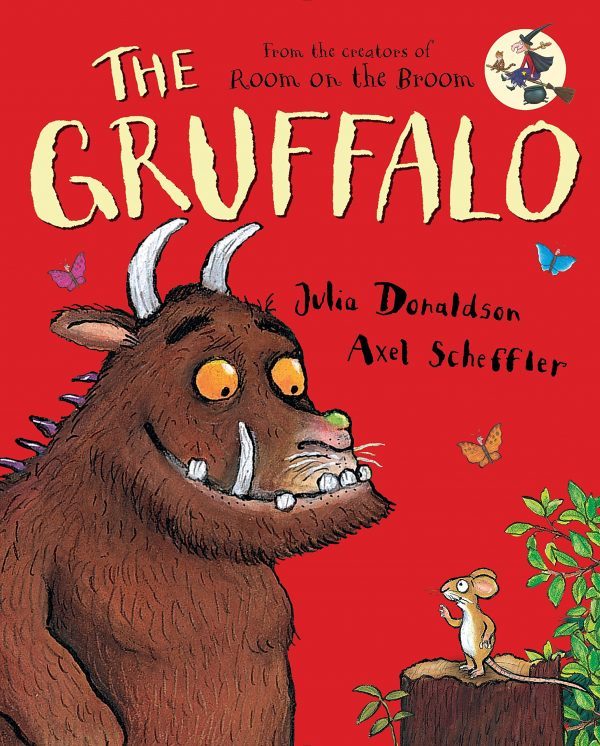 In Gus Gets Scared by Frank Remkiewicz, a little hippo wants to test out his new tent in his backyard. At first he brings his toys and plays with them in the tent all day, but then he wants to spend the night there too—all by himself. The dark and the scary noises change his mind, and before long even dad's presence isn't enough to keep him outside. I like this one because it tells us it's OK to be scared sometimes.
The Pout Pout Fish in the Big, Big Dark by Deborah Diesen features our surly fish friend who bravely offers to help find Ms. Clam's missing pearl. Mysterious whispers tell him to check in deeper, darker water, much to his dismay. He faces his fear of the dark and realizes the voice is Miss Shimmer. Together with the help of Mr. Lanternfish they find the pearl on the ocean floor. "We are bigger, yes bigger, always big, big, bigger than the dark!"
Edgar Gets Ready for Bed by Jennifer Adams is my personal all-time favorite bedtime book to read to my boys. Inspired by Edgar Allan Poe's 'The Raven', it features a toddler raven who answers everything (Finish your vegetables! Clean up your room! Time for your bath.) with "NEVERMORE!"
My boys don't quite get the references of the midnight dreary, the jack in the box that looks like Poe himself or that the raven's bedtime book is Poe's 'The Raven', they just think he's a silly character who would do what they would do in any given situation.
The little raven knows he pushes mama's buttons, so as he gets tucked into bed he asks "Mom, do you still love me?" to which she replies "Yes, Edgar I'll always love you…Evermore."
Click here to read another recommended list of great books to read to the kids during the month of October.