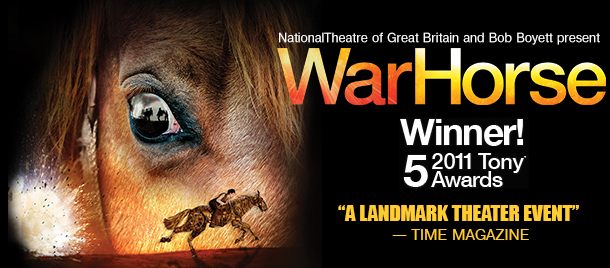 We can't wait to see this show, a remarkable tale of courage, loyalty and friendship. It looks so good!
If you're chomping at the bit to see it, too, we're giving away TWO tickets to see the show on May 22. Giddy-up!
ABOUT WAR HORSE: England, 1914. As World War One begins, Joey, young Albert's beloved horse, is sold to the cavalry and shipped from England to France. He's soon caught up in enemy fire, and fate takes him on an extraordinary journey, serving on both sides before finding himself alone in no man's land. But Albert cannot forget Joey and, still not old enough to enlist, he embarks on a treacherous mission to find him and bring him home.
This powerfully moving and imaginative drama, filled with stirring music and songs, is a show of phenomenal inventiveness that is currently playing to packed houses in London and New York. At its heart are astonishing life-sized puppets created by South Africa's Handspring Puppet Company, that bring to life breathing, galloping, charging horses strong enough for men to ride. Winner! Five 2011 Tony® Awards.
Content consideration: This performance contains themes and scenes of war that may be unsuitable for younger audiences.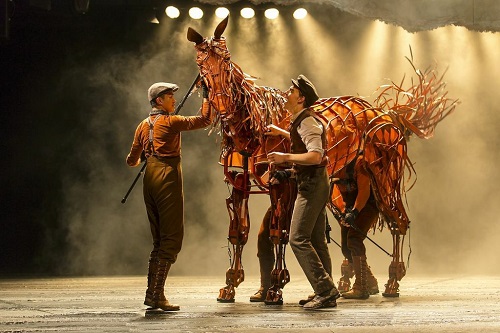 HOW TO ENTER: If you'd love to win tickets to see this amazing show, click on the words "post a comment" at the bottom of this post and tell us about the most loyal friend you've ever had. Is it your bestie from college? The co-worker you met years ago who has had your back ever since? Maybe it's your sweet dog, Spot!
You can also email your answer to giveaways@nwaMotherlode.com.
Remember that all giveaway winners are always chosen at random, so anyone can win.
HOW TO INCREASE YOUR ODDS: To increase your odds of winning the show tickets, email your friends and family to let them  know about this giveaway. Just be sure to put giveaways@nwaMotherlode.com on the CC line of your note so we can give you proper credit.

BE SOCIAL: Spread the word via social media and we'll give you extra chances as well. Just share the giveaway with your friends on Facebook (click here to go see the post on our Facebook page and share from there) or share about the giveaway on Twitter to increase your odds of winning. If you do either of these things, just let us know in your posted comment or send us an email so we can give you proper credit.
We'll choose the winner on Friday, May 17, so be checking your inbox in case YOU get the great news! If you don't want to chance it, buy your tickets HERE at Walton Arts Center or call the box office at 479-443-5600
Good luck!