Happy Monday, mamas! We've got a ticket giveaway that would be the perfect outing for you and your little ones. Pass on your love for Winnie the Pooh to your kids by letting them see Pooh on stage at Walton Arts Center. This week's winner (chosen in our online drawing) will get 4 tickets to the performance on October 21, 2022.
This show isn't shown on a screen like the animated cartoon, and it's not done with people wearing character costumes. (We tell you this now because we know that some little kids are absolutely terrified by the guy in the Chuck E. Cheese outfit. My daughter was one of those kids.) This adaptation of Winnie the Pooh is beautifully performed with life-sized puppets who fill a stage designed to look like the Hundred Acre Wood!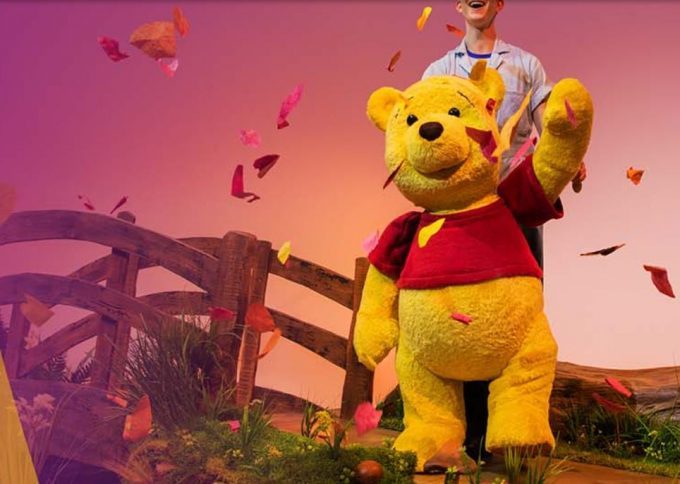 ABOUT THE SHOW:
Disney's iconic Winnie the Pooh, Christopher Robin and their best friends Piglet, Eeyore, Kanga, Roo, Rabbit and Owl (oh… and don't forget Tigger, too!) come to life in a beautifully crafted musical stage adaptation. Featuring the Sherman Brothers' classic Grammy® Award-winning music with additional songs by A.A. Milne, this beautiful, fresh stage adaptation is told with stunning life-sized puppetry through the eyes of the characters we all know and love, in a new story from the Hundred Acre Wood.
The show is recommended for kids ages 3 and up.
HOW TO ENTER:
If you'd love to win these 4 tickets to see Winnie the Pooh on stage at the Walton Arts Center on October 21, 2022,  scroll down to the bottom of the post and past the comments posted by other local moms.
Then write a quick comment telling us which one of the Pooh characters illustrates the kind of day you're having today. (Are you happy and content like Winnie the Pooh? Worried and anxious like Rabbit? Feeling sad like Eeyore? Full of energy like Tigger? Are you bouncing back and forth between all of these feelings? Some days are like that.)
Ticket winners are chosen at random and will be notified via email, so keep an eye on your inbox!
STAY CONNECTED:
Our newsletter subscribers get access to good stuff, including exclusive giveaways (like this one), information about local events, local mom interviews, recipes and more.
The nwaMotherlode newsletter is delivered straight to your inbox so you don't miss anything awesome (like this chance to win tickets!) CLICK HERE to sign up. We won't fill your inbox with info, no worries. We only send out newsletters when there's something in it for you — and we know you'll be interested in hearing about it.
MORE INFO: 
If you don't want to leave your tickets to chance, go ahead and pick your own seats and show times to Winnie the Pooh by clicking here, calling 479.443.5600 or by visiting Walton Arts Center box offices. Below is the official trailer for the show!