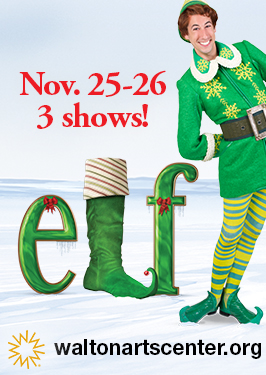 Raise your hand if your family ALWAYS watches the movie Elf around the holidays!
If so, you know it's hilarious (the movie is rated PG, FYI). Well, good news, Elf lovers! The Broadway show Elf the Musical is coming to Walton Arts Center and it's based on the beloved 2003 movie with Will Ferrell.
We've got four tickets to give away for opening night on Nov. 25th!
ABOUT THE SHOW: This delightful Broadway musical is for all ages. Elf the Musical is the hilarious tale of Buddy, a young orphan who mistakenly crawls into Santa's bag of gifts and is transported to the North Pole where he is welcomed into Santa's household. Unaware that he is actually human, Buddy's size and poor toy-making skills cause him to face the truth.
With Santa's permission, Buddy embarks on a journey to find his birth father and help New York remember the true meaning of Christmas. Elf the Musical "is happy enough for families, savvy enough for city kids and plenty smart for adults!" says Variety magazine.
This modern-day Christmas classic will help you embrace your inner elf.
HOW TO ENTER: If you'd love to win these FOUR Elf the Musical tickets click on the words "post a comment" below tell us about your favorite scene in the movie Elf. If you've never seen the movie, tell us which movie is your favorite watch as a family around the holidays.
INCREASE YOUR ODDS OF WINNING: If you'd like to increase your odds of winning the Elf tickets, just email friends and family about the giveaway and CC us so we'll be sure to give you credit. We'll give you an extra chance to win for each person you tell. The email is giveaways@nwaMotherlode.com.
(You can also earn an extra chance to win by signing up to receive the free email newsletter we send once a week. The sign-up box is at the top right of this page.)
BE SOCIAL: You can also earn extra chances to win by commenting on our Facebook page, following us on Twitter or following us on Pinterest. If you do any of those, just mention it in your comment or email so we can give you proper credit.
Good luck, mamas! We'll choose a winner on Friday!