Tickets to see Hadestown at the Walton Arts Center on May 23, 2023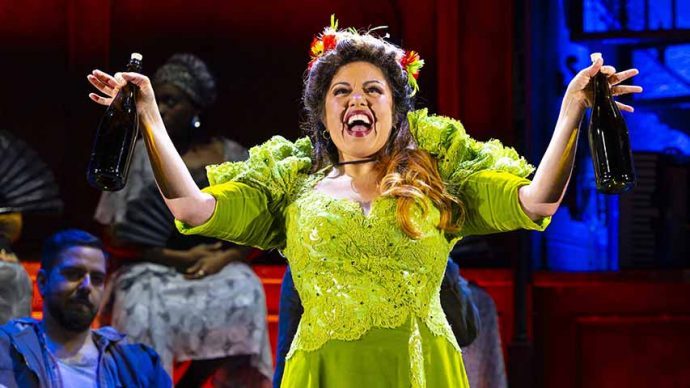 Hadestown is coming to Northwest Arkansas! This show took Broadway by storm and made such a name for itself. This music tells a version of an ancient Greek myth — the one about Orpheus and Eurydice. In this story, Eurydice is so poor and hungry that she takes a job in an industrial version of the Greek underworld. Her boyfriend, a singer-songwriter named Orpheus, comes to the underworld and attempts to save her.
There are so many reasons why this show has won EIGHT Tony Awards and has become such a hot ticket on Broadway in New York. Now we don't need a plane ticket to experience it! This week we're giving away TWO tickets to see Hadestown on opening night, May 23, 2023 at Walton Arts Center in Fayetteville. This will be a great date night or a special trip to the theatre for a parent and an older kid. (This show is recommended for those ages 8 and up.)
ABOUT THE SHOW:
Welcome to HADESTOWN, where a song can change your fate. Winner of eight 2019 Tony Awards® including Best Musical and the 2020 Grammy Award® for Best Musical Theater Album, this acclaimed new show from celebrated singer-songwriter Anaïs Mitchell and innovative director Rachel Chavkin (Natasha, Pierre & The Great Comet of 1812) is a love story for today… and always.
HADESTOWN intertwines two mythic tales — that of young dreamers Orpheus and Eurydice, and that of King Hades and his wife Persephone — as it invites you on a hell-raising journey to the underworld and back. Mitchell's beguiling melodies and Chavkin's poetic imagination pit industry against nature, doubt against faith and fear against love. Performed by a vibrant ensemble of actors, dancers and singers, HADESTOWN is a haunting and hopeful theatrical experience that grabs you and never lets go.
Here's a video sneak peek of the show!
HOW TO ENTER: 
To throw your name in the online hat to win 2 tickets to see Hadestown on May 23, 2023, scroll down to the bottom of this post (and past the comments posted by other moms) until you see the words "Leave a Reply."
Then write a quick comment telling us about one of your favorite, most crave-able foods — one that you'd drive miles for or wait hours to eat because it's just that good. Passionate about pasta? Crazy for queso? Devoted to donuts? Psyched for sushi? Let us know in the comments.
You can also email your answer to us at giveaways@nwaMotherlode.com.
If you'd rather not leave it up to the luck of the draw, you can purchase tickets to see Hadestown at the Walton Arts Center on May 23, 2023. Call 479.443.5600 or visit waltonartscenter.org.