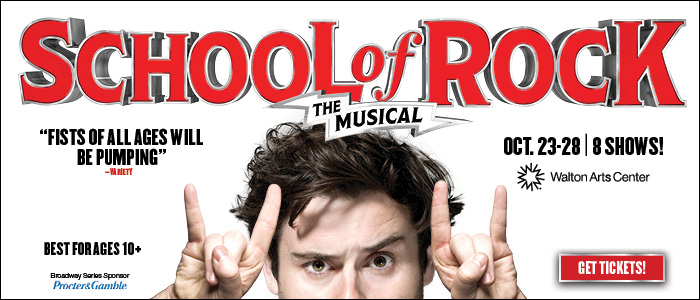 Who's ready to ROCK?!
If your family is ready to fist pump the night away while watching School of Rock at Walton Arts Center, this is your giveaway! We've got 4 FREE  tickets for the show on Oct. 23rd.
FYI, if you don't want to take any chances, get your School of Rock tickets here. There are a variety of show times:
BONUS EVENT: On Oct. 15th, you can find out more about School of Rock at a free Arts and Appetizers event!
ABOUT THE SHOW:
Onstage, the adaptation features a not-so-secret sauce, the kids in the rock band actually play their musical instruments – very well. The young actors' musical skills are showcased several times in exuberant rock numbers like "You're in the Band," "Stick It to the Man" and one song retained from the movie, "Teacher's Pet."
Lloyd Webber, along with book writer Julian Fellowes (Downton Abbey), lyricist Glenn Slater and director Laurence Connor, have taken Richard Linklater's 2003 film – which made Jack Black a star – and given it new life onstage.
"You wouldn't really think that it's 10 and 11 year-olds!" Lloyd Webber said. "I mean, it's extraordinary for their age, just how great they are, and how together they play."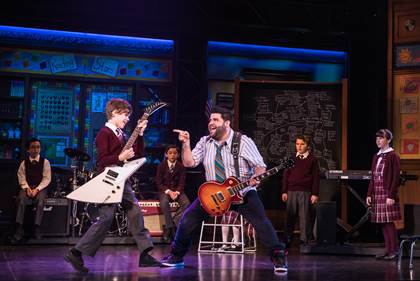 Lloyd Webber says he discovered his love of music and theater at about the same age as the kids in the show. And, he adds, School of Rock represents a coming home, of sorts. His first big hit was the rock opera, Jesus Christ Superstar, which he wrote when he was just 22.
School of Rock is the story of an outrageous rock star wannabe, Dewey Finn, who works his way into a substitute teaching job at a private school. Dewey puts together a rock band with his students to compete against adults in a Battle of the Bands contest – and changes everyone's lives, as a result.
Recommended for ages 10 and up.
Here's a video to give you an idea of how rockin' this show is:
HOW TO ENTER:
If you'd love to win these 4 tickets for your family to see School of Rock at Walton Arts Center, click on the word "comments" (right under the headline of this post) and scroll down to the bottom of the comments posted by other moms.
Then write a quick comment telling us the last thing you sang out loud. Be honest now! Was it a kids' song, a commercial, happy birthday at a party, we can't wait to hear, ha!
You can also email your answer to us at giveaways@nwaMotherlode.com.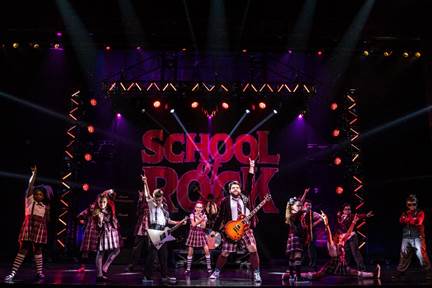 INCREASE YOUR ODDS OF WINNING:
Help us spread the word about this giveaway by emailing your friends and family about the giveaway. We'll give you an extra chance to win for every person you tell. Just be sure to put giveaways@nwaMotherlode.com on the CC line of your note so we can give you proper credit.
Our newsletter subscribers get access to the good stuff, including exclusive giveaways (like this one), information about local events, local mom interviews, recipes and more.
The nwaMotherlode newsletter is delivered straight to your inbox so you don't miss anything awesome. CLICK HERE to sign up. We won't fill your inbox with info, no worries. We only send out newsletters when there's something in it for you — and we know you'll be interested in hearing about it.
BE SOCIAL:
You can also earn extra chances to win by commenting on our Facebook page, following us on Twitter or following us on Instagram. If you do any of those, just mention it in your comment or email so we can give you proper credit.
We'll choose a winner on Friday, mamas, so check your inbox!
Tickets start at $38 plus applicable fees. Patrons can also purchase reserved parking in the Spring Street parking deck for $7. Tickets and parking can be purchased in-person at the Walton Arts Center Box Office, by calling 479.443.5600 or by visiting waltonartscenter.org.