This week's giveaway is really going to "bring it". Grab your pom-poms, mamas, because we're sending one lucky mama to an amazing dinner at Bordinos Italian Restaurant followed by tickets to the opening night performance of Bring It On at Walton Arts Center on February 7th at 7 p.m. Treat it as a date night with your sweetie or an awesome girls' night out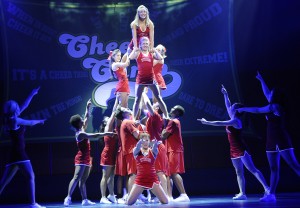 with your bestie. Either way, it's gonna be FUN.
Retail value on this package for tickets plus dinner is more than $160!
ABOUT THE SHOW: If you've seen the movie Bring It On on television, you know it's a high-energy show — lots of flips, tricks, dance plus a little teenage drama thrown into the mix. What we love about this show is how it takes us right back to high school — minus the acne and the bad 1980s hair. 🙂
And if you have a tween or teenage daughter or son interested in cheerleading, then you've just GOT to take them to this show. (Please note that the recommended age range for attending this show is age 11 and up.) The stage version is a fun musical comedy about an over-the-top high school rivalry in competitive cheerleading.
ABOUT THE FOOD: The food at Bordinos is so worth cheering about. In fact, every time we send a mama to dine at Bordinos we usually get an email back from her afterward with rave reviews about how good the food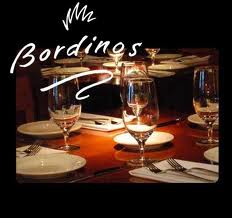 and the service was. (Click here to see their menu.)
Plus, Bordinos has such a hip, metropolitan atmosphere that's fun and upscale without ever being stuffy or pretentious. The winner of this giveaway package will have a $50 gift card to enjoy at Bordinos. Woo-hoo!
HOW TO ENTER: To throw your name in the online hat, click the big orange comment button below and tell us about something in your life that makes you want to cheer. Your kid aced the spelling test? Your toddler finally pooped in the potty for the first time? Got an awesome promotion at work? Your teen got accepted into college? You finally got caught up with the laundry? Big or small, we want to hear about what's got you cheering.
You can also email your answer to giveaways@nwaMotherlode.com.
HOW TO INCREASE YOUR ODDS: Send an email to your friends/family about this giveaway and we'll give you an extra chance to win for every person you tell. Just be sure to put giveaways@nwaMotherlode.com on the email so we can give you proper credit!
If you'd rather take lady luck out of the equation and confirm your tickets to Bring It On, call the Walton Arts Center box office for ticket information. The number is 479-443-5600. Or check out ticket availability online by clicking HERE.
Good luck in the giveaway! Winners, as always, are chosen at random.