An Officer and a Gentleman live on stage from January 4-9, 2021 at Walton Arts Center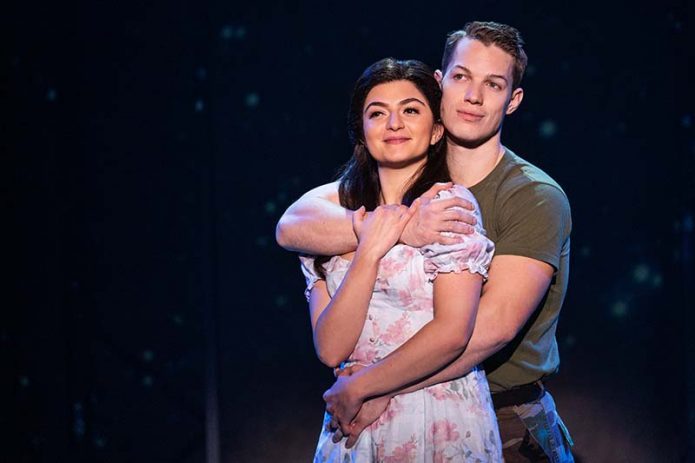 If you're a fan of music from the 80s, or a fan of great movies, or a fan of having a fun night out without your kids, this is your giveaway. This week we're giving away FOUR tickets to see the opening night performance of An Officer and a Gentleman at Walton Arts Center.
As someone who grew up in the 80s, I freaked out a little when I saw the songs included in this musical version of An Officer and a Gentleman. Remember the song "Venus" by Bananarama? YES! That was my jam in junior high school. Rick Springfield? Men At Work? All the yeses… bring it on. This would be such a great date night or girls night out with your bestie who loves these awesome songs.
Here's a video sneak peek that will give you a glimpse of this show:
ABOUT THE SHOW:
Based on the Oscar-winning film, An Officer and a Gentleman is a timeless love story that celebrates triumph over adversity. The new musical features an iconic score including the Grammy and Oscar-winning #1 hit "Up Where We Belong" (Joe Cocker/Jennifer Warnes), and your favorite 80's hits including:  "Higher Love" (Steve Winwood), "Owner of a Lonely Heart" (Yes), "Love is a Battlefield" and "Invincible" (Pat Benatar), "Lost In Your Eyes" (Debbie Gibson), "Right Here Waiting" (Richard Marx), "Venus" (Bananarama), "I Can't Hold Back" (Survivor), "Never Surrender" (Corey Hart), "Do The Walls Come Down" (Carly Simon), "Fly By Night" (Rush), "Hold On to Your Dream (Rick Springfield), "Overkill" (Men at Work), "Renegade" (Styx), and more!
Zack Mayo has the raw talent and strength for the US Navy's Officer Training School, but his arrogance is out of step. Graduating from the elite program will secure Zack's career and future, but can he endure the relentless commands of Drill Sergeant Foley? On his journey of self-discovery, Zack finds comfort in the arms of a strong-willed local factory worker. When tragedy befalls a fellow candidate, Zack learns the importance of friendship and honor, finds the courage to be his best self and wins the heart of the woman he loves.
HOW TO ENTER: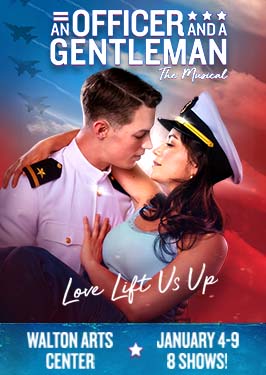 If you'd love to win these 4 tickets to see An Officer and a Gentleman, scroll down to the bottom of the post and past the comments posted by other local moms. Then write a quick comment telling us the name of one of your favorite songs from the 80s… the one that makes you sing way too loud or do a car-dance at the stoplight. (I'm a Hall & Oates fan, and the song "You Make My Dreams" will never get old for me… even when I get old.)
You can also email your answer to us at giveaways@nwaMotherlode.com.
STAY CONNECTED:
Our newsletter subscribers get access to good stuff, including exclusive giveaways (like this one), information about local events, local mom interviews, recipes and more.
The nwaMotherlode newsletter is delivered straight to your inbox so you don't miss anything awesome (like this chance to win tickets!) CLICK HERE to sign up. We won't fill your inbox with info, no worries. We only send out newsletters when there's something in it for you — and we know you'll be interested in hearing about it.
We'll draw the winner at random at the end of the week. If you don't want to miss out on seeing this show, you can buy tickets by clicking here to visit the Walton Arts Center ticketing page before it sells out.
You can also call 479-443-5600 to purchase tickets now.