Book reviews: The Dearly Beloved and The Midnight Library
By April Wallace, Northwest Arkansas mom and Early Childhood Editor for nwaMotherlode.com
When my favorite bookstagram reviewer sang the praises of The Dearly Beloved by Cara Wall, I instantly paid attention because it's not often that she finds a book flawless.
I had reservations about reading it because I am not a churchgoing person and at the center of the story are two intellectuals-turned-pastors and their two wives who couldn't be more different who team up to lead a church through a turbulent time for the congregation. Its backdrop is the civil rights movement, but that wasn't the main source of trouble for its people.
Still, I was blown away because The Dearly Beloved is an incredibly moving book. All the descriptions I found of it beforehand were so generic: "It's about faith, love, friendship," they said. Well, yes. It is. But it's also about working through grief, finding your way despite best-laid plans not working out, building a quality connection in your marriage and a whole lot more that comes with life.
Wall created four very real, very flawed people and I came to genuinely love all of them—deeply. Each of their histories, greatest hopes and struggles were compelling on their own and effective together. There was nothing formulaic about this tale as their lives unavoidably intertwined and delivered an extra twist near the end. Wall showed their relationships in such intricate and ever-changing ways that it's hard to believe they're not real people.
This is a story I will definitely, definitely read again and if I loan it out, I'm gonna want it back. What a gem.
Depending on experience, some readers may find these themes/issues triggering: infertility and questioning faith in God.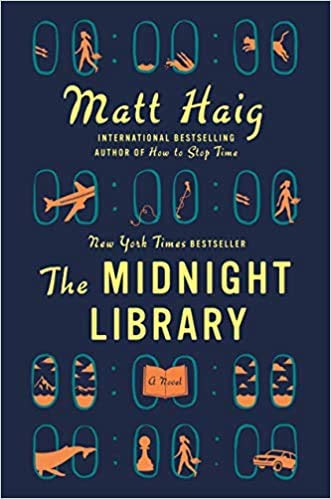 The Midnight Library by Matt Haig is for anyone who has ever thought "What if I had done or said something differently, chosen that career over this, said yes to that person who asked me out, etc. What would my life look like then?"
When Nora Seed loses her job and her cat in the same whirlwind of a day, her thoughts spiral out of control. She'd already passed on a marriage and lost the buoying connections she'd once had with her best friend and her brother, and it all got to be too much. Seed attempts to take her own life, which transports her to The Midnight Library, a place in between life and death, where she can try on different versions of her life (entered by opening a book) based on one change to her original life. As soon as she feels fully dissatisfied with that new life, she winds up back in the library to try again. But time is running out for her to pick the one that sticks.
This was a mostly feel-good book that gave me strong It's a Wonderful Life vibes and definitely aligns with any Eleanor Oliphant is Completely Fine fans. What I appreciated about it was the strong sense that no matter what path you choose in life, you're going to face plenty of hardships.
My only true issue with it was an uncharacteristic stray from the rules of the place when Nora chose a life that really suited her (at the risk of spoilers, I'll leave it there.) Otherwise, it's a nice easy palate-cleansing sort of read that may cause you to look inward and think about how you got where you are.
Trigger warning: suicidal, depressive thoughts are central to this storyline.
April Wallace is a stepmom to one smart, funny teenager, mama to two beautiful and curious baby boys and wife to a very kind and generous man. She spent the past decade as a news reporter, sometimes lifestyle writer, and recently left her job at the Arkansas Democrat-Gazette to be with her babies while they're still babies. When she gets a few minutes to herself, April loves to run local trails and read fiction. For more of April's posts on pregnancy, babies and toddlers, click here.