Charlie and the Chocolate Factory live on stage from Nov. 30th through Dec. 5, 2021 at Walton Arts Center.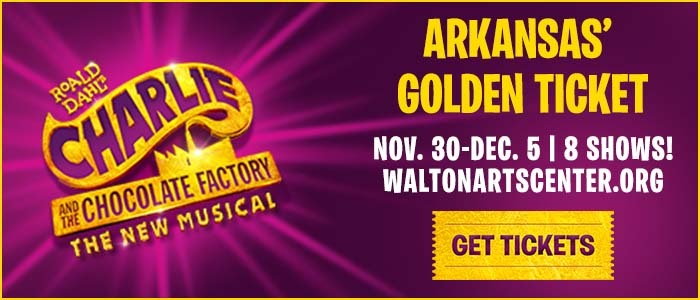 One of our favorite books, Charlie and the Chocolate Factory by Roald Dahl, comes to life on stage at the Walton Arts Center. This huge show is rich in chocolate and candy, vibrant colorful stage scenery, larger-than-life characters and music you can't stop singing. This week we're giving away TWO tickets to the show on November 30, 2021. (The show is recommended for kids ages 8 and up.)
Here's a video sneak peek that will give you a glimpse of this magical show.
ABOUT THE SHOW:
Roald Dahl's amazing tale is now Northwest Arkansas' golden ticket! It's the perfect recipe: songs from the original film, including "Pure Imagination," "The Candy Man" and "I've Got a Golden Ticket," alongside a toe-tapping and ear-tickling new score from the songwriters of Hairspray.
Willy Wonka is opening his marvelous and mysterious chocolate factor to a lucky few, including Charlie Bucket, whose bland life is about to burst with color and confection beyond his wildest dreams. He and four other golden ticket winners will embark on a  joyride through a world of pure imagination. Audiences will experience the wonders of Wonka like never before. Get ready for Oompa-Loompas, incredible inventions, the great glass elevator and much more at this everlasting showstopper.
HOW TO ENTER:
If you'd love to win these 2 tickets to see Charlie and the Chocolate Factory, scroll down to the bottom of the post and past the comments posted by other local moms. Then write a quick comment telling us what kind of chocolate (or candy) is your absolute favorite. (It's a really tough choice, but we'd probably have to go with those miniature Reece's peanut butter cups. What's your fave?)
You can also email your answer to us at giveaways@nwaMotherlode.com.
STAY CONNECTED:
Our newsletter subscribers get access to good stuff, including exclusive giveaways (like this one), information about local events, local mom interviews, recipes and more.
The nwaMotherlode newsletter is delivered straight to your inbox so you don't miss anything awesome (like this chance to win tickets!) CLICK HERE to sign up. We won't fill your inbox with info, no worries. We only send out newsletters when there's something in it for you — and we know you'll be interested in hearing about it.
We'll draw the winner at random at the end of the week. If you don't want to miss out on seeing this show, you can buy tickets by clicking here to visit the Walton Arts Center ticketing page before it sells out.
You can also call 479-443-5600 to purchase tickets now.