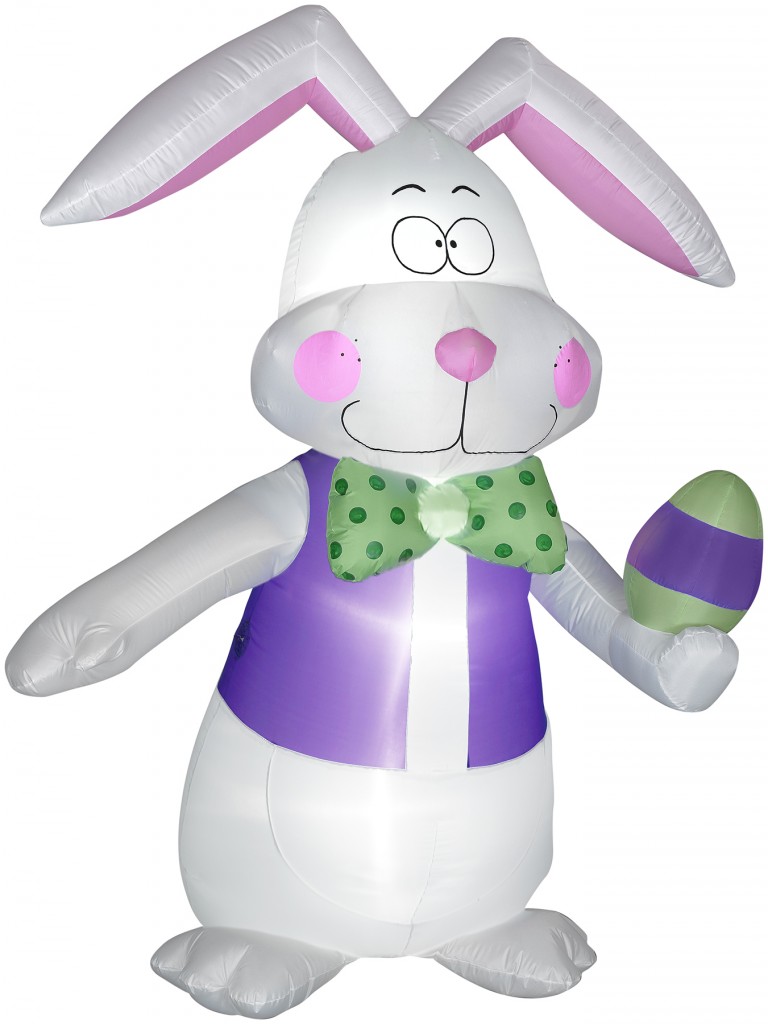 In late March, Bentonville and Rogers will be "invaded" by dozens of colorful 7-foot tall Easter Bunnies, Easter Eggs, Chicks and other cuties.
No worries, though. This is a friendly invasion of various Airblown Inflatable Easter decorations from Gemmy Industries and they'll all be on display at various businesses and Easter events around town. (They're sold exclusively at Walmart for $45.97– both in store and online.)
These inflatables are adorable, especially the star of the show: the Easter Bunny! And guess what? THREE MAMAS will each win one of these handsome rabbits in his spiffy bow tie and vest, courtesy of Gemmy. He's seven feet tall, lights up and self-inflates in seconds. (You can store him in the box after the holiday.)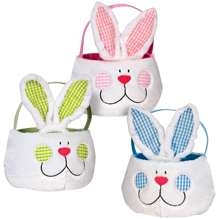 HOW TO ENTER: To throw your name in the Easter basket, just click the comment button below and tell us about your favorite Easter traditions. Remember, THREE MAMAS will win their own bunny. Do you all get dressed up and go to church as a family? Does the Easter Bunny leave a special basket of goodies in the same place every year? Do the kids love hunting eggs at great-granny's house? We can't wait to read these!
ABOUT GEMMY INDUSTRIES: Gemmy is a leader in Easter, Halloween and Christmas decor and novelties. In addition to the fun inflatables, they have all kinds of Easter baskets and plush toys right now. We like the sweet little lamb that walks forward and sings (we love that he plays "Sugar Craze".) We're also partial to those life-like animated butterflies and fireflies in a jar that they make.
We think it's great that Gemmy is spreading Easter enthusiasm around Benton County with all the inflatables.
"It's our way of saying 'Happy Easter' to our many friends in Bentonville and Arkansas," said Jason McCann, President of Gemmy, "making it an especially joyous season."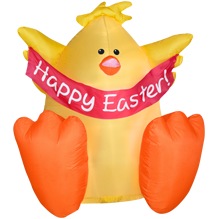 WHERE TO LOOK FOR THE EASTER BUNNY AND FRIENDS: As we said before, the Easter Bunny and his friends will be hanging out in Bentonville and Rogers in late March and stick around through Easter at  some great NWA family locations.
Here's a list of where to be on the lookout for them. (If the location has a website, it will be clickable so you can go visit the organization or get more information about the upcoming event):
First Christian Church Bentonville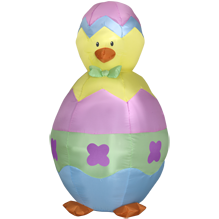 Bentonville Boys and Girls Club
Bella Vista Boys and Girls Club
Stepping Stone Children's Academy
Pinnacle Hills Promenade Easter House
Main Street Rogers Association
Hershey's Easter Egg Hunt to support NWA Children's shelter
Rogers Mayore Egg Hunt
Doggie Easter Egg hunt –JB Hunt park
Community Easter Egg Hunt Siloam Springs
Easter Egg-Stravaganza @ Parsons stadium
War Eagle Mill Easter Celebration
Good luck, mamas!