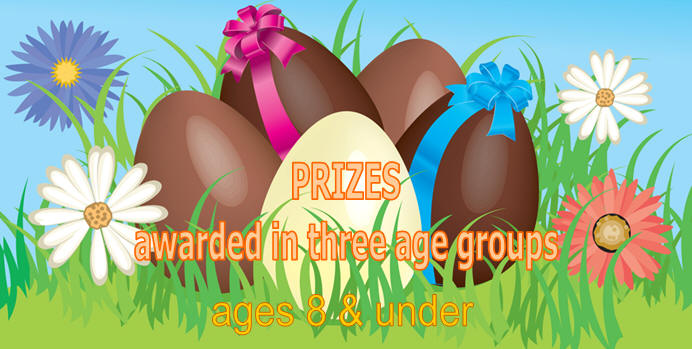 Easter is on its way and that means hunting for eggs! We rounded up some of the region's best, but please let us know if we left anyone out. We'll be glad to add an event.
Bring your cameras and Easter baskets to these NWA Easter egg hunts:
Saturday, April 16, 2011: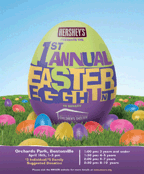 The 1st Annual Hershey's Easter Egg Hunt is going to be huge with 20,000 eggs to hunt down. Hershey's characters. Four age divisions. Tons of FUN. This hunt is 1-3 p.m. at Orchards Park in Bentonville. There will be four age divisions:
1 p.m. – 3 years old and under
1:30 p.m. —  4-5 years old
2 p.m. – 6-7 years old
2:30 p.m. —  8-10 years
Best of all? Proceeds from this event benefit the Northwest Arkansas Children's Shelter. There's a suggested donation of $3 per individual or $5 per family. Activities include:
A search for 20,000 eggs filled with Hershey's chocolates and candy.
400 Golden Ticket Eggs (redeemable for valuable prizes).
A Bunny Hop.
A Coloring Area.
Face Painting.
Crafts and games.
Hershey Kiss and Reese's characters.
A special appearance by the Easter Bunny!
The Rogers Mayor's 2011 Easter Egg Hunt will be held at Veteran's Park, beginning at 3 p.m.
Boys and Girls ages 0-8 are invited to participate.
Prizes awarded in 3 age groups.
To register click HERE or call 631.0336 or 621.1117, or register on site from 2-2:45 p.m.

Farmington Kiwanis 2nd Annual Easter Extravaganza, 1-3pm at Williams Elementary on Broyles Ave. in Farmington. There will be an Easter Egg Hunt with over 40,000 filled eggs and 60 prize eggs. Hunt begins at 1:30.
There will also be:  face painting, carnival style games, an Easter Bunny, free hotdogs and live music. For more information or to get involved contact. Rain out date is April 23rd same time and place.
Location : Williams Elementary on Broyles Ave in Farmington
Sunday, April 17:
Easter @ The Club, 3 – 5 p.m. at the Fayetteville Boys & Girls Club, 560 N. Rupple Road, Fayetteville. Community Easter Egg Hunt/Easter celebration with games, food and prizes.
For more information please call 479- 442-9242 or e-mail glenda@fayettevillekids.org.
Saturday, April 23rd:
EGGstravaganza. This egg hunt will also be held at Orchards Park in Bentonville. Easter EGGstravaganza will be at 3 p.m. and is presented by the Bentonville Parks & Recreation Dept. More than 20,000 eggs will be hidden throughout the park.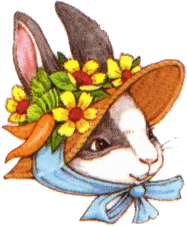 Prizes for:
Best Decorated Easter Basket
Best Easter bonnet (girls) and best tie (boys)
Bounce houses and inflatable slides
Egg hunts are separated by age groups: Toddler to 3; 4-7, 8-10.
If the weather is bad, check 107.9 for event status.
The city of Lowell is having an Easter Egg Hunt at Ward Nail Park from 2-4 p.m.
NWA 3rd Annual Easter Egg Hunt at Parson Stadium in Springdale at 11 a.m.
Age Groups:
4 & Under
5 – 7
8 – 10
11 & Up
Hunt Easter Eggs – Take Your Picture with the Easter Bunny – Prizes for the Kids
Easter Egg Hunt, 10 a.m. April 23, Riordan Hall, Bella Vista.
Children can play games and have their pictures taken with the Easter Bunny at the Property Owners Association's annual Easter Egg Hunt at Bella Vista's Riordan Hall. Children's activities include games, a tattoo station and pictures with the Easter Bunny.  Thousands of plastic eggs, filled with candy and prizes, are hidden around the Kingsdale complex. The Easter Egg Hunt is open to children 12 and younger.
Easter Sunday, April 24th:
War Eagle Mill. April 24 – Easter Celebration Join our 34th Annual Easter Egg Hunt. Starts at 2 pm SHARP! Grab some baskets and bring the kids out to enjoy this delightful War Eagle Mill tradition! This year we will have eggs galore and a special visit from the Easter Bunny himself. Don't be late or you will miss out!! After the hunt begins at 2pm the goodies are gone in a snap!
If you know of other Easter egg hunts in the area, please click the comment button below and let us know about it! Or email us at mamas@nwaMotherlode.com. We'll be happy to add your event.