Only 10 days to go until Easter. Can you believe it? It's coming up fast, and we're finding so many cute things to put in the kids' Easter baskets this year.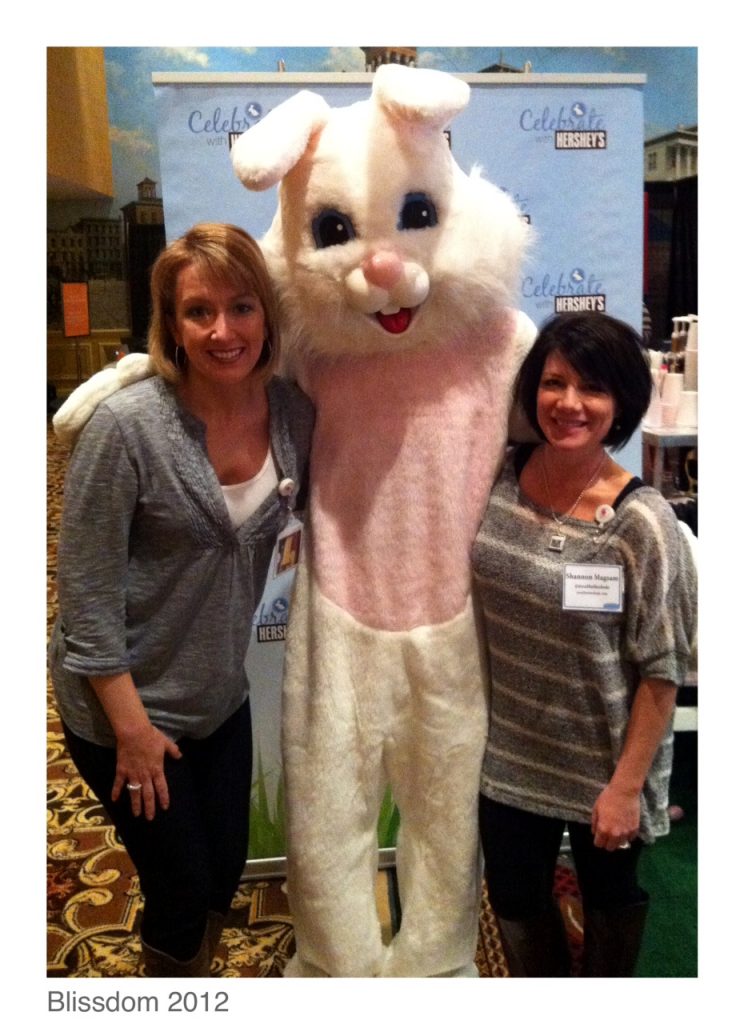 Speaking of baskets, we did the coolest thing last month when we were at the Blissdom bloggers conference in Nashville. Hershey's was one of the Blissdom sponsors and they had a booth set up, manned by none other than the Easter Bunny himself. Here's a shot of us and Peter Cottontail. Cute, isn't he?
After rubbing elbows with the Bunny, we made our own Easter baskets at these computer kiosks set up by Hershey's. We each selected a basket color and then filled it with our choice of favorite candies and chocolates.
I put a solid milk chocolate bunny in mine, as well as Reese's Peanut Butter Eggs, Hershey's Cookies & Creme Eggs, Jolly Rancher Sour Bunnies and Cadbury Mini-Eggs candy. Hershey's is shipping these baskets to us, and they're scheduled to arrive today. Woo-hoo! If all goes according to plan, we'll be in a lovely, chocolate-induced coma by mid-afternoon.
Chocolate is definitely part of our tradition, but there are so many fun things we love about Easter. At the Rockwood house, we love dyeing the Easter eggs about a week before the big day. (Do any other mamas out there have a little trouble backing off and letting the kids decorate the eggs however they want? The control freak in me wants to dictate how long the egg stays in the cup so we can achieve that perfect shade of turquoise blue… but I digress.)
The kids also love racing to the living room on Easter morning to see what surprises the Bunny may have left for them. Then we get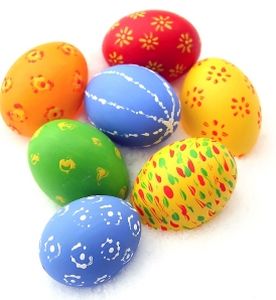 down to the business of hunting eggs. That crafty Easter bunny is quite a good egg hider. We find them nestled among the flowers, tucked into the fork of a tree, just inside the drain pipe, in the mailbox, behind the flower pot. They're everywhere!
And if it happens to rain on Easter, we don't worry because everybody knows that the Easter Bunny has a magical "master key" that opens all doors so he can hop on inside and hide eggs in the living room, kitchen and bedrooms. You might even find one hiding inside your shoe when it's time to go to church.
Of course, it wouldn't be Easter if Mom didn't force at least one group photo. This isn't the kids' favorite part of the day, but the Easter photo is a must. (Click here for a few tips from a professional photographer on how to get a great shot this year.)
After church, it's all about the Easter ham, mashed potatoes, green beans, hot buttered rolls, a strawberry dessert. Jeesh… I'm hungry just writing about it.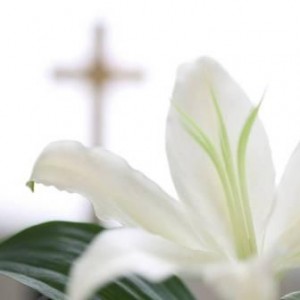 This year and every year, we look forward to Easter because it's the "Mother" of all holidays. It's the one that makes all other good things possible because it symbolizes the resurrection, forgiveness, hope, joy and the promise of eternal life. Does it get any better than that?
In a recent post, we asked many of you to share your family's Easter traditions with us and we loved reading about them. If you missed that post, click HERE to read about the fun Easter traditions which will be in full swing in Northwest Arkansas in only 10 days.
And if you're in need of some cute Easter basket ideas this year or fun crafts to do with the kids leading up to the holiday, click HERE to check out the Hershey's website which is chock full of fun ideas for mamas and their little chicks. We love this Hershey's Flower Pot Bouquet Craft. It would look so cute as a table centerpiece. Click HERE for details on how to make it.