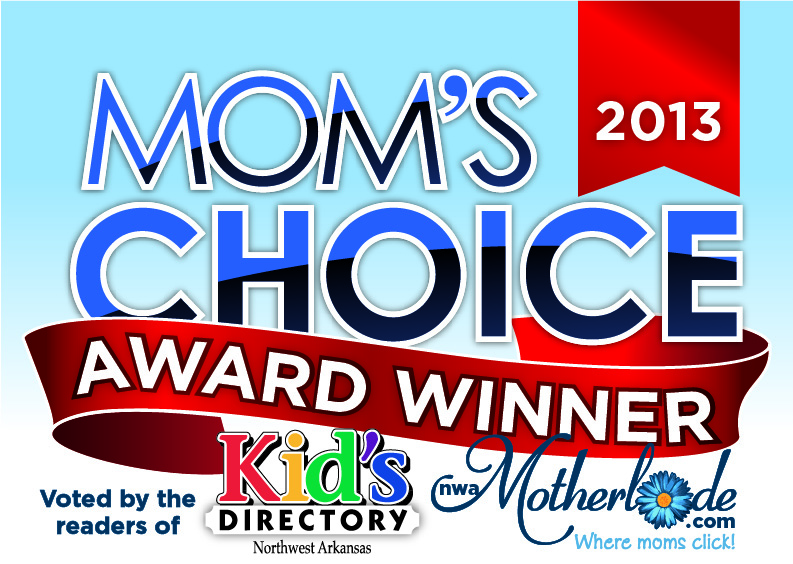 **Voting is closed! We'll reveal the winning businesses — and the winner of the Mother's Day giveaway package — soon.
When it comes to finding the best businesses in town, who knows better than a mama?
That's why we want YOUR opinions! Women and mothers are always on the lookout for the "best" when it comes to restaurants, doctors, party places, music lessons and all the businesses necessary to take care of the whole family.
Once again, the mamas at nwaMotherlode.com have teamed up with the lovely ladies over at Kid's Directory Northwest Arkansas magazine to present the Mom's Choice Business Awards.
By taking time to choose your top business picks, you'll not only help fellow shoppers, you'll also reward your favorite companies.
And another BIG perk? When you fill out the survey (CLICK HERE TO TAKE IT NOW!) you'll automatically be entered to win a huge Mother's Day Giveaway package, which includes:

$100 shopping gift card from Legacy National Bank

3 $100 gift cards from WellQuest Medical and Wellness

$100 gift card to Mellow Mushroom
 

$75 gift certificate at Bordinos Italian Restaurant

2 Walton Arts Center show tickets
Are you in? 🙂 You'll be picking a business or service in each category, and we need to have those completed by April 24, 2013. The winner will be chosen at RANDOM on May 10, 2013, the Friday before Mother's Day.
The results will be posted on nwaMotherlode.com in May and will be published in the June edition of Kid's Directory. We'll also provide a downloadable listing of the winners and their phone numbers that you can print and keep as a handy reference.
We can't wait to reveal your favorite business and to announce the BIG WINNER of the Mother's Day package. Thanks and good luck!