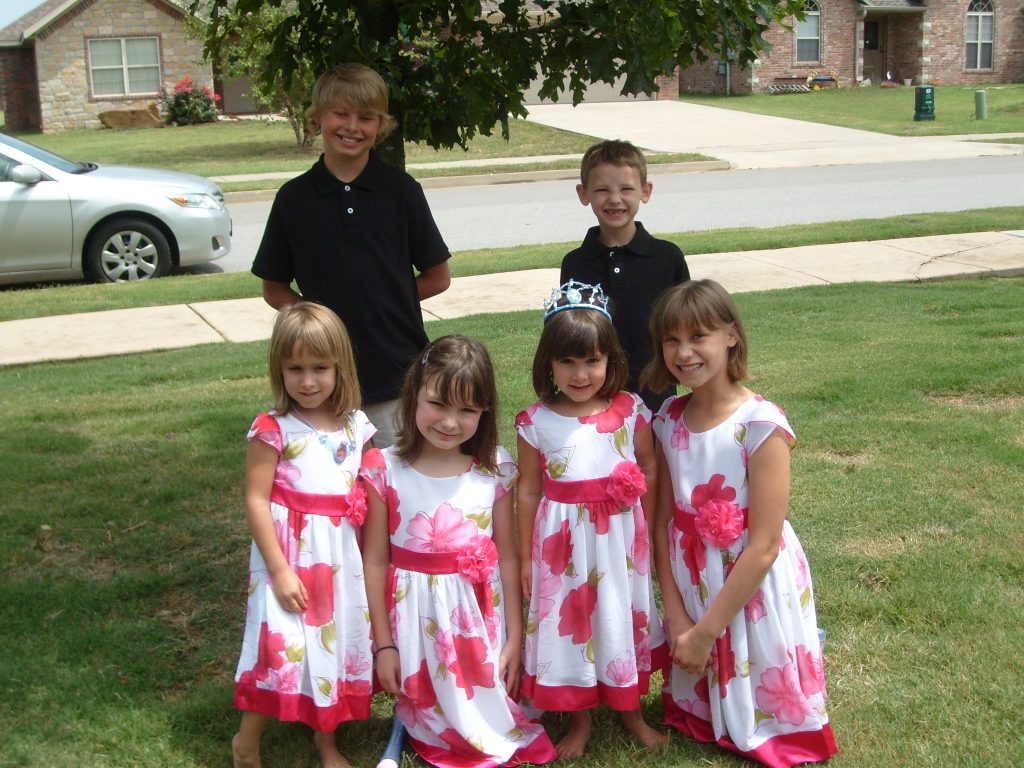 Name: Annie Martin
Husband: Waylon Martin, and he's definitely my better, more patient half!
Kids' names and ages?
Gavin 11
Hannah 10
Chloe 8
Tevin 7
Lilah 4
Shelbi 4
Truman 21 mos.
Plus – we almost always have a child in foster care that is with our family.
The above picture has six of our seven kiddos. Unfortunately the baby was asleep 🙂
Aren't all your children adopted? Yes, through Arkansas Foster Care.
Can you tell us about when they came to live with you? Gavin was six when he first came to us, in April 2007. Tevin, who was two, and his biological brother, followed two weeks after. We had never had children before, and it was quite the change. Couple that with the fact that when we signed up for foster care everyone wanted to rock babies, but no one wanted to help take care of our six year old that threw major temper tantrums, and we had six months without even a date, but not only did we survive, we thrived!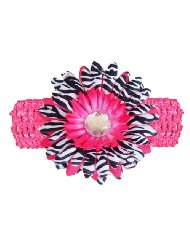 In November 2007, the biological sister of our boys left her amazing foster home, to join our family, as it looked like they may not be reuniting with their family. Hannah was our first girl, and I loved dressing her up in pretty dresses and fixing her hair! This sibling group was adopted March 5, 2009 and that was the beginning of our amazing family.
As crazy as it sounds, as we were adopting them, we were feeling that God wanted us to do more. So, we were praying for wisdom, direction, and a really big house for a really great price. God delivered in a huge way! We moved in to our new home Memorial weekend in 2009, and on June 10, 2009, in the parking lot of a DHS office, we picked up twin baby girls, Lilah and Shelbi, that had just celebrated their first birthday, as well as their five year old sister Chloe. Talk about a wild ride! It has been crazy.
Then in December 2010, when we thought the girls would soon be reunited with their biological family, we agreed to take a newborn straight from the hospital. At nine days old our little guy didn't even register a full 4lbs. I went and sat with him at the hospital overnight. He began eating well, and really started looking good. They released him from the hospital, and I got to bring him home. This was a first for us. With all of our other children we didn't experience the newborn phase. We didn't see first teeth, first steps, or first words. God answered another prayer for us when he gave us Truman. He gave us all of those firsts that we missed with the others, and helped fill that gap that we felt when we were sad about missing such large portions of their lives.
Through sheer luck, Truman became adoptable around the same time that the girls did. We adopted Chloe, Lilah, Shelbi, and Truman on June 21, 2012.
Have you always wanted to adopt? Yes, and no. The real answer is yes. My husband and I even talked about adoption and foster care prior to getting married. However, our plan was to have children biologically first. God didn't have that in the cards for us, and now we know why! After having Truman, and going through all of those newborn things and sleepless nights, I'm not sure we would have kept going. Wow! Talk about exhausting! Of course, it is all worth it!

Do you have any advice for others about the process? We recommend that married couples have a strong marital foundation, and that any family have a strong support network. We are part of The C.A.L.L. of NWA. We help train, support, and retain Christian foster families in Benton and Washington Counties. If you are interested in becoming a foster family, or already are, and want support from The CALL, please email me at anniemartin.nwacall@gmail.com
Where are you from and how long have you lived in NWA? I grew up in a little town called Purdy, MO. I graduated from Wheaton High School in Wheaton, MO. I have been around NWA all of my life because two of my amazing aunts live here in this area. I was always visiting my aunts and cousins. I moved here in 1999, worked for Walmart corporate office for 11 years, and then after several years of being a working momma, we decided to take a leap of faith, and I became a stay-at-home momma. However, with 8 kids, rarely do I stay at home.
What's your favorite thing about summer? Popcicles, waterslides, bubbles, and park hopping…we love park hopping. I dubbed the term park hopping, because it reminds me of those college kids who go club hopping, from club to club. The only difference is, the stiffest drink we serve is plain old lemonade! We hop from park to park all around Bentonville and Rogers. It's so much fun, and the kids can play all day. We usually bring a picnic lunch and snacks. You couldn't ask for a better play day…with very little expense.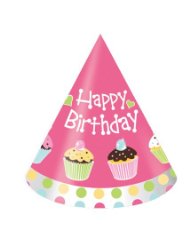 It must be like a party every day at your house. Yes it is. And someone is always having a birthday, and we now have two adoption dates to celebrate each year! So, we party a lot! 🙂
Any big vacation plans and how does that work with such a big family? Planning, planning, planning, and more planning. We didn't get off very far this summer, but hope that next summer we can. Short trips are easier because of the age of our children. So we do things like the zoo, and the botanical gardens. We would love to go to the beach! However, we have so many little ones, we felt like one more year would be better. When we go, we plan to take babysitters along for the trip. We have some amazing teens that babysit for us throughout the year, and we hope that we can take them along to help have as many big people as there are little people, and to ensure that my husband and I get some much deserved time for relaxation too.
Tell us about some of the traditions you've started with your kids: My favorite tradition is our adoption day celebrations. Each year, we have done something super special for our adoption day, and we celebrate it as a rebirth, of sorts, for our children. We always do a special dinner, and each of the children in our home (adopted and foster) receive gifts for our special day that were handpicked by me and my husband.
What are your favorite things to do together in NWA? We love to get together with friends. We purchased a projector a few years ago, and we will have back yard fun. We enjoy an evening of food and outside play, and then we watch family friendly movies outside projected onto a fence, similar to a drive-in. We have named them Backyard Palooza (thanks Ann Meythaler), and they are always a great time.
We love Chuck-E-Cheese, Fun City, and Jump Zone for indoor play choices for our children. We love the Botanical Gardens in Fayetteville, and of course the new Crystal Bridges Museum for outdoor choices.
What are your favorite hobbies? I love to cook, bake, and sew – so Pinterest is my new favorite thing. I love to see new things and create something amazing from what I have here at my house.
What's one thing your friends might be surprised to learn about you? I used to dance on a bar when I was younger, much, much younger. My aunt owned a bar when I was two, and during the day I would get quarters from her, play my favorite song, which at the time was Elvira, and I would dance and sing on her bar!
What's something you've been "meaning to do"? Get a new family picture, we just haven't done that yet, but we have plans to get them done soon. We want to show off our amazing new additions.
How do you unwind at the end of the day? We don't allow our kiddos to eat many sweets. Actually, our kids think dessert is yogurt, applesauce, or fresh fruit. We get sweets as special treats once or twice a month. However, after they go to bed, my husband and I share sweet treats and talk about our day.
One word to sum me up … Mommy