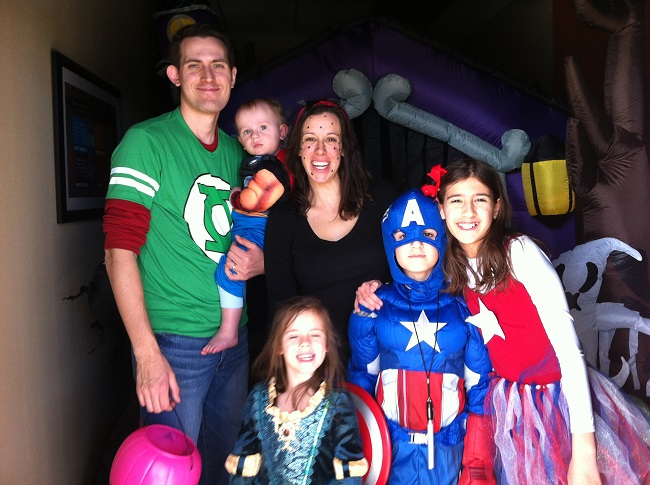 Name:
Mindy Storey Czlapinski
Kid's names and ages:
I have 5 kids: a 13 year old daughter, 11 year old son, 7 year old daughter, 4 year old son, and 14 month old son.
Where are you from and how long have you lived in NWA?  
I've lived in NWA my whole life.  Growing up, my dad worked for Walmart, then I met my husband at New Student Orientation at U of A in Fayetteville.  Except for a short 2 year adventure in the Tulsa area a few years ago, I've always lived here.  It's a great place to live and raise a family, and it's been exciting to see all the changes over the years.
What brought you here?  
I have spent most of my life here, but my husband accepted a job with Hershey, and that is what brought us back to the area from Oklahoma.
What does your family love to do in the area?
We are a gaming family, so we really enjoy playing together on the xbox 360 or xbox one.  I'm looking forward to visiting Nerdies and Gamers Only, Inc. in the area.  Outside of home, the kids and I love to meet with friends at local parks, and we are active in our homeschool community with play dates and field trips.
Tell us about a typical day for you:
I usually wake up to a sweet a child or two that joined us in the middle of the night, and to massive amounts of chaos as the kids do their chores, everyone gets breakfast, plays with the dog, and we send my husband off to work.
After that, we start homeschool lessons with our morning meeting, then break out into activities.  I'll take turns helping kids with various assignments or projects, and they take turns with play breaks and playing with each other.
The baby is usually in my lap or within arms distance, playing and learning with us.  Then, depending the day of the week, we'll go to various activities like speech therapy, tae-kwon-do, gymnastics, field trips, etc.  Sometimes I even get some laundry done!
What's something your friends might not know about you?
I struggled with Anorexia and Bulimia most of my teen years.
I ended up being hospitalized at Arkansas Children's Hospital in Little Rock for a few months because of the toll it took on my body.  I was told later that the doctors said I probably wouldn't live past my teen years, and that I probably wouldn't ever have kids.
I used to not talk about it–It was a very hard time for me and for my family, but everyone made it through, and we're all a little stronger.   I realize I wouldn't be the person–or mom–I am now if it wasn't for the challenges that have helped me see what I'm made of.  Sometimes things seem really bad, but most things in life are just temporary.
What was the last song you sang along to?
Ha!!  Honestly, Minecraft parodies!  We were cleaning up, and I put my daughter's playlist on the house speakers so it would play while they were cleaning up!  We all geek out to Minecraft 🙂
What's your favorite thing about homeschooling?
The freedom it allows our family in time, curriculum choices, and advancing at each child's own pace.
I have a child with Asperger's, a child with dyslexia, some kids are ahead in some subjects but struggle with others.  Being able to teach them at home means that I can customize each child's curriculum and get them the help they need in areas that they struggle, or I can let them blow through their grade and beyond in a subject where they excel.
Also, the unity; It is neat to see the teenagers including and welcoming the younger kids, and everyone playing together regardless of age or ability.
If you could vacation anywhere in the world this fall where would it be?  
Europe.  Always Europe.  I have never been, but have always wanted to!  I've tried to convince my husband to move us there for a year or so, but so far it hasn't been an option.
What's the most enjoyable thing about being a mother?  
Seeing these tiny little humans grow and explore their world–being fascinated with everything!  They transform from being inseparable from you and needing you for everything, to becoming their own bigger human person–complete with their own individuality, thoughts, ideas and perceptions about the world that continues to grow and evolve as they continue to grow and evolve.
Some moms are sad to leave behind the baby years of cute bellies and chubby thighs and super sweetness (because OH.MY.GOSH.THOSE.THIGHS!!!), but the older kids bring long talks, curiosity about the world, non-animated movies, book sharing, jokes, competitiveness with their parents over which kid can beat which parent at checkers (or finish Lego Star Wars first!).
You've helped this little bitty human grow into a miniature adult–It's a whole different scene and it can be just as fun as the younger years!
What's something you have always wanted to learn?  
Other languages.  I know minimal Spanish, French and sign language, but would love to be more fluent in those and more.  I've also taught myself some culinary basics, but would love to do more of that!  Ironically, I'm a major foodie!
How do you relax at the end of the day?
I love to run.  I don't get to do it as much as I used to–but seize the opportunity when I can.  My dad and I did the Color Run in Fayetteville a few weeks ago and it was a lot of fun!
One word to sum me up …
Resilient