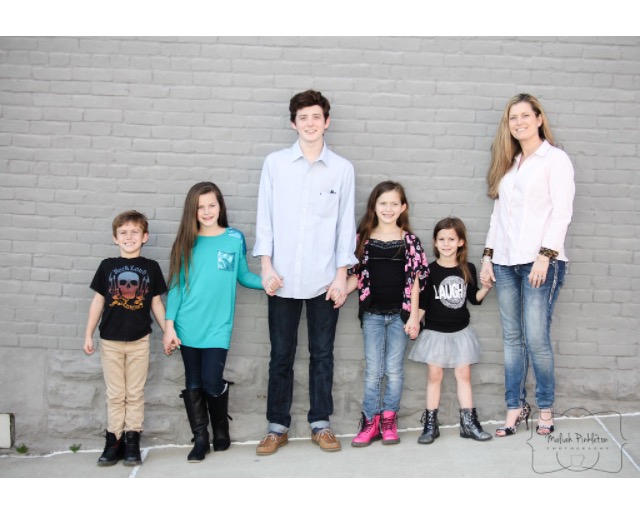 Name: Cristy Norwood
Where do you live in NWA? We live in Fayetteville off Wedington
What brought you to the area? I've lived here my whole life.
Children's names and ages:
Chris  18
Remington  12
Rylee Ann  9
Slade "Boo" 7
Taige 5
What's the best thing about having a large family?
There is truly never a dull moment! I love that my house is constantly filled with love & laughter….and of course the crying, fighting, chaos & yelling too! But I love every bit of it. I look forward to large family dinners and the holidays as my kids all someday have families of their own.
The most difficult?
Is trying to be on time! It seems there is always something we have to run back in the house to get or someone can't find something they need for the day. I'm lucky my friends & family understand!
Also, making sure I spend quality time with each of my children individually. Whether it's just taking a few minutes to just sit with them alone and talk about their day or things they have going on at school or going to dinner and a movie or the mall. I think it's important to have that time together.
We understand you celebrated your 6-year "Cancerversary" on Oct. 17. Can you tell us about that?
I was diagnosed with stage 3 grade 3 Triple Negative BC on October 17, 2009 while I was pregnant with my 5th child, Taige.
I was misdiagnosed for 6 months and finally, after me telling the doctor I wanted a biopsy done, they found I had BC. I will never forget the night my surgeon called me to tell me. I had my biopsy on a Wednesday and came home on Thursday. I was by myself resting,  my husband with with our daughter Remington who was 5 then, at her basketball  practice. I answered the phone and his words were, "I don't know how to tell you Cristy but it came back malignant." 
I told my husband we were facing this head on. I handed it all over to God. I knew he would keep my baby safe and that whatever my outcome was he would use me to help others. I got the call on a Thursday night about 7pm, had a PET Scan done on Wednesday of the next week and a double mastectomy on Friday.
I only had cancer in my right breast, but chose to have a double mastectomy.
Two weeks after surgery I started chemo. It was very hard on my family. My 4 children would stay at friends or family the week I had treatment.  I had treatments every two weeks.
Taige was born via emergency c-section on January 27, 2010. She was beautiful & healthy and had more hair than me! She stayed in the NICU for 2 weeks before she came home. One of the hardest things I had to was leave her at the hospital and come home after having her, without her. I started my next round of chemo a week after she was born and did weekly treatments.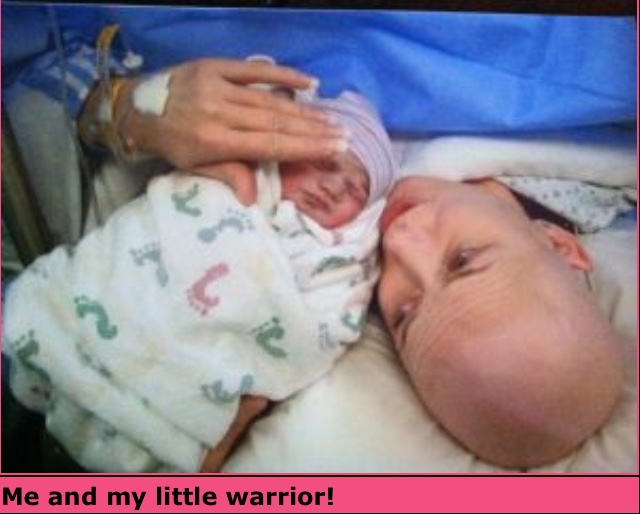 To date I have had well over 350+ doctors appointments, 35 chemo treatments, 33 radiation treatments and 19 surgeries. Through my cancer journey I have been so greatly blessed, I wouldn't change a thing!
I have a beautiful, healthy 5 year old little girl that truly completed our family! My children are my greatest blessing and my whole heart. The Munchkins5 is what I call them My husband and I have been through so much after only being married 8yrs this coming February, but our marriage is stronger than ever and we know that anything our lives together brings we can face it as long as we hand it over to the Lord and trust He's got it covered.
I am beyond grateful for this 2nd chance at life God has blessed me with and I know he is using my journey in great ways to help others in some way!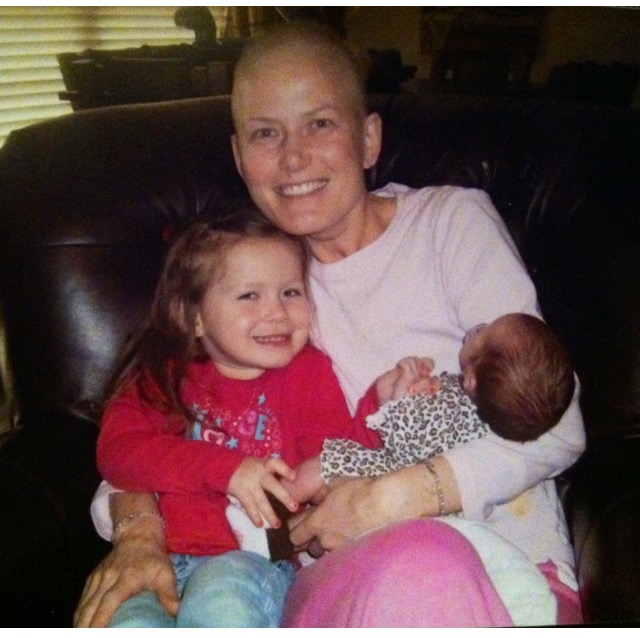 What advice would you give other moms who have just been diagnosed?
Just breathe God's got it, just trust in him. You will go through so many emotions and fears, write it all down in a journal, it helps. Stay positive even on the days you feel like you wanna give up. It's ok to cry and ask for help even though it's hard to do. Be as honest with your children with what you are going through as you can be. It's hard, but I think it helps them to understand.
Find support groups or talk to others who have been on the journey, it helps to know you aren't alone.
What are your favorite hobbies?
I love to do crafts and enjoy reading (which rarely happens! Ha) I love to watch my children in their activities & sports. I enjoy traveling and spending time with my family.
How would you describe a typical day in your busy mama life?
I get up about 6am, get the kiddos up dressed & fed. Then we load up, say our morning prayer together in the car on the way to school, drop my oldest daughter off first, then drop the other 3 off.
If it's a Monday or a Thursday, I head to Cross Church and work in the infant room for the KDO program from 8:30-2:30. On the other days it's home after dropping kids off to do laundry & straighten up the house, get dressed and sometimes go run errands or go to the store…if I'm called to sub at the school I will do that.
I pick the 3 little ones up at 3pm, pick my oldest daughter up and then it's time to start taking kids to their activities, then pick up, eat and get kiddos ready for bed. By 9-10pm it's my turn to shower and then sit and watch a little TV with my hubby around 11pm…bed about 11:30-midnight and back at it the next day!
Favorite all-time movie?
Charlie and The Chocolate Factory (the original one), The Wizard of Oz
Last book you read?
Purpose Driven Life (reading it now)
What's some great parenting advice you used and then passed along to others?
Laugh with your kids a lot. Tell your kids you love them. Enjoy your kids, life's to short not to enjoy every moment with them…the good times & the bad times.
Something you'd love to learn in the future?
I'd love to write a book….not sure if that's learning something or just doing it…Maybe a bit of both.
What's your favorite way to relax?
I don't know what that word even means! Ha!
One word to sum me up …
Blessed
Photo credit {photo at top}: Maliah Pinkleton Photography