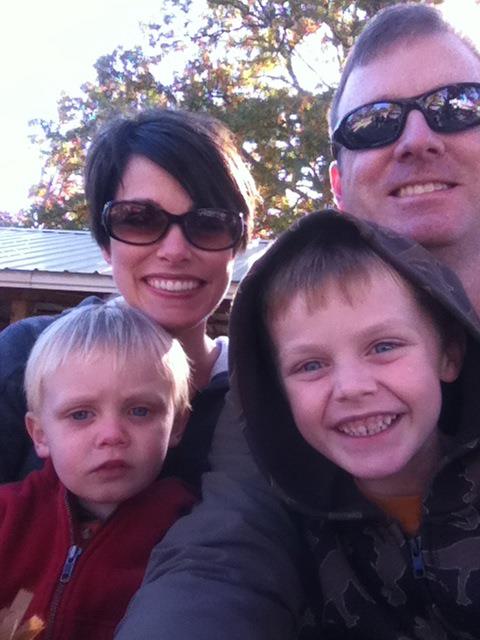 Name: Valerie Green
Sons' names and ages? Hayden is 7, Sam is 3
How long have you lived in NWA and what brought you here? I moved to Fayetteville for college, moved around a little, but have been back for 15 years.
How did you meet your husband? Let's just say we met at Rick's Bakery. For those that have been in NWA for a long time, it was a Lounge by a different name 18 years ago!
Tell us about your work: I'm a dental hygienist at Family Dental Center in Fayetteville. The end of this month marks my 15th year there!
What are some of your favorite places to hang out with your family in NWA? For family hang outs, we've really started utilizing Fayetteville's awesome trail system. Somehow our bike rides always end on Dickson… But no weekend is complete without a trip to the library with the boys and treats at the Farmer's Market.
What do you enjoy doing when you have a little extra time? Ha ha! Oh, seriously? I do love to read, although I don't get to as much as I'd like. And nap, oh how I love a good nap! Ask me again when the boys are older. I'd like to think I'll have better answers!
What's playing on your iPod right now? So embarrassing. I don't do the iPod thing. I LOVE music, listen to the radio all the time, or Pandora on my phone. But I've never downloaded a piece of music. Ever. I like all kinds of music from old, old country to whatever's playing on the radio. And I know every word to every song I've ever heard. It's a gift. And a curse.
What's been the most unexpected thing about motherhood for you? How much I've enjoyed watching these crazy little personalities develop. The things that come out of their mouths never cease to amaze me! And I'm more tired than I thought I'd be.
What's something your friends might not know about you? Even though I have a pretty strong personality, I can be a bit insecure.
If you could vacation anywhere in the world this winter where would it be? I've recently discovered the beach. I know I'm a little slow to get on that boat, but it turns out I LOVE IT! Who knew? So take me to one of those islands in the middle of nowhere where the little tiki hut is built just above the water and has a walkway that takes me to a white, sandy beach. Then leave me there.
What's something you have always wanted to learn? I enjoy music so much, but can't sing, can't dance, don't play an instrument… You get the idea. I'd love to have my voice sound like the song I'm singing along to. If that's too much of a stretch, I wish I could play the violin.
What are three things you always have with you? Phone, floss (what did you expect), and an action hero (usually Spiderman).
What would your ideal day look like? Honestly, a day the boys sleep in a little, sunshine, bike ride, dinner out with Ron and NO TEARS–like all day! The life of a three year old can be somewhat dramatic.
One word to sum me up … Spunky