By Holly Anderson Shacklett, co-owner of Simply Organized of NWA
With the holidays coming up, the kids will likely be using their craft supplies even more with projects and cards. Here are a few tips for getting everything organized so it will be easier to access everything in a hurry.
1. Toss flimsy boxes and put drawing and coloring tools into lidded boxes or bins.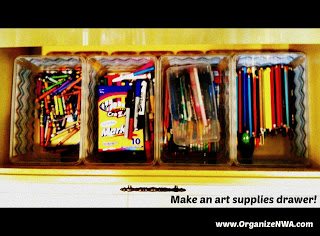 2. Separate supplies for easier access.  We mostly use ziploc bags for this – which don't photograph well.  We have a bag for glue sticks, one for stickers, one for pipe cleaners etc.  All of those are corralled together into one cute cube.
3. Keep craft paper upright and together by standing up in a cube, sorted and stored in large plastic envelopes,accordian files or stacking trays.
4. Don't bother saving every free crayon!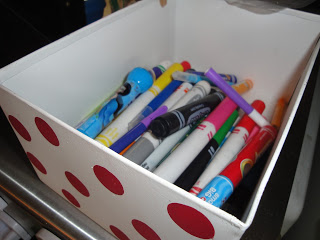 5. Keep a vinyl tablecloth or newspaper with the art supplies!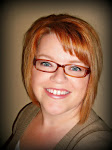 Holly Shacklett is a mother of 2 girls ages 6 and 2. Holly earned her degree in Elementary Education, traveled the United States with her musical husband, and has worked in various types of office settings. Holly actually gets a little giddy at the completion of an organizing project because she simply loves it. She updates the blog and maintains the facebook pages for Simply Organized. You can reach her at 479-790-6146 to schedule a consultation and visit about your space.