8 For bodily exercise profits a little, but godliness is profitable for all things, having promise of the life that now is and of that which is to come.      
   1 Timothy 4:8  (NKJV) 
By Bro. John L. Cash
If you read my column regularly, you'v probably noticed my name is John Cash. And if you're like the rest of the general population, you've probably wanted to ask the question I'm asked on a regular basis: "Are you related to Johnny Cash?"
The answer is "yes." According to some family tree research that an amateur genealogist mailed to me, Johnny Cash (the late singer) was my cousin. In some ways, that seems like a very incredible thing. After all, Johnny Cash was a famous person who lived an exciting life; my life has been quieter.
But, if you know both of our stories, both of the John Cashes had a lot in common. Both of us were born in Arkansas, and we were both descended from folks who were Scotch-Irish-dirt-farming-sharecroppers. There's nothing too remarkable about that. It's just that my distant cousin, Johnny Cash, was really talented. He could sing like nobody else in the universe.
Susan and I have started a healthier eating plan for the New Year, and it's all because of Johnny Cash. We watched a documentary about him over the holidays. Susan said, "How old was Johnny Cash when he died?" I said, "He was OLD. When he made the "Hurt" video, he looked terribly old—probably in his late eighties."
(A sidenote here… I've always thought the video of Johnny Cash singing "Hurt" by Nine Inch Nails was the coolest, and saddest, and scariest, and most moving piece of film there is.  If you've never watched it, you should.)
So, I used Google to find out exactly how ancient Johnny Cash was when he passed away. A chill ran up my spine. He was only 71. My goodness, that's young.
The documentary said Johnny Cash was a diabetic who didn't take care of himself. It would take a long time to detail it all, but suffice it to say that he didn't have good health habits.
Susan been fighting a battle with her blood pressure and cholesterol. I've recently been told that my pre-diabetic condition has recently morphed in to "mild type II diabetes." (That's not surprising, because it happens to a lot of the Cashes when they get in their late 50s.) Susan and I have decided it's time for us to straighten up, and we're both doing better. Good health habits make a lot of difference.
In today's Bible lesson (at the top), St. Paul says that physical exercise and caring for our bodies has benefit; we should pursue these things. But, the apostle says, training in godliness is even better. It provides benefits in the life we're living now, and as we move on into eternity.
So, in this good new year, let's do our best to take care of our bodies. And let's take care of our souls by giving ourselves more fully to the practices that lead to godliness.
It's time for all of us to "Walk the Line."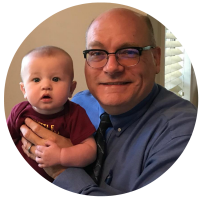 Dr. John L. Cash is the "Country Preacher Dad." He was raised in Stuttgart, Arkansas, and has spent the last 32 years being a country preacher in the piney woods five miles south of the little town of Hickory, Mississippi. He's a retired Mississippi public schoolteacher with grown sons, and is now a stay-at-home-grandpa with his grandson, Landon Cash. He and his lovely wife, Susan, live in a brick house in town (where the Preacher is the grandson of a sharecropper.) You can send him a note at brotherjohn@ilovechurchcamp.com.