8 Finally, there is laid up for me the crown of righteousness, which the Lord, the righteous Judge, will give to me on that Day, and not to me only but also to all who have loved His appearing.  2 Timothy 4:8 (NKJV)
By Bro. John L. Cash
Even though we were only in the "85% zone," I still went outside to enjoy the solar eclipse this week. Not having a special pair of eyeglasses, I punched a hole in a piece of cardboard and used that to project the shadow of the sun and moon on the piece of paper on the ground in front of me. All alone (except for the eclipse and my thoughts), I stood in the front yard of the parsonage for almost a half hour.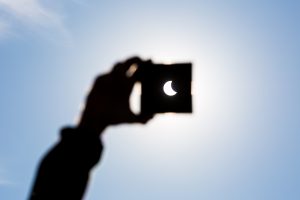 As the shadow of the moon blotted out light from the sun, the temperature dropped considerably, making the Mississippi heat more bearable. The sky turned a strange shade of gray, and the grass looked vibrant yellow and green—sort of the way it does after a summer thunderstorm. The birds stopped singing, and I was moved by the eerie silence. It made me think about this passage from St. Mark's gospel:
24 ¶ "But in those days, after that tribulation, the sun will be darkened, and the moon will not give its light;
25 "the stars of heaven will fall, and the powers in the heavens will be shaken.
26 "Then they will see the Son of Man coming in the clouds with great power and glory.
27 "And then He will send His angels, and gather together His elect from the four winds, from the farthest part of earth to the farthest part of heaven.   Mark 13:24-27 (NKJV)
Oddly enough, the eclipse made me long for the Day when the Lord Jesus will come again. After all, the Second Coming will solve every problem that we could possibly have in this life! I realized that I'm not worthy to meet Him; I've not lived a good enough life to merit a home in Heaven. Fortunately, we don't have to have a perfect life. We just have to put our faith in our perfect Saviour.  Will you commit your heart and life to Him this week?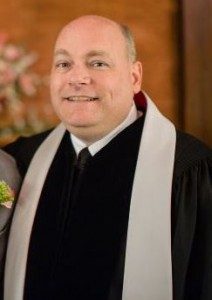 Dr. John L. Cash is the "Country Preacher Dad." He was raised in Stuttgart, Arkansas, and has spent the last 32 years being a country preacher in the piney woods five miles south of the little town of Hickory, Mississippi. He recently retired after 28 years as a Mississippi public schoolteacher, and is now a stay-at-home-grandpa with his new grandson, Landon Cash.  He and his lovely wife, Susan, live in the parsonage next door to the Antioch Christian Church (where we're expecting some rain later this week.)  Their kids include Spencer (age 26), his wife Madeline (age 26), and Seth (age 23), and his wife Leanne (age 22). You can send him a note at brotherjohn@ilovechurchcamp.com.
Save
Save
Save