¶ Behold, how good and how pleasant it is
For brethren to dwell together in unity! ~ Psalm 133:1 (NKJV)
By Bro. John L. Cash
Well, Susan and I have had our first disagreement of this present holiday season.
We've all got to face it; with the multitude of things that folks have to navigate this time of year, nobody is going to be able to be in perfect agreement all the time. It's just the nature of the Yuletide Condition.
Our argument this week centered on this core philosophical question: "Exactly what IS the purpose of a Christmas tree?" For me, the Christmas tree is the chosen vessel to bring us all back to the nostalgia of childhood. And since in the 1960s everything Christmas came from a five-and-dime store, there should be nothing on the that tree looks like it cost more than 59 cents. "Remember the 3 C's (I always say): Chintzy, Cheap, and Cheerful."
Susan, on the other hand, does not share my philosophy. At all. To her, a Christmas tree should be a vehicle of artistic expression. There should be a plan, and everything should match. Her Christmas tree is meant to be an expression of her decorative flair—and you should be able to display it on the front cover of one of those expensive magazines.
I was very pleased with her tree trimming this year. In the beginning, at least. She had those regular, tiny, colored twinkle lights, and lots of stuff from Woolworth and Christmases past. She had ornaments that had hung on our Christmas trees when we were children. She had ornaments that had once belonged to loved ones who are now in Heaven. She had every ornament that our boys had made when they were in elementary school. When I saw it I felt quite a bit like John Wesley; "My heart was strangely warmed."
I should have know then that it was too good to last. Susan decided that she needed to stick some "foliage" or something into the top of the tree. I begged with her to cease and desist, but she swore to me that it is "the latest thing."
The first thing she added was something that looked like stalks of cranberries. She said, "What do you think?" I said, "I don't like it. It doesn't look like a Christmas tree. It just looks like a decorative version of every pine tree from the backyard of our old parsonage. You know what I'm talking about; muscadines sticking out of everything."
She frowned, and shifted to another tactic. I came back a half hour later and she had stuck cotton-boles in the top of our tree. She looked at me and said, "What do you think?"
I said, "Cotton doesn't belong on top of a Christmas tree. When I see it, it doesn't make all my endorphins fire at the prospect of beholding a winter wonderland. It reminds me of a giant Q-Tip."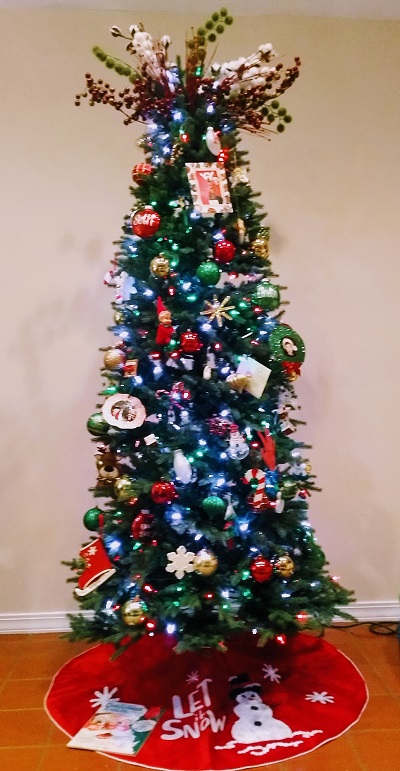 Well, the hour was growing late, and Susan said, "Honey, it's getting late. Just go to bed. I promise I'll have something better when you get up in the morning."
(Well, maybe she wasn't quite that nice about it…. 😊)
So, this morning when I woke up, she showed me the fruits of her labor and asked me what I thought. I said, "I love it. It makes me think about Octavious, my student at school."
She said, "Octavious? What about our tree reminds you of him?"
My reply? "They both have the same haircut."
"I've heard good things about him," my lovely bride said. "An Octavious Tree will be just right."
And so it was.
It's wonderful to have a little Christmas spirit. Goodwill toward men—AND peace of earth. From our house to your house, wishing lots of both….
Dr. John L. Cash is the "Country Preacher Dad." He was raised in Stuttgart, Arkansas, and has spent the last 34 ½ years being a country preacher in the piney woods five miles south of the little town of Hickory, Mississippi. He's currently on a sabbatical from the preaching ministry, and is an English teacher at the Choctaw Tribal School. He and his lovely wife, Susan, live in a brick house in town (where this story was written with her blessings.) You can send him a note at brotherjohn@ilovechurchcamp.com.