"Behold, there was a man in Jerusalem whose name was Simeon. This man was righteous and devout, looking for the consolation of Israel, and the Holy Spirit was on him. It had been revealed to him by the Holy Spirit that he should not see death before he had seen the Lord's Christ." Luke 2:25, 26 (NKJV)
By Bro. John L. Cash, "Country Preacher Dad"
I spent the bulk of my childhood playing a part in one kind of Christmas program or another. When I was in kindergarten, I was one of the holiday toys riding on "The Little Engine that Could" — a kite to be specific. My dad constructed my costume out of corrugated cardboard and duct tape, and my mom decorated the whole thing with shiny Christmas paper and added a tinsel tail. When I wore the thing, it felt more like a trap of some sort or a torture device. I was sandwiched between layers of pasteboard that bent down my ears. If I ever sat down in it I was helpless – like a turtle lying flat on his back on the highway – until somebody took pity on me and helped me up. Nevertheless, I played my part as a kite because that's what little kids did at Christmas.
In the years that followed, I was in a Christmas program every year, and often I was in two or three (when you figure in all the programs at church, clubs and school.) I recited memory verses, sang carols in kiddie choirs, and marched down the aisle of the church carrying a candle. In successive years I was a Joseph, a shepherd, and a wise man. I worked puppets. I was a caroler in a shadow show. I was a "Gift of the Spirit." I was a soldier in George Washington's army. I was Charlie Brown. I was The Narrator. And once in a youth group play I was the Prince of Darkness, Satan himself. (My parents said I was a natural in this role.)
By the time I turned 13, I had had enough! I was sulking in the car on my way to youth group Christmas program practice. I told my parents I had done my last Christmas program. I wasn't a little kid any more.
To my surprise, my parents agreed with me. They said it was very true that I was no longer a little kid. I had grown up into a young man. And, as a young man who was intended to be busy about the Lord's work, I would be in that year's Christmas program and probably many more.
I hate to admit it, but Mom and Dad were right. It was probably one of the truest things they ever said. I was in Christmas programs in high school and then during my years of Bible college. This is my 24th Christmas as preacher at the Antioch Christian Church, and I have been in a Christmas program every year since I started here. Many years, I have been in more than one program. This year has been no exception.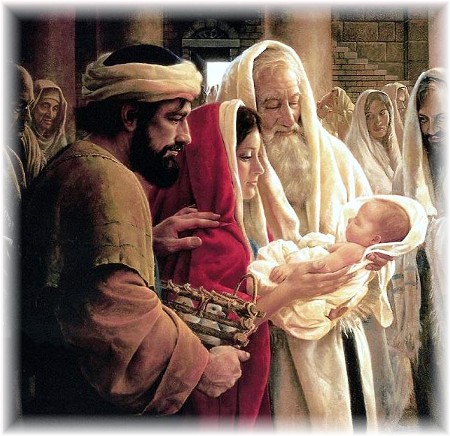 Today's scripture (at the top) tells of Simeon, who praised God when he was privileged to see Baby Jesus in the Temple. He was a very old man, and the Lord had promised him that he would not die until he had seen the Messiah. As he held the Baby, Simeon told God that he was now ready for the Lord to take him home. Because Simeon had seen Jesus, his life was complete.
What Simeon knew (and what I'm learning) is that a person never gets too old to offer praise to the Christ Child. You're never too old to be part of the Christmas program. And your life is never complete until you see Jesus. Serve Him with gladness today.
Dr. John L. Cash is the "Country Preacher Dad" (Sing that title to the tune of "Secret Agent Man.") He was raised in Stuttgart, Arkansas, and is beginning his third decade of being a country preacher in the piney woods five miles south of the little town of Hickory, Mississippi. He and his lovely wife, Susan, and his sons, Spencer (age 17) and Seth (age 14) live in the parsonage next door to the Antioch Christian Church (where the children will have their Christmas program this Sunday night). You should write him at extramailbox@juno.com.