"The work of righteousness will be peace, And the effect of righteousness, quietness and assurance forever." Isaiah 32:17
By Bro. John L. Cash, Country Preacher Dad
Once I was preaching the first sermon of a new year. The congregation had just finished up the Christmas season—you know, the kind when you go to so many parties and have a month-long binge of treats and sweets. And I said, "Well, here we are in The Oatmeal Days of January." I was surprised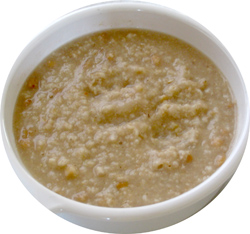 when so many of the mothers in my congregation nodded their heads in agreement. They knew what I meant. When January arrives, we're bloated with what we've eaten in December, and our pocketbooks are light from what went spent during the holidays. We're forced to eat oatmeal. The party is over, and it's back to the boring routine. The Oatmeal Days of January are here.
The mundane and routine, coupled with dark, winter weather, can make the days following the holidays seem pretty bleak. But, something my wife Susan said gave me a renewed appreciation of the ordinary. It was also one of the nicest things anyone has ever said in my presence.
Susan and I have a wonderful friend in the ministry, Bro. Jim McQuarry. Our friendship goes back nearly 30 years, and he is one of the kindest people I've ever known. (He preaches at the nearby Christian Church that is the "town church".) He is a confirmed bachelor and sometimes stops by for a visit. We're always happy to feed him because he is easy to please and really just finishes up our leftovers. Once, he stopped by for a quick meal on a Saturday night. I was sitting at the kitchen table cutting out circles from used Christmas cards, so that my Sunday School children could make hospice ornaments from them.
It was then that Preacher Jim said, in good-natured teasing, "Well, Susan, you really married an exciting man. I don't know how you bear the excitement of what goes on here on Saturday night. It must be thrilling to live with a man who cuts up Christmas cards on Saturday night!"
Now, we've all heard this type of conversation before. And we know what Susan's next line is supposed to be. "Yes, Jim, you're right. I married an old man who's a dud." I was smiling, and that was the reply I expected from her.
But, amazingly enough, that's not what she said at all. In fact, she straightened her backbone and answered in complete seriousness. She said, "Now, Jim McQuarry, you leave John alone! When I was a teenager, I had an alcoholic stepfather. He was bad to us, and I used to pray that when I grew up God would send me a man who would be good to me and take care of me. Now I've got that, and I'm glad he cuts up Christmas cards on Saturday night. So, you just need to let John be!"
You see, there's a point to all this and here it is: There are far worse things than boring and routine. The opposite of mundane is not always "exciting and fascinating." Sometimes the opposite of mundane is "chaotic and scary."
So, dear mama, give thanks to God for the quiet seasons of life. Cherish the routine times you have to enjoy your babies. Oatmeal days are not always so bad—especially when you look at them the right way and add a sprinkle of brown sugar and spice!
Dr. John L. Cash is the "Country Preacher Dad" (Sing that title to the tune of "Secret Agent Man") He was raised in Stuttgart, Arkansas, and is beginning his third decade of being a country preacher in the piney woods five miles south of the little town of Hickory, Mississippi. He and his lovely wife, Susan, and his sons, Spencer (age 17) and Seth (age 14) live in the parsonage next door to the Antioch Christian Church (where the preacher's family doesn't eat much oatmeal but a lot "Marshmallow Mateys" from industrial-sized bags). You should write him at extramailbox@juno.com.