43 Also that day they offered great sacrifices, and rejoiced, for God had made them rejoice with great joy; the women and the children also rejoiced, so that the joy of Jerusalem was heard afar off.  ~  Nehemiah 12:43 (NKJV)
By Bro. John L. Cash
As your babies begin another grade in school, I want to tell you a story for the beginning of the academic year. I started the 1st grade in August of 1967. My sister Cathie was in the 6th grade that year, and we both went to Buerkle Elementary School. (I think that was the only time we ever went to school on the same campus at the same time.) I was brand new at handling the paperwork for a new school year, but I wasn't worried about that.  I was sure my big sister was a pro at it. After all, she had already done it five times before.
On the first day of school, my teacher Mrs. Thompson gave me a "Textbook Record Card" on which she had neatly printed my name, my book numbers, and the condition each textbook was in. That night, I asked Cathie what I was supposed to do with that card. She said, "Get Mama to sign it, and then take it back to school."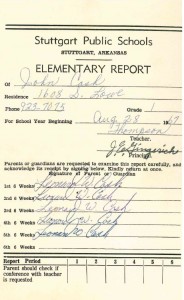 So (not being an idiot) I got Mama to sign it, and I took it back to school the next day. Then I put it in my desk for the rest of the year. On the last day of school, I put it in my book satchel and brought it home.
Now, let's flash forward a dozen years. I am 17 years old, and I am cleaning out my book-bag on the last day of my senior year. One of the things I'm throwing away is the "Textbook Record Card" for my 12th grade year. One of my friends notices this and says, "Hey, John. Why do you still have your textbook card? Didn't you turn it in to the teacher at the beginning of the year?"
I told her I didn't know we were supposed to turn them in. (Cathie didn't mention that part.) I always just got my mother to sign the card and then brought it back to school. I kept it with my stuff, and then at the end of the year, I threw it away. Twelve years in a row.
Are you catching how amazing this story really is? What I mean is that in 12 years of public education, I never turned in a book card. Not even once. I was a good student, and I always returned all my books in good condition at the end of the year. My teachers never had any reason to look for my book card. So, for my entire school career, I had not been doing what I was supposed to be doing. But nobody had ever noticed, and nobody even cared.
So, to all of you who have kids in school this year, here's the lesson to learn. A lot of things that are hyped up to be really important actually don't matter much at all. The thing I remember most about our sons being in elementary school and middle school is it seems that Susan and I were perpetually aggravated about one thing or another. Spencer had left a book at school, or Seth had lost a signed a paper he was supposed to get signed. It always seemed like there was some impending classroom crisis that was going to bring about the-end-of-the-world-as-we-know-it.
But, in hindsight, none of it ever amounted to a hill of beans. I couldn't tell you the details of any of the situations now because, in the long run, they didn't matter. Both our sons finished their educations and are gainfully-employed, productive citizens. I just wish we could go back to those years when the boys were in school and be more laid-back and joyful. The end result would have been the same.
So, relax a little and have a great year. School is fun. And kids are, too.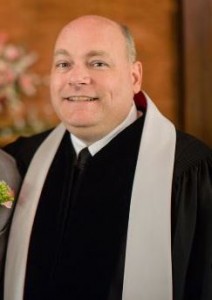 Dr. John L. Cash is the "Country Preacher Dad." He was raised in Stuttgart, Arkansas, and has spent the last 31 years being a country preacher in the piney woods five miles south of the little town of Hickory, Mississippi. (On week days has a desk-job at a public school, where he used to teach Latin on closed-circuit-television.) He and his lovely wife, Susan, live in the parsonage next door to the Antioch Christian Church (where Sheba the barn cat was missing for a couple of days but turned up for supper on Tuesday.) Their kids include Spencer (age 25), his wife Madeline (age 25), and Seth (age 22), and his wife Leanne (age 21). You can send him a note at brotherjohn@ilovechurchcamp.coim.