"But do not forget to do good and to share, for with such sacrifices God is well pleased."  Hebrews 13:16
By Bro. John L. Cash, "Country Preacher Dad"
It's amazing how a person can feel so many different emotions at the same time. As I said last week, seeing the first fireworks stand of the summer always makes me smile at the prospect of happy summer days. But at the same time, whenever I see a fireworks stand, it always makes me feel a little sad — because it reminds me of how much I miss Greg.
My parents only had two children, my sister Cathie and me. Cathie is the best sister a brother could ever hope for, but, because she is 5 ½ years older than me, by the time I was finishing middle school she was already moving away to college. Her departure left me with an emptiness. Suddenly, I was an only child.
Since I had no younger siblings, I adopted myself a set from another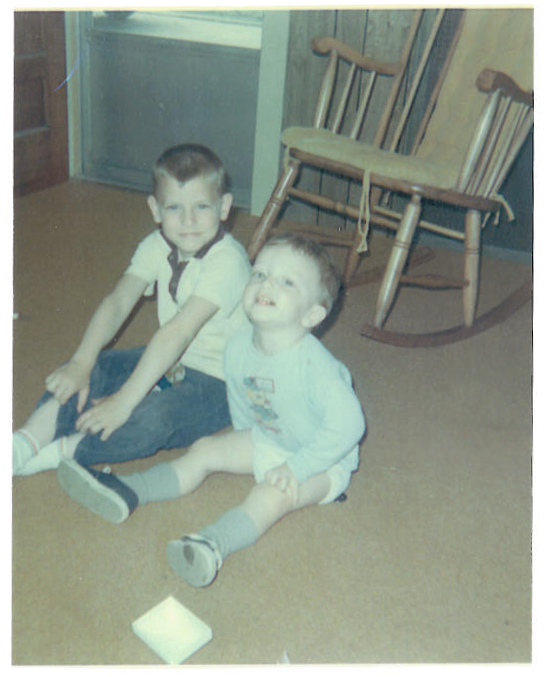 family: Greg and Gwen Rule. We were as close and had as much fun as any brothers and sisters ever had. (Here's an old picture of me on the left sitting with Greg when he was just a toddler.) For the three of us, summers were always the time for shooting fireworks.
When Greg was in grade school and Gwen was an infant, he went away for his first week of Summer Bible Camp. From there, he wrote this letter to his mother:
Dear Mom,
How is Baby Gwen?
Have you got me any fireworks yet?
Love,
Greg
(Below is a picture of Greg and his little sister taken around the time he wrote that letter from summer camp.)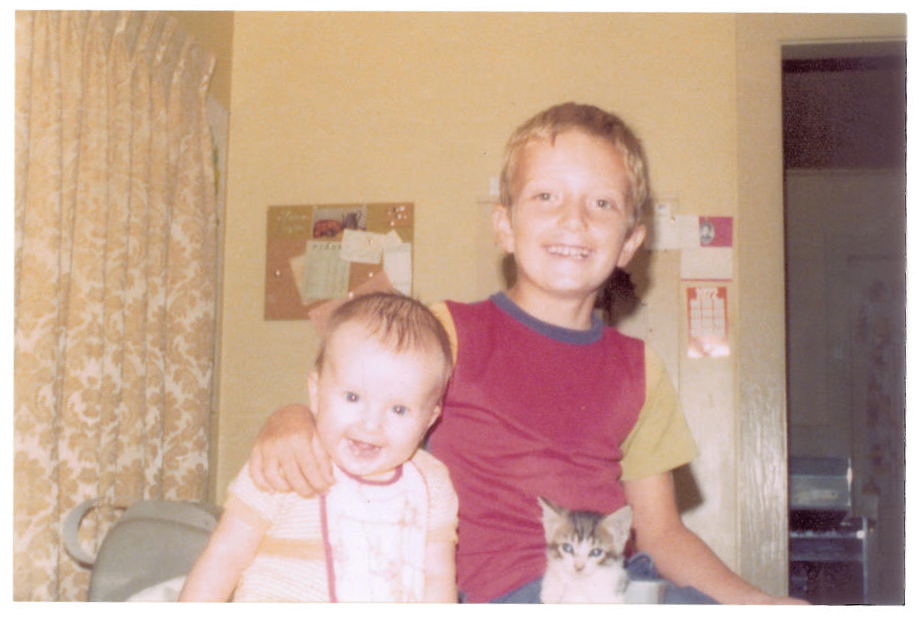 It makes me smile when I think about that letter. It's always good to see a young man who has his priorities straight!
From the very beginning, Greg was a boy who loved bright lights, beautiful colors, showers of sparks, and colored flames—all the things you get when you're shooting fireworks. I don't suppose Greg's love for these things ever diminished his whole life. In fact, I think the older he got, the more fireworks he bought and the more elaborate fireworks displays he put on for his family and friends.
Greg passed away in his sleep in April 2001. He was only 34. I've never really gotten over that, and I think of him and miss him every day. On the day before his funeral, we were sitting around with his friends and loved ones, and his younger cousin, Mark, said this about Greg:
"Greg loved to shoot fireworks. And he was never stingy with them. He wanted you to be happy and to help him shoot them. I mean, he didn't care if you shot up half the sack. He just wanted to share and for you to be happy."
You see, Greg had learned a spiritual lesson we all need to know: "You can't be rich alone." There's really no joy in having an abundance of anything—even a sack of fireworks—if you don't have anybody to share it with. We're only rich when we have something and we're willing to share it with others.
I came to the Antioch Christian Church when I was 23 years old, and, in just a couple of years, I'll turn 50. The longer I live, the more friends and loved ones I have on this earth. But the passage of time also means there are more loved ones who have gone to be with the Lord – people I really miss.
The ministry is a little bit sad sometimes because we preachers bury our best work. One of the men in my congregation has had a lot of sadness in his life. Though he is not an old man, he has had the tragedy of, on separate occasions, losing a parent, a wife, a child, and an infant grandchild. When I asked him how he has borne all of this sadness he said, "Whenever I lose a loved one, I always think of them as a deposit in the 'Bank of Heaven'. The older I get, the more Heaven means to me because I have so much treasure there."
The older I get, the more I believe what my friend has told me. My sadness is tinged with joy because I realize that Greg and my other loved ones are a treasure God is keeping for me in Heaven. And if I remember to live Greg's lesson–sharing my fireworks and every good thing–in this life, too, I'll be very rich indeed.
Dr. John L. Cash is the "Country Preacher Dad" (Sing that to the title to the tune of "Secret Agent Man) He was raised in Stuttgart, Arkansas, and is beginning his 25th year of being a country preacher in the piney woods five miles south of the little town of Hickory, Mississippi. He and his lovely wife, Susan, and his sons, Spencer (age 18) and Seth (age 15) live in the parsonage next door to the Antioch Christian Church (where the church people share vegetables from the garden every summer.) You can cheer him with a note at extramailbox@juno.com.