11 Why are you cast down, O my soul? And why are you disquieted within me? Hope in God; For I shall yet praise Him, The help of my countenance and my God. Psalm 42:11  (NKJV)    
By Bro. John L. Cash
Over the past few months I've noticed Susan listening to a lot of podcasts while she puts on her makeup. When I asked about this, she told me she has a new favorite women's Bible teacher.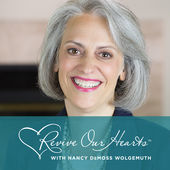 Her name is Nancy DeMoss Wolgemuth and her podcast is called "Revive Our Hearts." Susan said that (even though I'm a man) I would probably enjoying listening to her, too. She was right. Mrs. Wolgemuth's teaching has been a great blessing to me and would be a good addition to your personal devotional life.
I suggest you "give her a listen."
In one of her lessons, she made a statement I found very intriguing at first: "Most of the time, our emotions have very little connection with reality." The more I thought about that, though, the more I realized it's true. Clearly, there are times when my emotions closely match up with my circumstances; for instance, when I suffer a great loss, I experience a period of sadness. But most of the time, my negative feelings are not based on reality. Sometimes when I'm hungry or tired, I express irritation and impatience with my family. But after I've had a hot meal or a good night's sleep, all is right with my world. In situations like that, it's clear that my emotions were connected to my blood sugar and not with truth.
Worse than that, I find I tend to worry and become discouraged about things that don't have a connection with what's real. Even when things are going well, Satan is nearby to suggest things for me to brood over and obsess about. The enemy encourages me to fixate on the one wrong moment in a perfect day or the cloud in front of every silver lining. Fortunately, when the Lord shines His light of truth on my heart to give me clarity, I immediately see the faultiness of my thinking. My emotions weren't based on reality.
If you sometimes feel gloomy or discouraged and don't really know why, here's some good news. You and I are in good company. King David was the shepherd king of Israel. The Bible says he was the man after God's own heart. But in today's Scripture text (at the top), David asks his own soul why it is downcast. In reality he is saying, "Why does my soul feel so discouraged? I have so many things to be thankful for!" It's good for us to realize that even the heroes of the faith sometimes had emotions that didn't match their spiritual reality.
What then is the remedy? David tells us in today's Scripture: "Hope in God." Only then will we see the bounty of our blessings, as we put our focus on the unchanging One.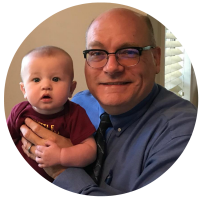 Dr. John L. Cash is the "Country Preacher Dad." He was raised in Stuttgart, Arkansas, and has spent the last 32 years being a country preacher in the piney woods five miles south of the little town of Hickory, Mississippi. He recently retired after 28 years as a Mississippi public schoolteacher, and is now a stay-at-home-grandpa with his new grandson, Landon Cash. He and his lovely wife, Susan, live in a brick house in town (where the outdoor cats are in a bad mood because it is rainy.) Their kids include Spencer (age 26), his wife Madeline (age 26), and Seth (23), and his wife Leanne (age 22). You can send him a note at brotherjohn@ilovechurchcamp.com.