11 "Assuredly, I say to you, among those born of women there has not risen one greater than John the Baptist; but he who is least in the kingdom of heaven is greater than he.   Matthew 11:11 (NKJV)
 By Bro. John L. Cash
I've always believed that a person's cousins are very special people. After all, our first-cousins are our very closest kin next to our brothers and sisters;  we share the same grandparents.  My Grandpa and Grandma Cash had seven grandchildren: Richard, Jeanne, Joe Thelbert, Dale, Linda, Cathie (my sister), and me. My father was "the baby" in his father's family, and I am my father's "baby." So that makes me the youngest of all the cousins.
I got some sad news during the first part of July. Our oldest cousin, Richard Wayne Cash, had passed away in his sleep with a stroke at the age of 78. When I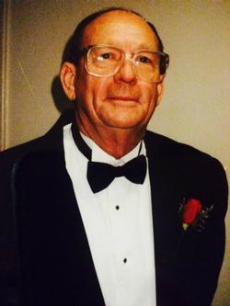 heard the news, it was like getting hit in the chest with something. But then I thought, "No, I can be all right with this. Richard is with the Lord, and that is what he wanted all his life. He is receiving the object of his faith."
It comforted me, too, to think that Richard would be very glad to get to see his loved ones in Heaven. Every year there are more and more members of the Cash family there. Two of the cousins—Thelbert and Linda—have been there a long time.
I adore all my cousins. But I'm pretty sure that Richard was my favorite of them all. You'd think that my other cousins would be mad because I'm saying that. But I really don't think I'm going to get in any trouble with them. If you pinned them down on the subject, I'm pretty sure they would say that Richard was their favorite cousin, too.
There are a lot of reasons for that—and I'll try to tell you more in future stories. But mostly, Richard was just such a good, kind, loving person. He was like a Snickers bar. You can slice through a Snickers bar and everything in there is good. You can look the whole world over, and there is really nothing more beautiful than a person who has the Lord living inside.
Did you know that the Lord Jesus had a cousin? Jesus' cousin was John the Baptist. From what I read in the Scriptures, Jesus thought that John was wonderful. In Matthew 11:11 He said, "Assuredly, I say to you, among those born of women there has not risen one greater than John the Baptist…." That's quite a ringing endorsement; I mean, when the Son of God says that you're the greatest man who ever lived, who can top that?
I'm sure you remember from Sunday School that John the Baptist's life came to a sad end. His enemies cut off his head and put it on a platter. John's disciples came and buried his body. And the Scriptures say that Jesus went off by Himself, away from other people. You have to know that His heart was broken.
We're called as Christians to love everyone. But it's normal and right to have a special kind of love for the members of our family. And it's holy to grieve when we remember the lives of our loved ones. Tears are always the price we pay for loving someone.
Especially when we think of our cousins.
Dr. John L. Cash is the "Country Preacher Dad." He was raised in Stuttgart, Arkansas, and has spent the last 30 years being a country preacher in the piney woods five miles south of the little town of Hickory, Mississippi. (On week days has a desk-job at a public school, where he used to teach Latin on closed-circuit-television.)  He and his lovely wife, Susan, live in the parsonage next door to the Antioch Christian Church (where the people have frequently heard about Richard in sermons, even though they never met him.)  Their kids include Spencer (age 24), his wife Madeline (age 24), and Seth (age 21).