Even people who aren't children of the 80s have to admit. Some of the 80s music stands the test of time, and music by the band Styx definitely falls into that timeless category. (They were the first band to earn four triple-platinum albums in a row.) That's why we are SO excited to send one lucky local mom and her date to the Styx concert on September 1st. She'll be rocking out to songs like "Lady," "Come Sail Away," "Mr. Roboto," "Show Me The Way," "Too Much Time on My Hands," "Renegade," and "The Best of Times."
These two concert tickets are for chair seats (not the lawn) at the Walmart AMP for September 1, 2016. Gates open at 6 p.m. and the music starts at 7:30 p.m.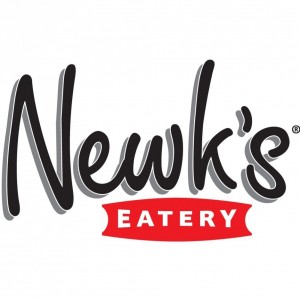 We're pairing the concert tickets with dinner gift cards at one of our new favorite places to eat in Rogers. Newk's Eatery, which is located within walking distance of the Walmart AMP, has won us over with its big menu, incredible soups, gourmet sandwiches, thin-crust pizzas, and don't get us started on the amazing pasta salad. Love it. (We also give it a thumbs-up for the sweet tea!)
We haven't had anything at Newk's that we didn't like, but one of our favorites is the Pesto Chicken Sandwich with a side of pasta salad. (The Broccoli Cheese soup is also pretty spectacular, and plenty of people go nuts for Newk's famous mac & cheese.) This week's giveaway winner will also receive two gift cards which will get you two free dinner entrees at Newk's, which you can use anytime or right before the Styx concert.
Speaking of the concert, here's a clip of one of our favorite Styx songs, "Lady."
HOW TO ENTER: If you'd love to win this package, just click HERE or click on the word "comments" (right under the headline of this post) and scroll down to the bottom of the comments posted by other moms. Then post a comment telling us your favorite Styx song (or favorite thing to eat at Newk's)!
You can also email your answer to us at giveaways@nwaMotherlode.com.
INCREASE YOUR ODDS OF WINNING: Help us spread the word about this giveaway by emailing your friends and family about the giveaway. We'll give you an extra chance to win for every person you tell. Just be sure to put giveaways@nwaMotherlode.com on the CC line of your note so we can give you proper credit.
You can also earn an extra chance to win by signing up to receive the free email newsletter we send once a week.
Our newsletter subscribers get access to the good stuff, including exclusive giveaways (like this one), information about local events, local mom interviews, recipes and more.
It's delivered straight to your inbox so you don't miss anything awesome. CLICK HERE to sign up. We won't fill your inbox with info, no worries. We only send out newsletters when there's something in it for you — and we know you'll be interested in hearing about it.
BE SOCIAL: You can also earn extra chances to win by commenting on our Facebook page, following us on Twitter or following us on Pinterest. If you do any of those, just mention it in your comment or email so we can give you proper credit.
Good luck, mamas! We'll use a random number generator to select the winner and we'll notify you via email so watch your inboxes. Good luck!