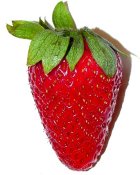 My neighbor, Donna, whipped up some strawberry shortcake-esque dessert recently and brought over three for each of us. It wasn't the typical cake, covered with strawberries, topped with whipped cream. It was much, much better. It was made with those little graham cracker crust cups/tart shells (they come in packs of four in the baking aisle). I ate mine within 30 minutes. My daughter wasn't crazy about it (she's weird about sweets), so I ate hers later that night.
The next day, my husband (who doesn't have an evil sweet tooth like mine) still hadn't eaten his. It looked so cute and fancy sitting there in the fridge. And so very edible. So I took care of his, too. Embarrassing, I know, especially since I'm sharing it with the Internets.
Needless to say, I asked my neighbor for the recipe, which she'd snagged from her co-worker, Chad. I was happy to see how easy it is to make.
Donna said you can make two regular-sized graham cracker crust pies or one regular-sized pie and four filled tart shells.
Chad's Strawberry Pie
3 cups strawberries
1/4 cup Lemon Juice
1 can Eagle Brand Sweetened Condensed Milk
2 12-ounce containers Cool Whip
2 Graham Cracker Pie Crusts (or one regular-sized crust and four tart shells)
Set aside the 3 cups of chopped strawberries (do not blend in mixer). Mix together by hand the can of sweetened condensed milk, lemon juice and Cool Whip (make sure you don't let the Cool Whip get too warm). Fold in strawberries. Pour mixture into pie crusts and chill (you and the pies).
I hope you like this recipe as much as I did!
-Shannon