By April Wallace, Early Childhood Editor for nwaMotherlode.com
If there's one thing that my boys never tire of reading about, it's construction. It's got it all: humongous, powerful vehicles, interesting tools, transformation and of course lots and lots of dirt! Maybe that explains why we have so many construction tales around the house.
As a mama, I appreciate things that encourage my boys to build (even with just blocks and LEGOs for now) and examples of teamwork.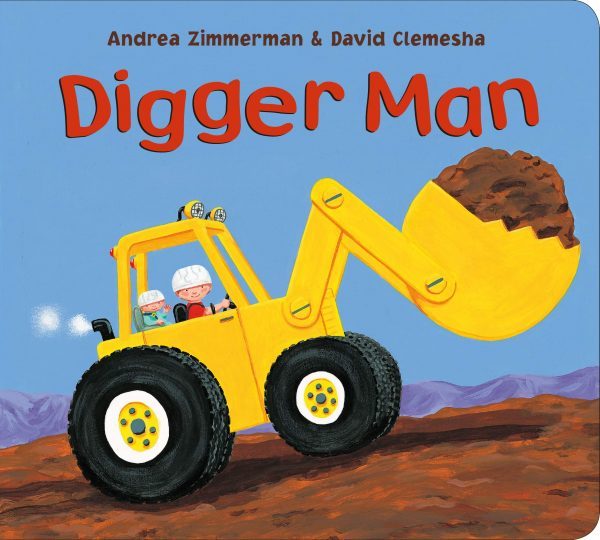 Digger Man by Andrea Zimmerman and David Clemesha is a charming board book about two brothers roughly the ages of my boys, one preschooler and one toddler, who are currently obsessed with diggers (also the same for my boys). It features familiar settings like the sandbox, the living room and the family car and follows them into their imagination of what they would do if they had a life size digger. My boys would totally visit the digger park these characters planned to make.
Click here to hear Digger Man read aloud on YouTube. 
Dig! (also) by Andrea Zimmerman is such a hit in our house that I bought multiple copies. We tend to give this one as a gift even though I know it means the child's parents will be reading it more times than they can count. Mr. Rally drives his little dog Lightning and his big backhoe to five big digging jobs, but at the end of the day, he's still not done digging. The repetition works wonders for budding speech, and both of my boys love to answer "Is all the digging done?" with the turn of each page.
Click here to hear Dig read aloud on YouTube. 
Pete the Cat Construction Destruction by James Dean was our naptime book for months. Henry and Elliott sit rapt so they can hear what happens to Pete's dilapidated school playground. And they stay all ears as Pete and his friends don construction helmets, destroy the existing equipment and rebuild a fantastical playground of their dreams…more than once.
Click here to hear Pete the Cat Construction Destruction on YouTube. 
Goodnight Goodnight Construction Site by Sherri Duskey Rinker is a classic. I think this is one that we'll be stowing away long after Henry and Elliott have had their run with it just in case they can pass it down one day. Kids get plenty of various, broad views of construction sites and the trucks working together, and then each machine gets its close up as they get themselves ready for bed. The rhyming lines of this book are sing-songy in a lulling kind of way, the ultimate bedtime book. If you like it, check out Mighty Mighty Construction Site! to see what all they get up to during the daytime and witness the mighty flatbed save the day. Construction Site Mission: Demolition! also by the same author deserves an honorable mention. We enjoy it too, but I haven't had to go out of my way to find it due to little boy requests.
Click here to hear Goodnight Goodnight Construction Site on YouTube.
Build This City, a Scholastic Inc. book, gives our little builders a close-up look at the entire process of a construction project—from blueprints to completion. I don't often hear kids my children's ages talking about a foreman and his crew, but these blocky LEGO characters make it more interesting to clear a site, pour a foundation, unload supplies and every other last detail. Henry and Elliott love the close-up on all the big vehicles working together with the direction of those highly sought-after walkie-talkies.
Click here to hear Build This City read aloud on YouTube. 
We bought Diggers (Zippy Wheels series) three years ago and it was easily the best decision of our lives. This little toddler board book has workable wheels, so it doubles as a vehicle. I take it on every single trip, whether we're in an airport or in a car. The inside has vivid, full-page photos of diggers, and the pages themselves are in the shape of a digger. The writing is sparse, as many toddler books are, but that makes it extra easy and fun for friends/family/strangers to read it to your little one, if they happen to approach them and ask to be read to (as my children often do…) We also own the Zippy Wheels books Fire Trucks and Tractors but I hear they also have a Dump Truck version, which is going on our Christmas wish list as we speak.
Dazzling Diggers by Tony Mitton and Ant Parker I have sung the praises of this series and these two authors before, but really our love of it began with Dazzling Diggers, a book so beloved in our household that we have two copies. Yes, really. Just for ourselves. We can't take a chance on losing this one. These books describe the purpose and complex functions of big vehicles in easy-to-understand, rhyming prose while animal characters drive them. What could be better than that?
Click here to hear Dazzling Diggers read aloud on YouTube. 
Big Pig on a Dig and Toad Makes a Road by Russell Punter and Stephen Cartwright are two more rhyming construction books. We can't get enough of that pig who gets sent on a digging scavenger hunt by a sly cat, or the toad who throws a housewarming party and has to pave his own driveway. As a mama, I appreciate these because rhyming is so wonderful for little ones. Before they even understand many words, rhyming makes it easy for them to listen. Once they're talking more, rhymes provide that early phonics pre-reading skill, teaching them about the parts of words and how they go together.
Click here to hear Big Pig on a Dig read aloud on YouTube.
Click here to hear Toad Makes a Road read aloud on YouTube.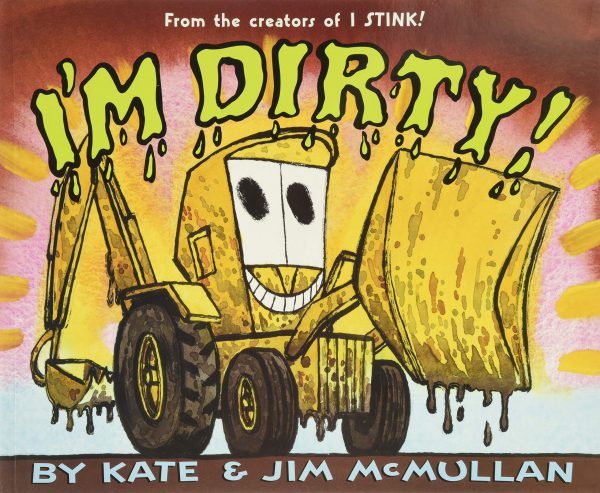 I'm Dirty! by Kate and Jim McMullan When my kids fell in love with Stinky and Dirty (Amazon Prime show characters Stinky, who's a garbage truck and Dirty, who's a backhoe loader; the two are best friends) I secretly rejoiced. They spend most episodes helping others through problem-solving. I'm so glad I saw "I'm Dirty!" on my Prime Reading list because this kindle title is easy to pull up on my phone if we're stuck waiting at, say, a doctor's office or something. It describes the parts of a backhoe, has a counting element in the junkyard and encourages plenty of funny noises.
Click here to hear I'm Dirty read aloud on YouTube.
Construction Sites: An Usborne Lift and Look by Felicity Brooks is a gorgeous, colorful book with several flaps on each page. The interaction of looking through piles of dirt and behind bushes or stacks of construction supplies keeps it interesting for my 2 year old, but my 4 year old always wants in on it too when we open this book. Whether the characters are building a tunnel, a house, a bridge or clearing a site, I bet your kiddos will enjoy finding the little rabbit hiding on each page.
Scooper and Dumper by Lindsay Ward is another dynamic construction duo. When the city runs out of salt on a day of wintry weather, this bulldozer and dump truck work together to clear the roads and help the traffic get home safely. But when the dump truck runs into trouble, his friend faces her fears to give him a hand. "Clear the road, salt the street. Work together can't be beat!"
Click here to hear Scooper and Dumper read aloud on YouTube.
Colorful World: Construction Site by Nastja Holtfreter is a great "find the differences" sort of book. Sometimes a fruit or an animal is where a construction vehicle or tool should be, and other times an animal gets loaded onto a pile of supplies being transported. Some are more subtle, like a dump truck facing the opposite way from the others or the direction of stripes on a cement mixer. Whatever it is, my boys eat it up and probably have no idea that they're learning while having so much fun!
Mighty Machines Loaders by Amanda Askew was one of our last gems we found at Nightbird Books before its closing a year and a half ago. This kids' nonfiction book is pure gold divided into sections like "What is a loader?"; diagrams of its parts; pages for just all of its buckets and claws and sections for each of its functions and workable environments. It's informative, the graphics aren't overwhelming and most importantly it has very good, big photos of all kinds of loaders in action.
Click here to hear Mighty Machines Loaders on YouTube. 
Where Do Diggers Sleep at Night? by Brianna Caplan Sayres was Henry's favorite book when he was a toddler, and my heart gets all warm and fuzzy lately because now it's Elliott's absolute favorite, of the sort that you read three times minimum if you pick it up. Both my boys take so much joy thinking that their favorite vehicles have mommies and daddies too, that they take baths, brush their teeth and turn on their own nightlights. We have since come to love Where Do Steam Trains Sleep at Night?, Where Do Jet Planes Sleep at Night? and man oh man you would not believe the fuss when I recently brought home Where Do Diggers Trick or Treat…
Click here to hear Where Do Diggers Sleep at Night on YouTube.
Happy reading, and digging, friends!
April Wallace is a stepmom to one smart, funny teenager, mama to two beautiful and curious boys and wife to a very kind and generous man. She spent the past decade as a news reporter, sometimes lifestyle writer, and recently left her job at the Arkansas Democrat-Gazette to be with her babies while they're still babies. When she gets a few minutes to herself, April loves to run local trails and read fiction. For more of April's posts on pregnancy, babies and toddlers, click here.