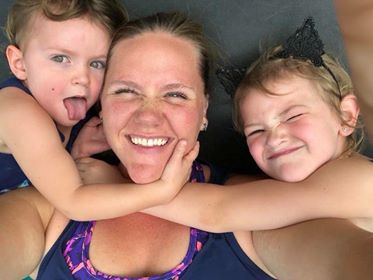 Brandy January is a long-time Motherlode reader and we could tell by her comments that she would be a really great mama to interview. We were right!
Here's more about military mom Brandy and her family:
Kids' names and ages: Sydney January (6) and Charlotte January (3)
Tell us about your military service:
4 years active in the Army at Ft. Carson, CO. 21 months spent total in Iraq over two tours. 4 additional years in the reserve component in Fayetteville Arkansas. (The Unit later moved out to Centerton). I was a supply specialist and worked closely with the mechanics. Although I am not very mechanically inclined, I did learn a thing or two from some very knowledgeable soldiers. My job was to track, issue, and order supplies. That is OVERLY simplified haha.
How would you describe your family's "personality"?
FUN! We love to learn together and do as many memorable things as we can. My daughters love nothing more than spending quality time with my husband and myself. They get totally bummed if we do something fun and one of us parents is not present. Seriously, precious.
What does your family like to do all together:
We really love to explore together. Hiking is a favorite. We love walking together and discovering the sweetness of nature. If it's not a favorable day, we always love a massive cuddle session on the couch with our fire going! We will then read or watch a show.
Where do you live and what brought you to NWA?
We live in Springdale, close to War Eagle boat dock. Funny thing about coming to Arkansas. I was a Missouri girl (St. Louis) who grew up joking about states like Arkansas (I had never been to Arkansas).
When I left the active service in Colorado, I needed to find a reserve unit that was close to my family (who reside in Grove, OK). There was a place for me at the LeRoy Pond center in Fayetteville, so I made a commute once a month for drill. I ended up LOVING the area and met my husband while I was in the reserves.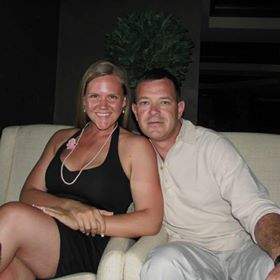 Where are your family's favorite places to play in the area?
We LOVE to go to Gulley Park. We really love all the parks. My girls and I ride the greenway often in the summer. If the weather isn't suitable, we really like the jump zones, like Altitude and High Rise.
Tell us about a typical day in your life:
It starts at 6 am where I am up and go go going! I get my daughter Sydney to school at Sonora Elementary then head to Play Learn School in Fayetteville where I work.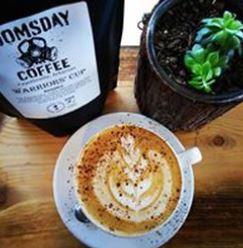 I usually stop in at Doomsday coffee to grab my iced mocha before work. (By the way if you ever go there, you must try their breakfast tacos. Tell Rosie I sent you, she is amazing!). Once I get to work I escort my baby girl Charlotte to her class, then I begin my work. I absolutely LOVE the little ones I get the pleasure of caring for!
After work, I race back to Sonora to pick up my other daughter. Then it's back to Fayetteville for Sydney's Jujitsu class or Charlotte's dance class. After classes, I usually get a moment to stop at Fayetteville Athletic Club to get in a nice workout. (Their classes are simply outstanding with such motivating instructors!).
After a long day in town, we make it home and begin winding down with dinner, baths, and reading time. Oh did I mention we sleep, too? haha!
What's something you do when you need down time?
Strangely enough, just grocery shopping alone, or sitting on my bed looking at Pinterest is good for me.
What's something you cook over and over again?
So lately, I have been making this spinach sausage tortellini soup that I can't seem to get enough of. Fortunately, my whole family enjoys it. WIN!
What are your favorite hobbies?
I love to sing and make fun crafts with my girls.
What's something you'd love to learn?
I would LOVE to be bilingual. I would love to specifically learn Spanish. I believe communication is so very important, and I would love to expand on my communication skills.
What would your friends say you couldn't live without?
Doomsday coffee, and my family. haha.
What's your biggest pet peeve?
Being ignored. I understand life is busy, but I think not responding to someone who has asked you a question or asked you to RSVP is rude.
Who do you most admire? Why?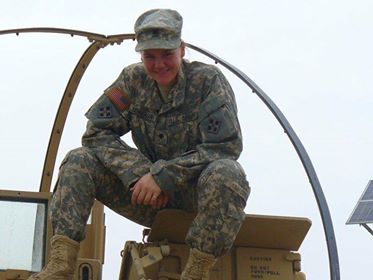 My father. He is the reason I joined the military. I wanted to be like him, although he wanted my to go to college. (Which I did, way later in life.) He would stop anything he was doing just to help someone he loved.
He always made sure to teach me what he was doing, so that I would grow to be extremely independent. The lessons and values I learned from him have helped me so much in life.
What do you most want people to remember about you?
That my love for others ran deep. I want the people that I loved to forever feel my arms wrapped around them.
One word to sum me up?
Humble. I never wanted any spotlight in life, nor did I want all the finer things. I wanted to be happy, healthy and to live a life worth living.