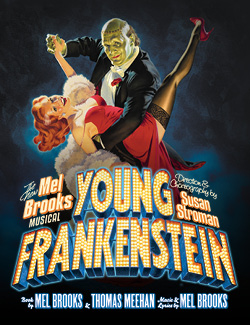 Note from the mamas: Congratulations, Corbett Warren! You won the Young Frankenstein tickets and dinner at Powerhouse 🙂
If you've been hoping to sit down just for a few minutes this holiday season, we've got a giveaway that will help you relax — AND make you laugh hysterically.
The New Mel Brooks Musical Young Frankenstein, a new musical comedy from the creative team of the 12-time Tony® Award winning smash The Producers, is coming to Walton Arts Center's Baum Walker Hall for eight performances Tuesday, December 14 through Sunday, December 19.
We've got TWO tickets to give away to one lucky mama — and her equally lucky date — for the Tuesday, Dec. 14, show at 7 p.m.
You'll be able to sit down in a restaurant, too! A yummy restaurant. Powerhouse Seafood and Grill near Walton Arts Center will be your dinner date destination!!!
ABOUT THE SHOW: Based on the Oscar®-nominated smash hit 1974 film, Young Frankenstein is the wickedly inspired re-imagining of the Mary Shelley classic from the comic genius of Mel Brooks. When Frederick Frankenstein, an esteemed New York brain surgeon and professor, inherits a castle and laboratory in Transylvania from his grandfather, deranged genius Victor Von Frankenstein, he faces a dilemma. Does he continue to run from his family's tortured past or does he stay in Transylvania to carry on his grandfather's mad experiments reanimating the dead  and, in the process, fall in love with his sexy lab assistant Inga?
Unfolding in the forbidding Castle Frankenstein and the foggy moors of Transylvania Heights, the show's raucous score includes "The Transylvania Mania," "He Vas My Boyfriend" and the unforgettable treatment of Irving Berlin's "Puttin' On the Ritz."

ABOUT THE FOOD: Powerhouse is a locally owned restaurant just off Dickson St. that's known for its delicious seafood and steaks. They also have lobster, crab, chicken and pasta. Boarshead Pub is in the back of the restaurant and on nice days the patio is open for business. Fun place with yummy food!
HOW TO ENTER: To throw your name in the hat, just click on the comment button below and tell us something that has given  you a big laugh lately. Remember, this is a random drawing, so don't worry about being the wittiest. We just love hearing what other NWA mamas have to say — and your fellow moms enjoy reading the comments, too! Maybe you'll make someone a laugh who sorely needs it today. So share 🙂
You may also e-mail your entry to us.
HOW TO INCREASE YOUR ODDS: As always, our drawings are done at random, but we give extra chances to mamas who help spread the word! If you send an e-mail to friends or family about the show and this giveaway, be sure to put giveaways@nwaMotherlode.com on the CC line of your email, and we will give you an extra chance to win for every friend you tell.
For further information, visit www.YoungFrankensteinTheMusical.com.
Walton Arts Center tickets can be purchased by calling the Walton Arts Center Box Office at 479.443.5600 or by visiting waltonartscenter.org. Young Frankenstein was named Best Broadway Musical 2008 by the Outer Critics Circle Award and won 5 Broadway.com Audience Awards, including Favorite New Broadway Musical.
Good luck winning these great tickets — and dinner at Powerhouse!