By Andi Douglas, mama of 3 and nwaMotherlode.com beauty editor
Y'all, I am tired. This should be my golden year: all three kids in full time school and in the same building…easy peasy.
I had big plans to paint some rooms, volunteer, start my novel, the usual stuff. Cut to me, sitting on the couch eating cereal from a bin for 3 days straight.
There's no real reason I should be this exhausted, but I have just lost the will to dress and fix myself to look like a decent human being. Today, I downgraded from walking the kids to school in the same workout pants I've worn every day, to walking them in the sweats I slept in. Unacceptable, or at least slightly embarrassing.
One of my goals was to start going to the gym every day and to look like a supermodel by Thanksgiving, obviously. Sadly, after walking the kids to school and then hobbling home because of a hip spasm, I realized I was going to have to work up to working out.
The Lazy Girl Thigh Workout created by blogger Christina Carlyle promises that I don't need to leave the house or even stand up. Done! I might hit my new goal of being able to fit back into my jeans by Thanksgiving…baby steps, people.

Sometimes eye shadow is just one step too many in my routine, but without it my eyes still look tired. Brush a little of your blush or highlighter on your eyelids after dusting your cheeks. You can switch to an eye shadow brush or be even lazier and just squish the end of your blush brush together and use the tip. Guess which one I do? I love the ELF Blush in Glow.
It works as a highlighter and blush; perfect for adding a little shimmer to your eyes.
I almost never skip my mascara. One quick coat, even if I'm otherwise bare faced, helps give my face a little more dimension. Eyeliner on the other hand requires precision and is not something I can rush, especially since my pencil is almost never sharpened and I don't want to risk another eye splinter.
Harper's Bazaar has a great trick for creating a quick smokey eye that mimics the look of eyeliner.  Close your eye and run a pointed shadow brush with shimmer eyeshadow (a smokey brown or gray would look great, too) over both your top and bottom lash line at the same time. Lightly blend the edges with the brush.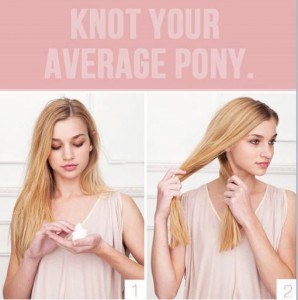 Another trick that I have adopted recently cuts my hair curling time in half, if not more. Put your hair in a high ponytail and wrap 2-3 inch pieces in your curling iron, working it down the curling iron to get a spiral curl. Once you are done, take the ponytail down and shake out your curl.
Some people can easily achieve this by splitting your pony in half, but I have too much hair. I kind of rolled my eyes the first time I saw this, but the randomness it created made my curls look more natural and beachy. I was sold.
If my description still has you a little kerflumped, here is a great tutorial. She uses a hair wand but a traditional curling iron works just as well and it is perfect for second day hair.
One of my favorite 30 second hair do's when I just can't stomach another ponytail or messy bun is a knotted side pony. You can adapt this in a half up-half down version, also. It adds a little something special to a normally blah ponytail.
So, if you are naturally lazy like me or tired from actually doing things you should be ready to go out and totally fake it. I'll be on the couch pretending like I'm super sad about the kids going to school and that's why I didn't clean the kitchen.
Happy Back to School, Mamas!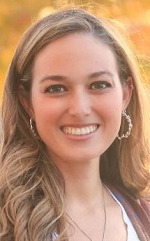 Andi Douglas is a mama of three and loves to play with makeup and other beauty supplies. She likes to try new products and services in the name of beauty editor here at nwaMotherlode.