By Andi Douglas, nwaMotherlode beauty editor and mama of 3
It is picture season!
School pictures, soccer pictures, band pictures…and, of course, the ever elusive "perfect" holiday card picture. If you can manage to find coordinating, but not matching, flattering, but not too stiff, and seasonal, but not too bulky because it's actually 90 degrees outside, outfits for your entire family then 90% of the battle is won!
Unfortunately this Pinterest-worthy photo opp becomes more difficult as your kids age enough to rebel against the outfits, but not enough to learn it's not worth the fight. This a wisdom that dads and grandpas will hopefully pass down to them.
For school pictures, I try my hardest to let them pick their favorite outfits and have it as close to their everyday look as possible. Like the year I let my littlest wear athletic clothes and one of her pigtails fell out and she had no teeth, bless her heart. This will forever be one of my most and least favorite pictures. (I am paying her $1 this year to let me curl her hair though).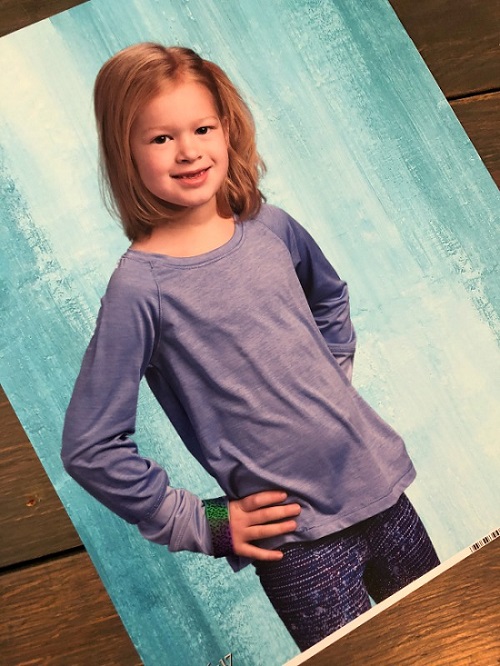 But as kids becomes tweens and teens, they may start looking to cosmetics to either cover blemishes or enhance their natural beauty. Adding a little extra color is especially helpful in large family portraits that are usually shot from a distance.
First, and probably the only necessary product, is concealer. This is for the boys as well as the girls. Nobody likes permanent photographic evidence of that time your hormones attacked you.
I always advise to wait as long as you can before wearing full coverage makeup, like base or foundation, because once you start it's hard to go back. However, if your child suffers from rosacea or is just feeling insecure about their skin, a moisturizing B.B. Cream is a great place to start and give an all over even skin tone.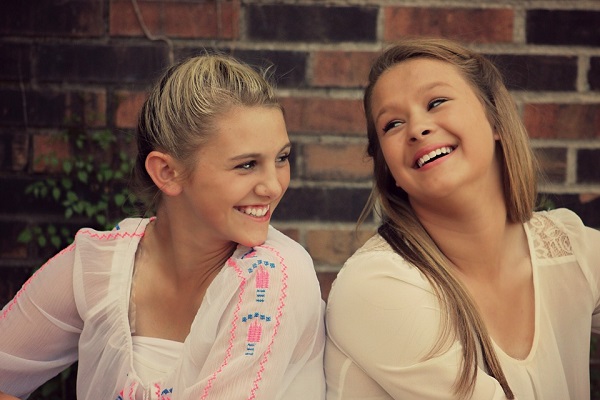 Also, since it is more of a lotion than a foundation, it will go on smoother and prevent that dry caked on look we all sported as teens. If your face always matched your neck, were you even a nineties kid? The key here is color matching, so you can go to a makeup counter in the mall or Ulta carries drugstore brands and usually has samples available to try. If you're in between shades, go lighter.
Once any spots are covered, your mini-me can start adding in some fun stuff like blush and eye shadow. Natural colors with no glitter work best for pictures because they won't catch any unwanted flashback (good advice for you too, Mama). A light brushing of bronzer on the areas sun naturally hits adds some dimension and a cream blush has staying power to give her cheeks a natural looking flush.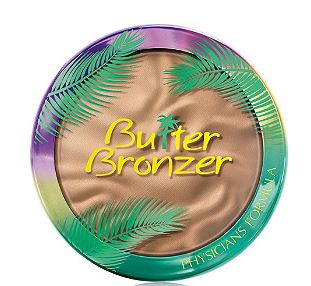 My favorite products right now are Physicians Formula Butter Bronzer and ELF Cream blush. It took me a while to find a bronzer without shimmer that is also subtle. Because I am much better at putting sunscreen on my face than on my shoulders, I need bronzer to help make me look like I didn't photoshop my head onto another body.
Although I can't imagine someone would think I'd choose a body that's had three kids!
Eye makeup is definitely an area where a little goes a long way, and that is a lesson best learned early. I've had conversations with teens where I can't stop thinking how exhausting it must be to blink with such heavy eyelids. I feel like giant falsies and ten layers of eye shadow are this generation's orange face.
Mascara is usually a pretty safe beginners eye makeup. If your daughter has naturally dark lashes, they do make clear mascara just to help define them. If they are blonde, brown mascara will look natural while making eyelashes more visible in pictures.
The same for eyebrows. One of my daughters is brunette so I simply comb her brows and maybe use a clear gel to get them to stay tamed, while my other daughter is blonde, so I use a light brown eye shadow gently brushed on just so they show up a little better.
If your child is ready to up the game and start experimenting with more colors, Rimmel's Nude eye palette is a great dupe for some of the more expensive pallets that are favored by YouTube makeup artists.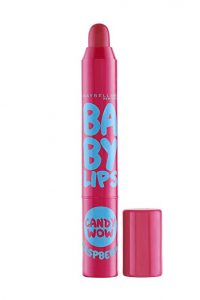 Finally, the lips. If you only pick one product to use, lip gloss or lipstick needs to be it. I looove Maybeline's Baby Lips tinted lip balm, especially for little ones that just want to wear makeup like mommy.
For older girls, a natural hued lipstick will keep them from looking like they were playing dress up for pictures. The best way to pick a natural shade is to pull down your lip and match the pinker inside part of your lip. I can't remember who taught me this trick but it has never failed me.
And even though matte lipsticks are in style and fun, they are very difficult to use without looking dry and cracked, especially for beginners.
My last bit of advice, do not buy your child makeup without also buying makeup remover. Micellar water is gentle and easy to use. You can even get micellar water wipes for easy use.
Using makeup to cover a blemish is only going to compound the problem if you let it sit overnight.
No one should feel like they need makeup but it can be a great way to express yourself creatively and make pictures an extra special occasion.
Have any of your kids ever had a picture day fail? I would love to see them in the comments. Good luck getting everyone to look at the camera at the same time, mamas!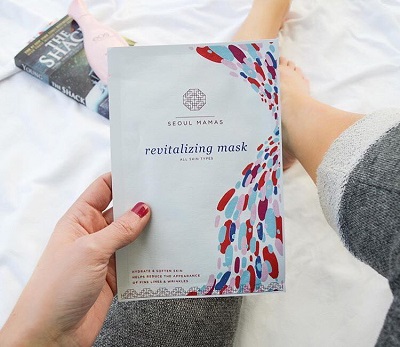 Beauty Buzz is sponsored by Seoul Mamas beauty masks. We love the story of the mama behind the masks. Geri, the founder of Seoul Mamas, and her husband went to South Korea to adopt their fourth child and were inspired by the beauty and the culture of Seoul.
Geri had always loved Korean sheet masks, so she saw an opportunity to celebrate the beauty she experienced in Seoul and created her own line of sheet masks with the help of her husband and their tour guide on their trip, Yuny, who is now her business partner. Geri is a busy working mom of four who created these sheet masks for women and moms just like her. Click here to read more about Geri and how these sheet masks can improve your skin and help you get in a few minutes of needed self care. Ahhhhh.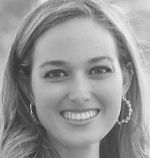 Andi Douglas always makes us laugh and is the mama of three especially cute kiddos. She loves talking about hair and make-up, so send her a question about either of those two topics and she'll be happy to help a mama out. Email her at mamasATnwaMotherlodeDOTcom.