We noticed the name of local writer Mandy McCarty Harris' blog, Happy Like This, linked to a comment she made on one of our recent giveaways. When we jumped over to see what she was so happy about, what we read made us cry. And also smile. A lot.
Find out more about Mandy and her family's story in this interview:
Kids' names and ages:
My husband, Drew, and I have three daughters. Two are in heaven and one is here with us.
Our biological girls (pictured above) were diagnosed with Pantothenate Kinase Associated Neurodegeneration when they were 4 and 6 years old. Emma died in 2012 at the age of 7. Alex died in 2014 at the age of 11.
We also have a four-year-old daughter by adoption and she's awesome!
Tell us about your girls:
Alex loved the color purple. She had deep dimples and brown eyes that shined when she smiled, which was always.
Emma loved all things pink and was FULL of sass. She lived life like her blonde hair was on fire!
Our 4-year-old is a chatter bug. She's got a lot to say and she has the vocabulary to say it! She's expressive, imaginative, energetic, and she's certain that she will be a superhero when she grows up!
Can you tell us more about Pantothenate Kinase Associated Neurodegeneration?
PKAN is a rare neurodegenerative disorder that allows iron to accumulate in the basal ganglia of the brain. This causes muscle rigidity, painful spasms, poor balance, and difficulty eating and speaking. It is progressive and it results in premature death.
You named your blog "Happy Like This." Can you give us the background?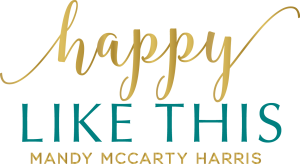 Alex was very intuitive. Even as a little girl, she could see when I was having a hard day or struggling. On those days, she would come sit with me, smile, put her little hands on my face, and say, "Mommy, be happy like this." It became my mantra and a daily reminder to look for the good in life.
I firmly believe that we can't wait for everything to work out before we allow ourselves to be happy. There are bits of happiness all around us and we can be happy like this. I use the phrase now as a testimony and to encourage others.
For other moms who may be freshly grieving out there right now, what advice would you give them?
Sometimes one day at a time is simply too much. Taking life one minute, one moment, one breath at a time is enough right now. Your grief will never go away because the love you have for your child will never go away, but your capacity to carry it will change with time. You are loved. You are not alone. You can do this.
Tell us about a typical day in your life:
I both love and resent routine. While the details of daily life change with the season, a few things always remain for us. The day starts with coffee. Always. I write. We play outside. We eat dinner around the table together. At bedtime we read two books, pray with our daughter, gives hugs and kisses, and always say I Love You.
Where do you live and what brought you to NWA?
My family moved to NWA when I was 5 years old. Drew and I both graduated from Fayetteville High School and after college we moved back to the area. We now live in Tontitown.
How would you describe your family's "personality"?
Present. We are far from perfect, but we genuinely enjoy the time we spend together.
What are your favorite hobbies?
I love reading, writing, camping, and gardening. Oh, and we have 7 backyard chickens! And can napping be a hobby? I really love a good rainy day nap!
What could your best friend bring over to brighten your day?
I just texted my best friend to ask what she would bring, and her answer is better than anything I could have ever asked for!
chocolate chip cookies
jelly-filled donuts
a card
silence
coffee
tickets to see Wicked
What do you most want people to remember about you?
Maya Angelou said that people will forget what you said and forget what you did, but they will always remember the way you made them feel. I hope that when people think of me, they will feel loved, accepted, encouraged, happy, and that it is okay to be who they are.
One word to sum me up:
Happy