Northwest Arkansas Mom Bieunkah Anwojue
We think you'll agree that Bieunkah Anwojue is a cool mama with talent to spare. This is a great interview about her her fashionable and empowering art, awesome family and missing her shot at Hollywood.
Kids' names and ages:
We have 2 boys and 1 little Princess. Jamarion is 15 and is the quiet one. Adedoyin (Doyin) is our 6 year old talker and comedian. Omolola (Lola) is 2 and she's our sassy, rainbow baby!
What brought you to NWA?
After graduating from Grambling State University, I received a job offer to work in IT for Tyson Foods. We moved from Louisiana to NWA in 2012 for me to begin my career. One of the best decisions I've ever made. Absolutely adore NWA!
Tell us about your art business. What inspired you to create it?
I'm a fashion illustrator and create artwork and stationery to uplift and empower women.
I have been drawing my entire life and once I started struggling with anxiety, I started back doodling and those doodles turned into a business. I started posting my drawings on social media and would get messages from other women saying how much my illustrations helped them get through the day and Bieunkah Illustrations was born. Sometimes, we need a little reminder to keep pushing. So, whether it is a card, art print, mug, stickers… they serve as small reminders to never give up. My goal is to send a smile one card at a time! Women are amazing. We are powerful, but sometimes life gets hard and we need to be reminded of how Magical we are!
The stationery came from me wanting to see myself represented on greeting cards, notepads, bookmarks and other paper goods. Growing up, I do not recall ever receiving a card with a little girl on it that looked like me, so I create them. Many of them are customizable, so you can choose your skin tone, hair color and even hairstyles for some of them.
What's one of your favorite products or drawings?
I love all of my BIEuties! One of my best sellers is my "Cloteal Takes on the World" card. One thing about most of my cards is that they come with little jewelry and accessories that actually shine gold and/or silver! If I draw them with earrings, those earrings will stand out just as if they would if you were to see that girl walking down the street.
Cloteal has on this multi-colored skirt with leopard print boots because I am OBSESSED with anything leopard print, and a gold bangles that glistens as you move the card around. I designed this card from thinking of my great-grandmother, Cloteal. I never had the chance to meet her, but I grew up around my grandmother and her sisters and they all were so strong, had the best skin and some amazing legs, so I drew my vision of her and Cloteal Takes on the World was the result. She comes as a card, art print and a t-shirt and people love her!
"Sweets Overload" is also a fave to a lot of people. She's the perfect celebration card for several occasions. She's carrying an oversized cupcake, with some adorable pom pom heels that I need in real life. When it comes to shoes (heels or flats), I'm a flats girl, so many of my girls have on fabulous heels!
What does your family enjoy doing together in NWA?
I'm from Louisiana, so we like to eat. I do cook often, but pre-covid, we liked to try different restaurants in the area. We love to garden, so the Farmer's Market is always fun. Anything that's fun for the kids is a great time. Crystal Bridges, the Amazeum and Lokomotion were always our go-to spots! Now, we settle for water balloon wars in the backyard.
Name 3 things you have with you at all times:
My phone, a bottle of lemon water and seems like at least one of the kids. (Except for the times that I sneak off to Walmart or Hobby Lobby by myself to imagine that I'm on a 5-star vacation. A girl needs some Me time!)
What's something funny your kids did recently to make you LOL?
Wow! We have daily funny stories, so I have to tell you these 2 because it's funny how the current times affect the way kids think about things.
Recently, we were picking up Jamarion from school and there were several other kids in front of the school holding signs. Doyin says, "Look at all of these protesters. What's going on now"? He rolls his window down and the kids are yelling, "FREE CARWASH! FREE CARWASH!". Then, Doyin yells out, "YEAHHHHH! FREE CARWASH! Have a good protest!"
On a different day a while back, we were baking some cookies and I told Doyin to spread the cookies out on the pan and he says, "Why? Because we don't want them to get COVID?" The sarcastic side of me wanted to say, "Yep, cookies have to social distance too!"
Doyin gives us a good laugh at least once a day!
If you could vacation anywhere in the world this summer, where would it be?
We would take a trip to Disneyland. We have never been, and the kids have been wanting to go.
What's something your friends might not know about you?
I'll give you 2! I'm a huge Disney fan. When I was younger, I always wanted a full collection of every Disney movie on VHS, then Disney+ came along and made my dream come true. Also, When I was around 5-6, I had an audition to sing for an Oscar Mayer commercial. Well, I had been practicing, had the song down packed. "My bologna has a first name, its O-S-C-A-R…" What could have possibly been my big break, turned out to be nothing because I got so terrified the day of the audition and would not stop crying. There went my chance at Hollywood!
What's something you'd love to learn?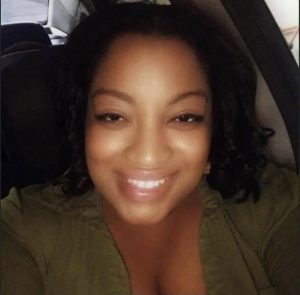 I would love to learn to speak different languages fluently. I've learned basic greetings in multiple languages, but would love to have full conversations without thinking, "What did Dora say this was?"
What did you want to "be" when you grew up?An artist. When I was little, I wanted to be several things, but after graduating high school, I wanted to study art and ended up going into business to study accounting and information systems. Funny enough, after several years of undergrad and grad school, I'm right back where I wanted to be by the grace of God.
What's been the most rewarding thing about motherhood?
Seeing these little people grow into their own personalities. Each day is different and the laughs are endless. Each one of the kids came with a challenge.
Jamarion was born with clubbed feet. Doyin and Lola were both micro preemies, born at 26 weeks and each weighed 1 lb and some ounces when they were born. To see them all come into this world so strong has made me stronger. And because of them, giving up is not an option!
How do you unwind at the end of a busy day?
Reflecting on the current day and planning for the next day. In between all of that, I sprinkle in a bubble bath, sketching while watching a tv show (The Office is a fave of mine by the way) and a whole lot of prayer!
One word to sum me up: Blessed!