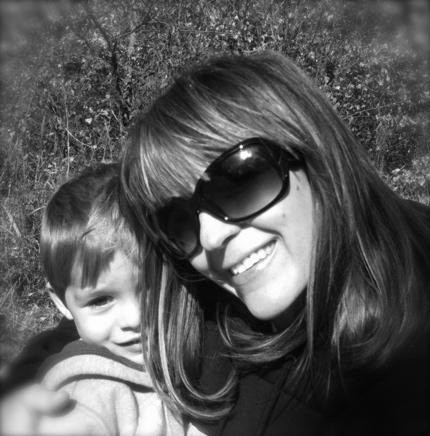 Note from the mamas: In memory of her baby, Swan Grace, Bryanna has hand-crafted swan figurines to raise money for SHARE. SHARE is a support group that serves those whose lives have been touched by the tragic death of a baby through early pregnancy loss, stillbirth or in the first few months of life. You can buy the swans — which are signed and numbered — through Bryanna's Etsy shop HERE. Bryanna is really talented and the swans are uniquely beautiful (they all have sweet little crowns on their heads!).
Bryanna planned to give the swans to guests at her baby shower, but sadly, that event never happened. She wanted to use the figurines (or Bryanna can add a string to make them ornaments) to help others in Northwest Arkansas who have their own Swan stories.
Click here and here to read Bryanna's blog posts about when she found out about Swan and the subsequent delivery. She also talks about it in her answers below. Most importantly, she wants moms to know about the RhoGAM immunization.
Click HERE to read Bryanna's post on her website about the swan figurines. Remember: You don't have to purchase a swan to make a donation to SHARE. Any amount of donation is appreciated! Also, there are only 40 swans, so buy soon or they'll be gone.

Name: Bryanna Lenan
Son's name and age? JJ (John, Jr.) 3 1/2 years old
We know you recently lost your baby. Can you tell us how you're doing? I'm feeling more up than down.
Can you tell us what happened? At 17 weeks my midwife couldn't hear a heartbeat, even though we heard a heartbeat at 10 weeks and 14 weeks. Needless to say, I had an emergency ultrasound and the baby, Swan, was no longer living. I did not have any trauma (extra stress, sickness, fall) or cramping or bleeding… I just didn't feel pregnant any more. This feeling came to me about 5 days before my appointment with my midwife.

I did not receive the RhoGAM shot after delivering JJ, nor did I know anything about the RhoGAM immunization. (Click here to find out more about who should get this immunization.)

In my heart of hearts, I believe that this is what caused Swan's life to cease. After receiving the autopsy and finding no birth defects or chromosome defects I have to believe that is what happened. However, because it happened in the 2nd trimester and not the 3rd when it is more easily diagnosed and unfortunately more common, the autopsy report is inconclusive.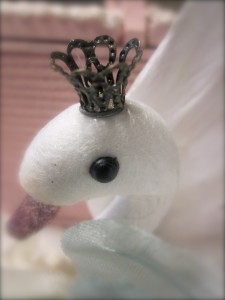 What is helping you get through this painful experience? I had the opportunity to hold Swan and spend several hours with her after delivery. She was so beautiful and just perfect. She had all her sweet little fingers and toes… she was in the same position that JJ sleeps in at night and so… it was just… peaceful. And although the experience was life altering and very difficult, I am truly blessed that I had that time with her. I got to share this time with my Mom, as my husband was not able to come home from an out of town job, so it was especially meaningful because I had my Mom with me and it was definitely a time for mothers and daughters.
Ironically it wasn't confirmed until we actually got the autopsy several days after delivery that Swan was in fact a female. But I always knew in my heart that she was going to be the little girl I had always wanted. I think it is amazing how my mother's intuition knew that she was a girl.
How long have you lived in NWA? We moved to NWA in October 31, 2009.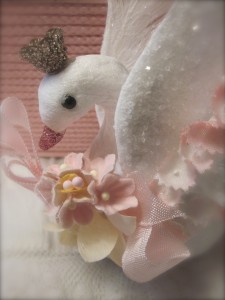 Where are you from and what brought you to the area? Originally I was born and raised in Ohio. However, I haven't lived in Ohio for many years. I was a flight attendant for United Airlines and moved around depending on where I was based. I happened to be living in Los Angeles when I met my husband, John,  got married and had JJ. We lived in Los Angeles up until the day we moved to NWA.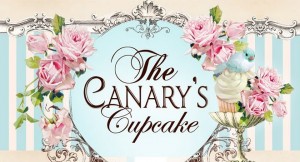 Can you tell us about your blog/Etsy shop? The Canary's Cupcake is a collection of my artwork. I dabble in mixed media and altered art forms. I have a hard time keeping items in my shop as I sell and give away a lot of my work from home and to friends and family that know me and the meanings behind a lot of what I do.
Currently in my shop I am selling Swan figurines that have been decorated by me with vintage touches,  in memory of my baby Swan. All the donations will go to SHARE. (Buy swans at Bryann's Etsy shop HERE. They are $20 apiece with no shipping costs.) SHARE is a support group serving those whose lives have been touched by the tragic death of a baby through pregnancy loss, stillbirth, or in the first 2 years of life. I am hoping to make a nice donation in the memory of my baby, Swan.
Does the name of your business have special meaning? Easily enough, I love cake… especially cupcakes (white cake/butter cream frosting!!) and I am very fond of birds. The Canary's Cupcake was just a cute little friendly name that I thought sounded enticing enough to get attention!
Have you always been a "creative type"? Yes! Most definitely!
Where are your favorite places in NWA?
Bliss Cupcake Cafe
Cheap Thrills
Daisy Exchange
Hugo's
Hobby Lobby!!
I also love all the green lush landscape, such a pleasant discovery after the concrete jungle of LA.
If you could have a vacation anywhere this summer, where would it be? Australia. I love Australia and I would really love to show my husband and son some of the beauty that Australia has to offer.
Tell us about how you met your husband. He's cute! Long story but with a fairytale ending!
What are some of your favorite things about your son that make him so adorable? JJ is amazingly loving. He loves to snuggle and kiss and it warms my heart to see him so sweet. I also love seeing how fearless he is… in the same breath his fearlessness can be frightening as he dives off the back of the couch! LOL! I just think JJ is an amazing child and I am so proud of him.
One word to sum me up … Flawed.